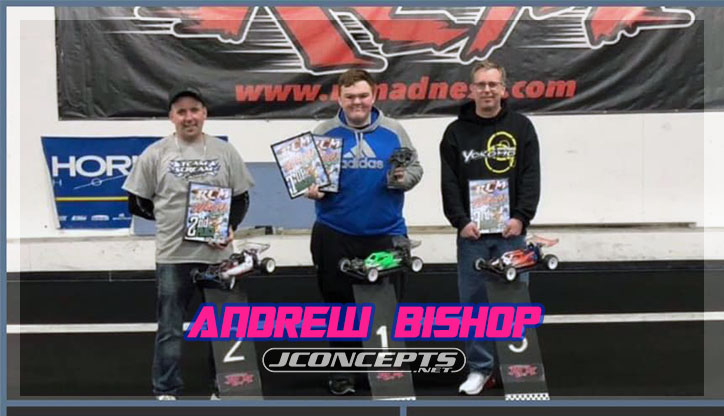 Joining the JConcepts team shortly after his awesome performance at the Turf Nationals race at RC Madness, Andrew Bishop is definitely one fast kid that's able to get results. With his Nessi and Swagger combo, Andrew won the 17.5 2wd Stock buggy class out of 45 drivers at RC Madness's Winter Blast Trophy race. Congrats on the win Andrew and keep it up!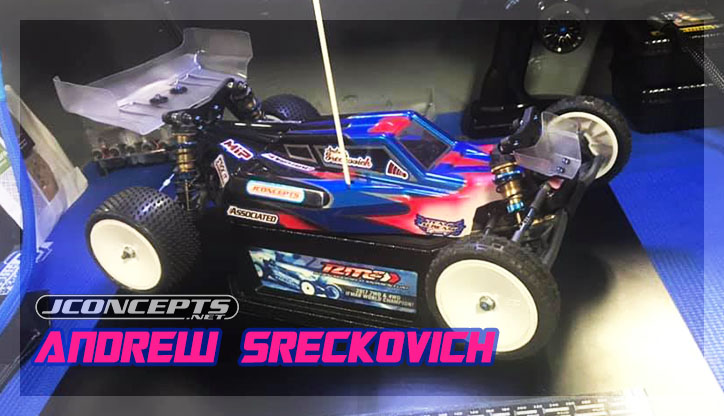 The only way to improve is to practice. You can't get any faster if you never practice your craft and Andrew knows this quite well. Hitting up his local track, RCHR for a bit of club racing, Andrew won the 17.5 2wd class rocking the new Nessi tires and Swagger fronts! The new Nessi tires have already become a racer favorite and finding success all over the world.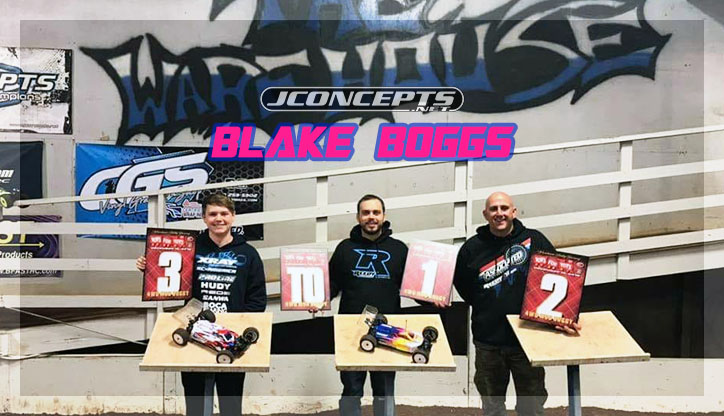 Blake Boggs is wicked fast where ever he goes. Always towards the very top of the timesheets, Blake did it again last weekend at the 7th Annual Toys for Tots race hosted by the Warehouse Hobby Raceway in Helena, AL. Blake snuck in there and got the TQ and win in 4wd Modified and was able to grab 2nd in Pro Ebuggy making it a killer weekend for the AE/JConcepts team driver. Blake ran black Dirt Webs on both rides and was hooked up all weekend!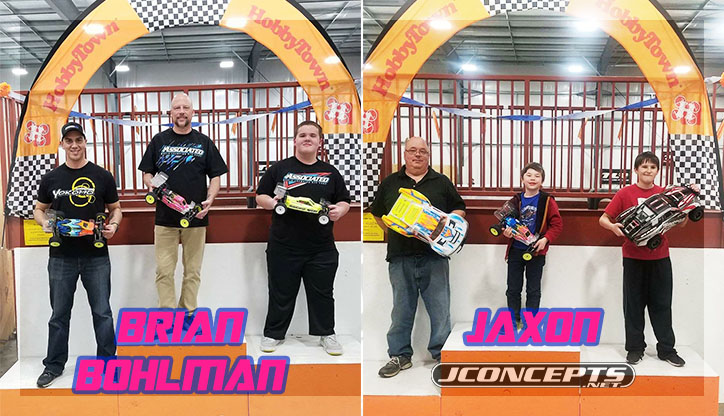 You couldn't have a better weekend than Brian Bohlman as him and his son, Jaxon Bohlman, raced at Thunder Road Raceway where Brian got the TQ and win in 17.5 2wd buggy and his son got the win in Sportsman! Only in his 1st year of racing, Jaxon is picking it up nicely and now able to get some wins under his belt. Great job team Bohlman!!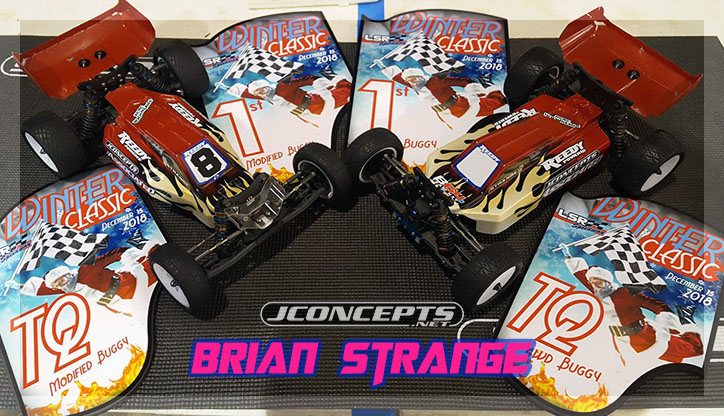 No stranger to winning, team driver Brian Strange is super fast when he's active. Over the years, it's always a balance between work, life, and racing, but last week Brian was able to go out and race the Winter Classic at LSR in northern California where Brian took the TQ and double wins in 2wd and 4wd Modified. For not racing that often, it's amazing how Brian can still rack up the wins! Brian's setup was F2 bodies on both with Dirt Web fronts and Ellipse rear tires FTW!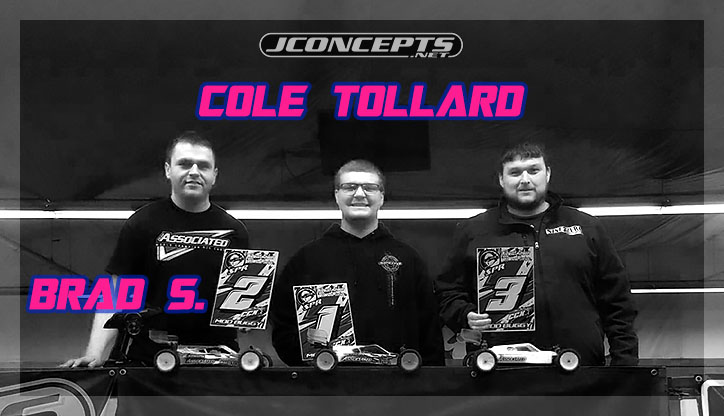 What a fun weekend for the Tollards. Jim, Cole, and buddy Jaden raced at the Cheese City Series Race hosted Snake Pit Raceway where Cole got the double TQ and wins in 2wd and 4wd Modified, Jim bumped into the C-Main and finished 3rd, and buddy Jaden got a win in Sportsman!! Jaden has never raced before in his life! That's what we're talking about huh?!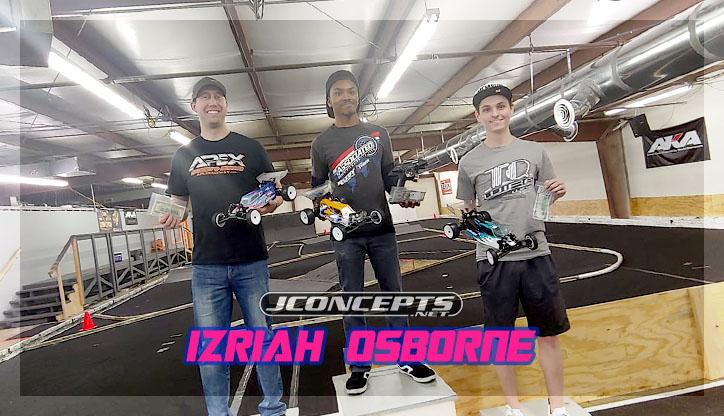 Thanks to Izriah for sending in his weekly race update as it seems Izriah just keeps getting faster and faster the more he races. Taking a wicked win at the Tennessee Indoor State Championships hosted by Apex Raceway and Hobbies, Izriah qualified 2nd in 17.5 2wd, but got the win the main by just .030 seconds! What a race and congrats on the win! Oh, can you guess what Izriah's tire choice was? You guessed it…. Swagger fronts and Nessi rear tires!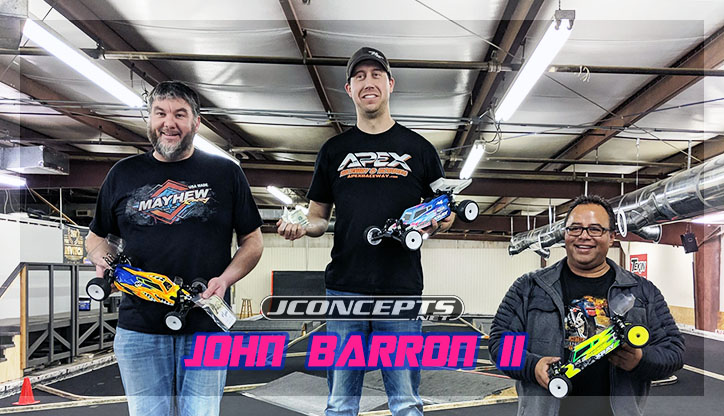 Also attending the Tennessee Indoor State Championships hosted by Apex Raceway and Hobbies, Jonh Barron II put in a marvelous display of speed where he and Izriah battled it out for the win in 17.5 2wd buggy and John finished .030 seconds behind Izriah for 2nd! The real speed came in 2wd Modified and Mod Stadium truck as John went 2 for 2 in the mod classes! Nice work John and this is what he had to say about his tire combo, "I ran Swagger fronts and the new Nessi rears in 2wd and set the fastest laps with ease. Nessi's have amazing forward bite and very consistent give for ultimate speed on black carpet! As always, Swagger and Pin Downs were the only way to run Stadium Truck."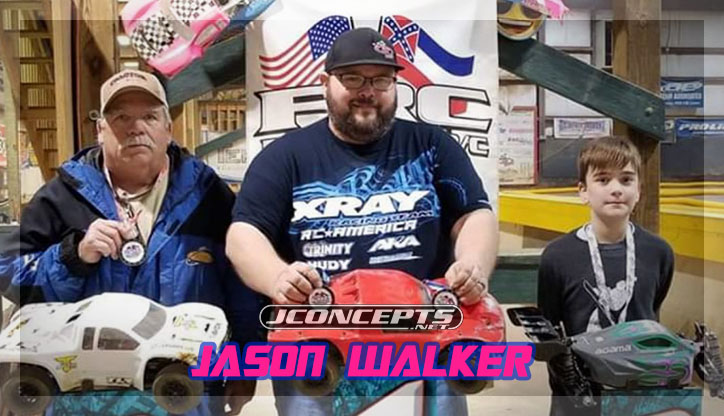 It was an exciting main for Jason Walker as he set the TQ time and took the win in the SCT class at Flowood R/C. If you haven't been out to Flowood before, check out Flowood R/C Indoor Park located in Flowood, Mississippi.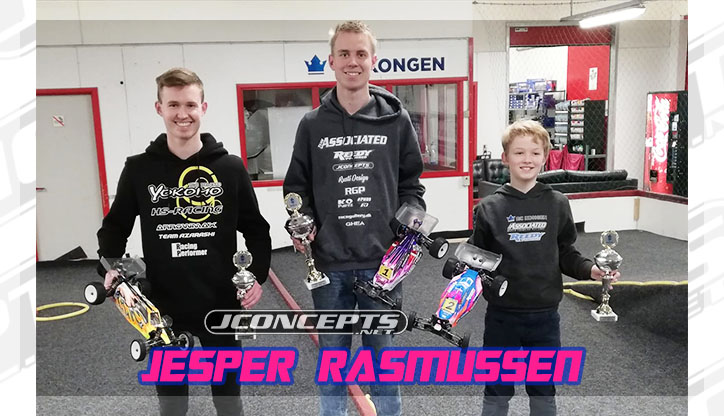 Danish superstar, Jesper Rasmussen keeps on racking up the wins as he pilots his Team Associated B6.1 decked out on JConcepts goodies to another TQ and win effort at RC Kongen's Winter Series round 4. Jesper particularly likes the S2 body, Aero wing package and Fin titanium turnbuckles.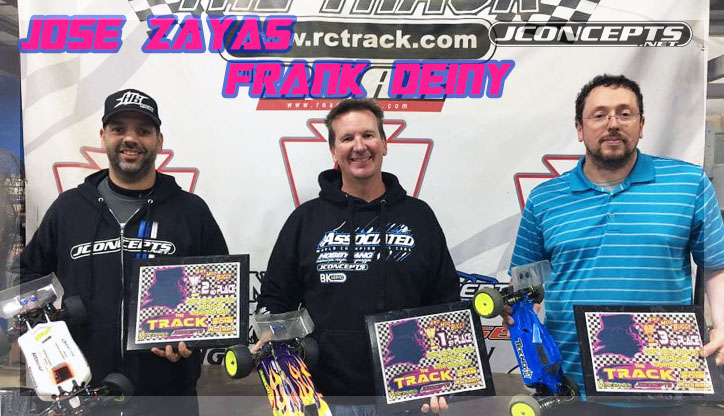 Huge congrats to JConcepts team drivers, Jose Zayas and Frank Deiny as both of them raced the Mid-Atlantic Championships held at The Track in Gaithersburg, Maryland, home of the 2017 ROAR 1/10th Electric Nationals. Frank got the win with Jose finishing up in 2nd in both 13.5 4wd and 4wd Modified. Nice job by these two for holding it down for JConcepts!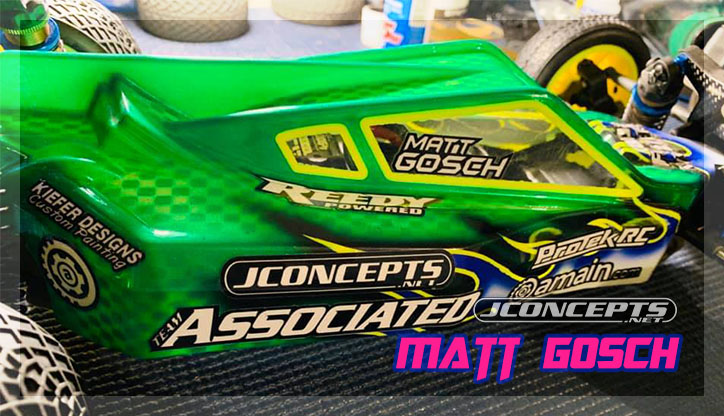 Matthew Gosch had an epic weekend of racing last week as he was won 2wd Modified and also won the 17.5 Stock Buggy classes at round 3 of P&T  Hobbies' Winter Series. It's astounding how many wins the Ellipse tires have already and Matt adds 2 more wins on the Ellipse rear, Dirt Web front tire combo!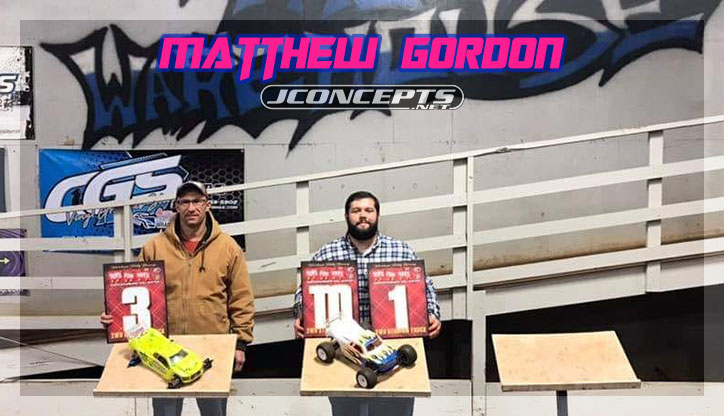 Matthew Gordon also attended the 7th Annual Toys for Tots race at The Warehouse Hobby Raceway and walked away helping many children get some toys for Xmas AND took home a TQ and win in Mod Truck. What a better way cruise into the Holiday season with a charity race and to win a class huh? Some have it the best of all worlds. Thanks, Matt and awesome job!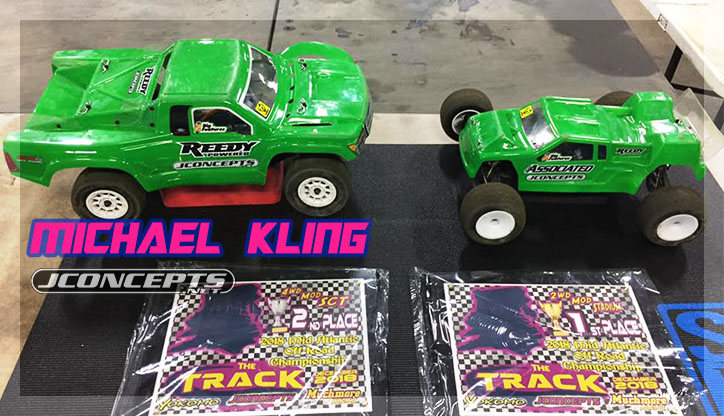 Sometimes, you just have to rock the 1 color bodies when you're waiting to get your race bodies back from your painter! Still able to do it in all green, Michael Kling took home the Modified Stadium Truck win at the Mid-Atlantic Championships and a sweet 2nd place finish in 4wd SCT! Now that's a solid weekend!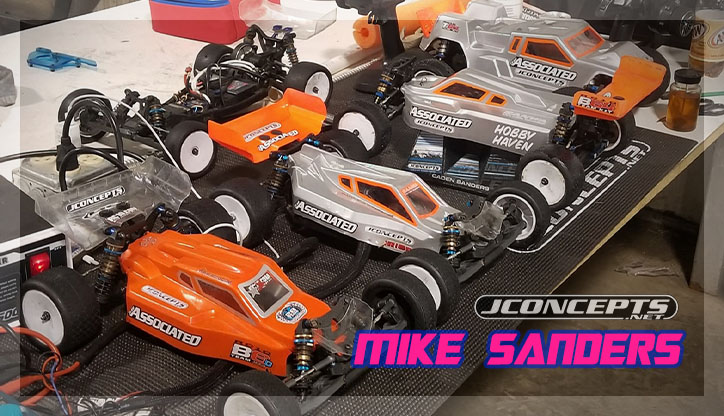 Thanks to Mike Sanders for the update. Sometimes when you have a big racing family, you just go all out and hope for the best. Mike had a great time last week at the RC Compound where he got the win in 17.5 2wd buggy! Next up was the Bfast round 3 point series where Mike took home a 2nd place finish completing the fun, action-packed weekend.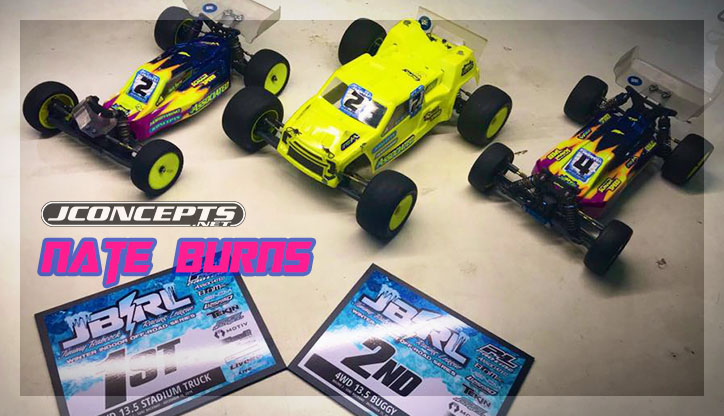 The Man, Nate Burns puts his heart and soul into everything he does and it's wicked. Here's what The Man had to say about his weekend of racing last week, traveled to SDRC for the second round of the JBRL Winter Series. Managed to TQ and win 13.5 truck with teammate Matt Barksdale right behind me. I would also qualify and finish second in the highly competitive 13.5 4wd class. Overall fun day with the SD crew. Gold Octagons were dialed on all three cars throughout the day."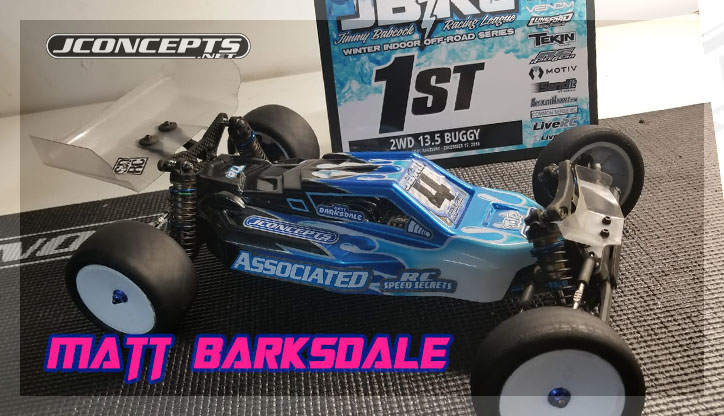 Joining Nate Burns at the JBRL round 2 hosted by SDRC, Matt Barksdale definitely had a great weekend and this is what he had to say, "Went to SDRC Raceway for Rd. 2 of the JBRL Winter Series. Took the TQ and win in 13.5 2wd, 2nd in 13.5 Stadium Truck to teammate Nate Burns, 5th overall in a stacked 17.5 Expert Stock 2wd, and 10th place in an even more stacked 13.5 4wd. I was running grounded down Dirt Web Fronts and Ellipse Rears on my 2wd and 4wd with grounded down Dirt Webs on my Stadium Truck, that combination seemed to be the trick all day long."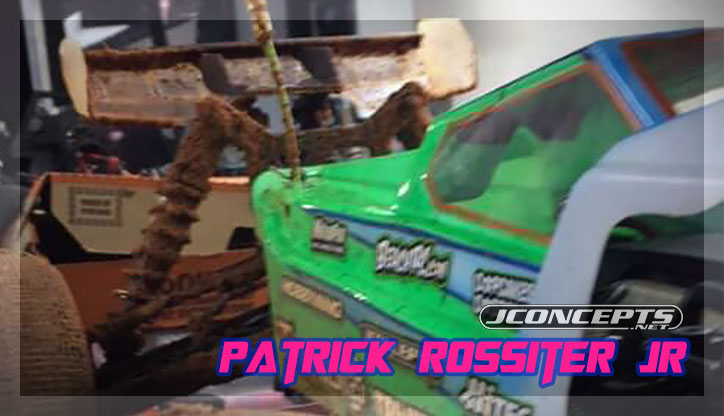 Putting in the hours as part track crew and racer, it's hard to understand how Patrick does so well at the races when he's so busy. Last week, PRJ held it down and took the win in the ETruggy class using the JConcepts Hybrid rear wing and green Reflex tires. Check out the close-up picture of PRJ's ride as it's full mudded!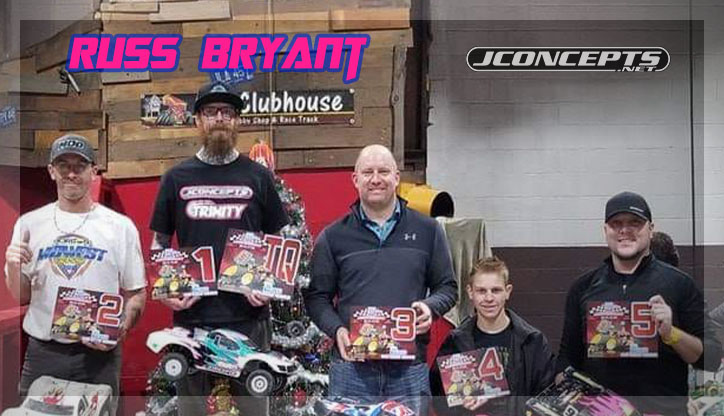 The driver that can drive just about anything, Russ Bryant piloted his SC6 to a well-deserved win in Modified SCT adding to his list of wins from Monster Trucks to buggies. Also having success on the Dirt Web front and Ellipse rear combo, Russ finished 5th in 2wd Modified.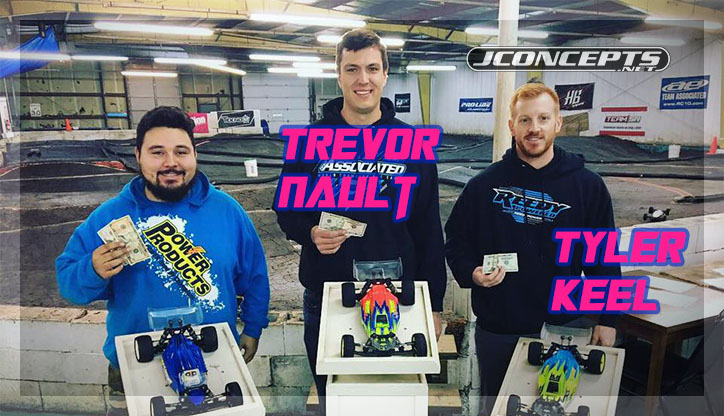 Always good to see Trevor Nault and Tyler Keel racing and representing their region as they're always two guys that have a chance at winning. During the 2nd round of the Winter Points Series at HP Hobbies in Hutchinson, KS, gold Octagons took 1st place and 3rd place with these two super JC drivers at the helm. Trevor took the win with Tyler finishing in 3rd. Great job you two!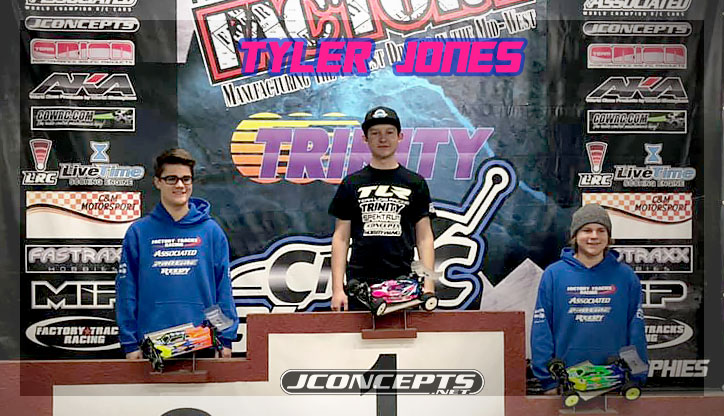 One of the most talented drivers out there, Tyler Jones ceases to impress with his speed and skills. Getting ready for the CRCRC race in Columbus, Ohio, Tyler raced the Christmas Charity Race at the Ohio RC Factory and took a killer TQ and win in 4wd Modified. Some say the 22-4 isn't up to date with the rest of the 4wd out there but Tyler is proving that theory false. Tyler rocked the Ellipse rears with Dirt Web fronts to grab that coveted win!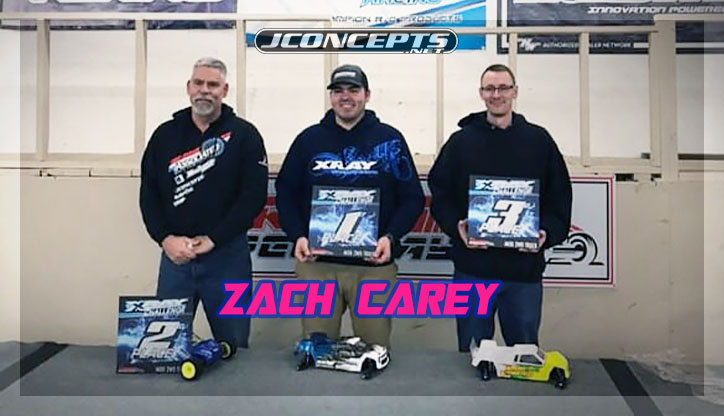 Making moves on the carpet with his Xray XT2 stadium truck, Zach Carey took 1st at the 1st Annual Xray Challenge at ARCS Hobbies. Keeping bringing home the W's Zach and good luck in 2019!