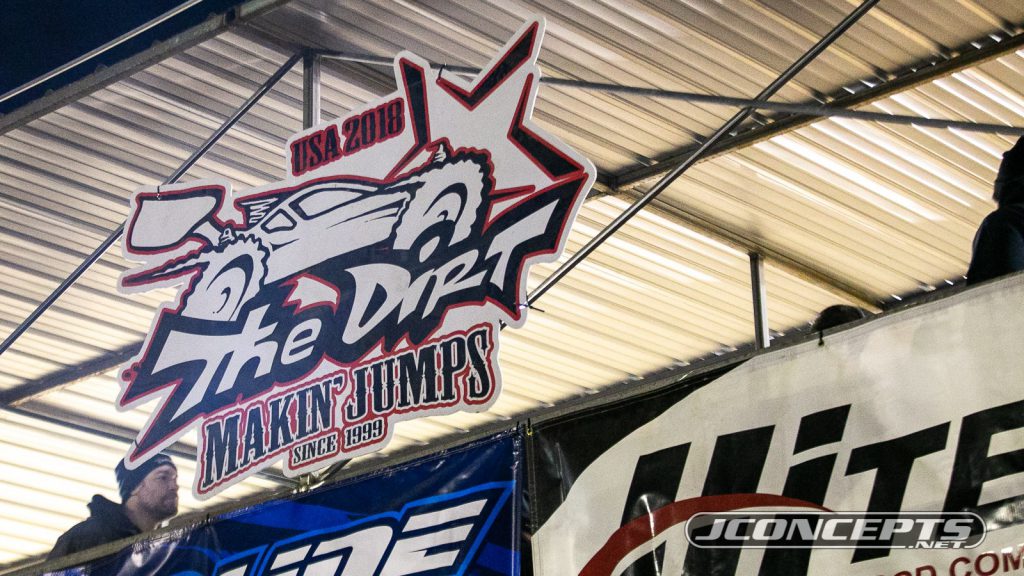 There are not many RC races that are bigger, do it better, and have the intensity like The Dirt Nitro Challenge. This year was special as it marked the 20th Annual of the biggest nitro race on US soil and this year didn't disappoint… not one bit. Almost every manufacturer sent drivers to this race making the atmosphere very much like a Worlds competition with numerous drivers traveling from all across Europe to join in on the action. The race has become legendary!
With the delayed start b/c of the rain, we caught up with Ryan Maifield on his changes for 2019 and why he thinks the DNC is so special. Check out this in-depth interview with MANS himself! #gojconcepts

Posted by JConcepts Inc on Thursday, February 21, 2019
This year, we had it all. From freezing cold temps, high winds, rain delays, and eventually sunshine, mother nature played a dramatic part, but as we all know this is nothing new for an outdoor race. What was different this year was the location and venue as the DNC was relocated after news broke last year that Fear Farm was shutting down. Now, located at the Perris, California's Southern California Fair Grounds, there's a new look to the DNC but still consisted of the same awesome racing vibes that its well known for.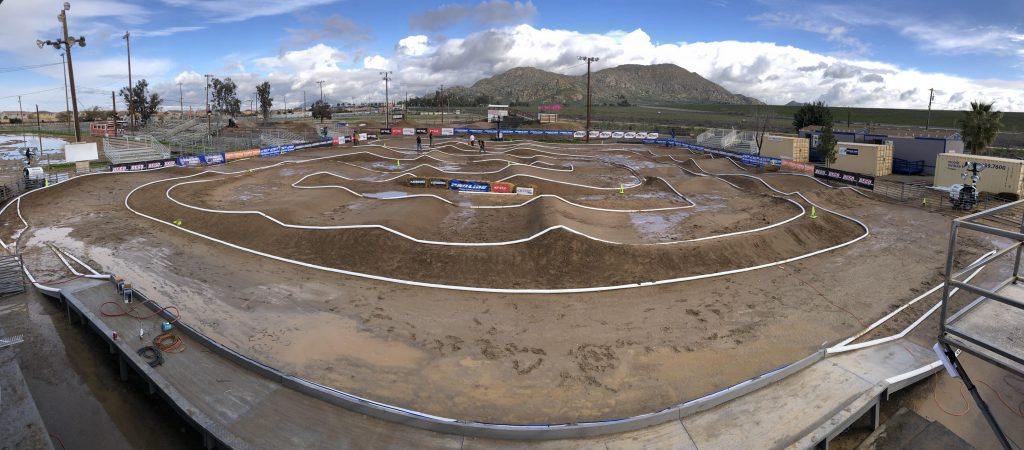 Joey Christensen and The Dirt crew are on top of the game. They've got the reputation, they've got the skills, and they know how to put on a good show. Despite the tough weather conditions when building the track, Joey decided to move to plan B and built the 1/8th scale track where the 1/5th scale was originally planned to go since the 1/8th track was basically underwater.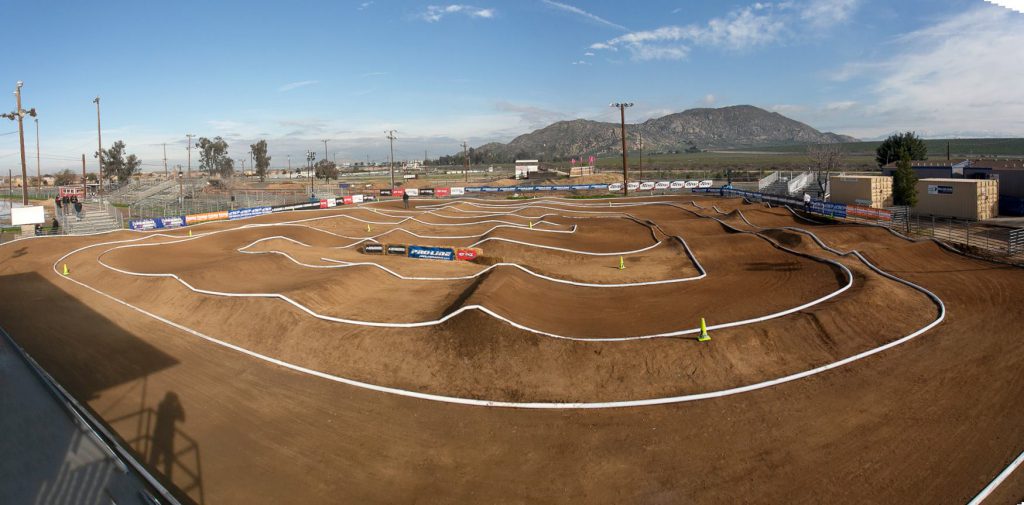 The decision proved to make all the difference in the world as the track was completed just in time for open practice Wednesday morning. The end result was a fantastic layout that had a good amount of jumps with many difficult elements to challenge all drivers including the best in the world. What makes the DNC so special is how the track evolves throughout the event as Joey only fixes jump faces after each day. For the most part, the holes, ruts, and bumps in corners are usually left alone making it harder on the drivers to be pinpoint accurate and consistent. This is where the word challenge in Dirt Nitro Challenge comes in making it one of the most difficult, grueling races we have in RC.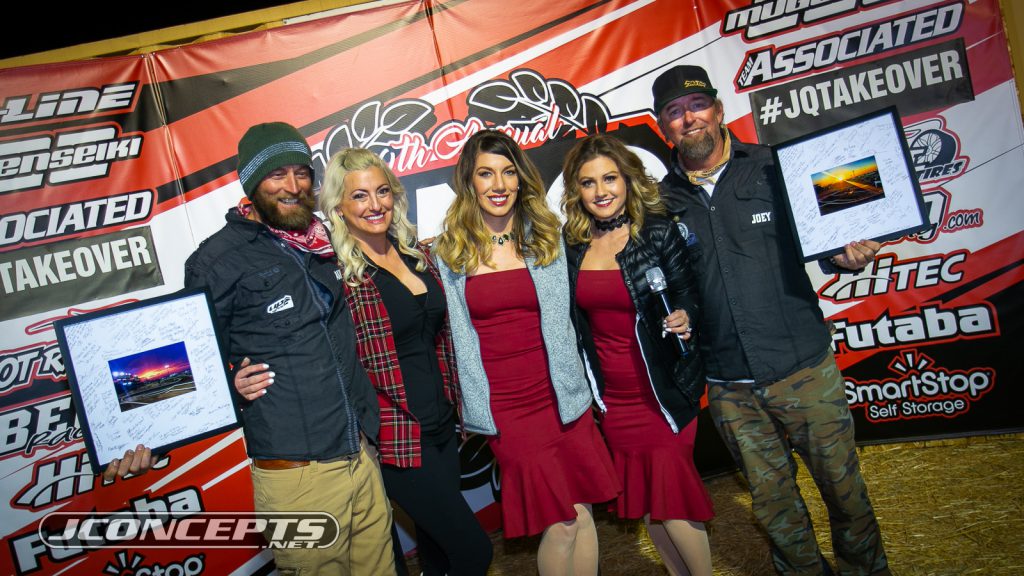 Special thanks and congratulation to Joey, Aaron, and the entire Dirt Crew for working their magic and doing such an amazing job to get the track ready, the atmosphere dialed, and giving us a venue that goes beyond just racing. As they say, building jumps since 1999, it's now been 20 fabulous years and many more to come.
Sportsman Ebuggy 
During the 10 minute long Sportsman Ebuggy main, 3rd place qualifier Chris Zega was on the move as his clutch driving towards the end of the race paid off allowing him to finish ahead of some future fast drivers as he took the win. Ever Lobos (TQ) fought hard and was able to eclipse 7-year-old phenom, Phi Long Nguyen for 2nd. Phi Long drove remarkably well and finished out the main in 3rd place.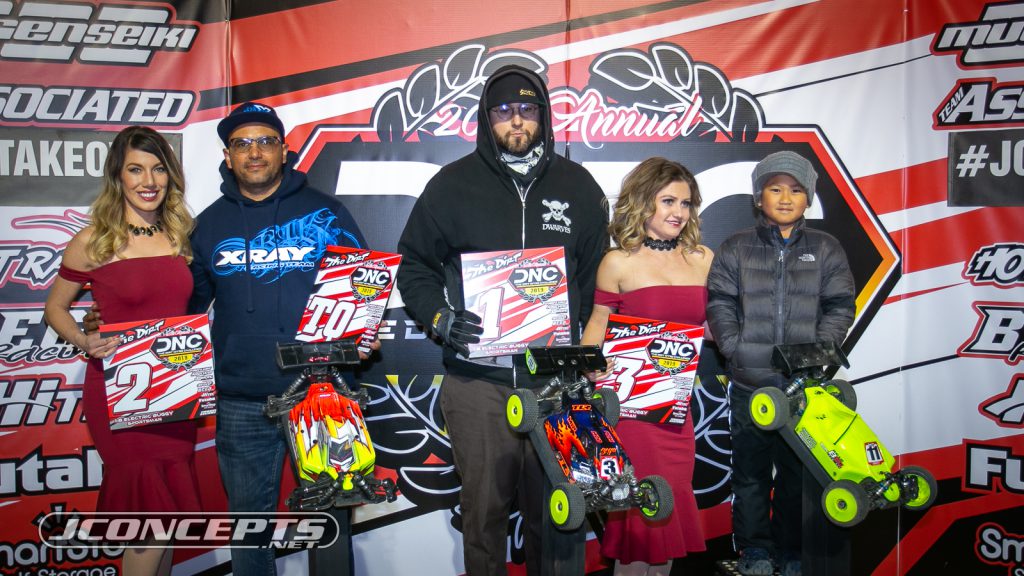 Sportsman Nitro Truggy
The Sportsman Nitro Truggy race was a stellar race won by "Little Joe Romero", who battled it out with superfast Dienna Eichenberger and Jack Pott and took a well-deserved win. Dienna showed great pace and composure and finished 2nd with Jack 3rd completing the podium.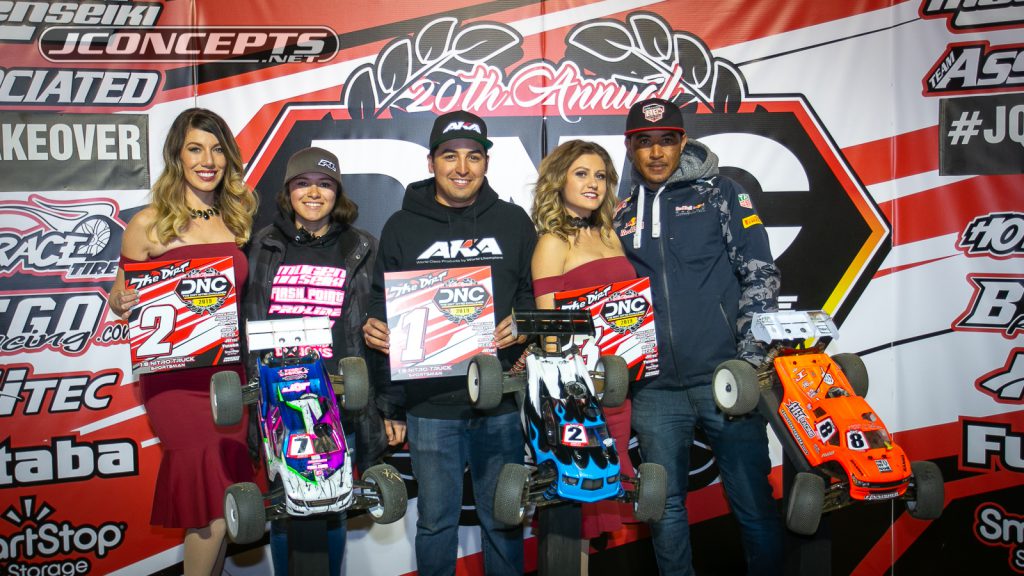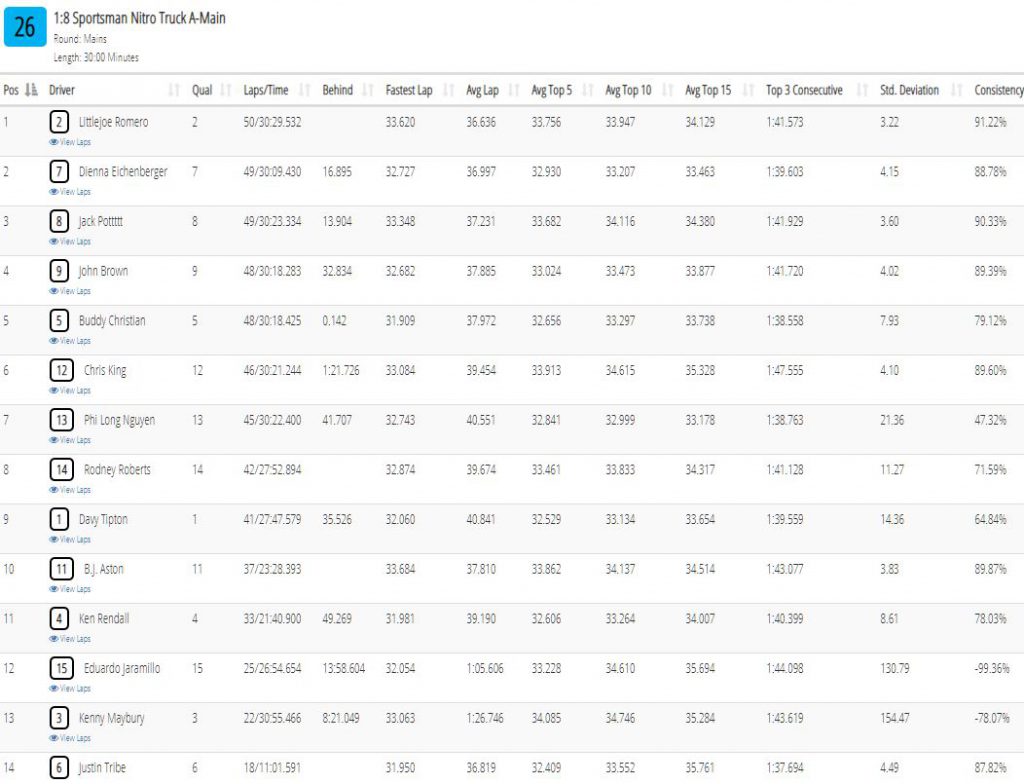 Sportsman Nitro Buggy 
It was a remarkable performance by the youngest racer at the DNC during the 30 minute Sportsman Nitro Buggy class as Phi Long Nguyen, aka "Little Bump", stayed composed and consistent taking a hugely popular win for the 7-year-old. Finishing 2nd was Dillon Hoffman, who had a dream race starting from 15th on the grid. Another driver making big moves at the big race was Eduardo Jaramillo, who started 12th and finished 3rd.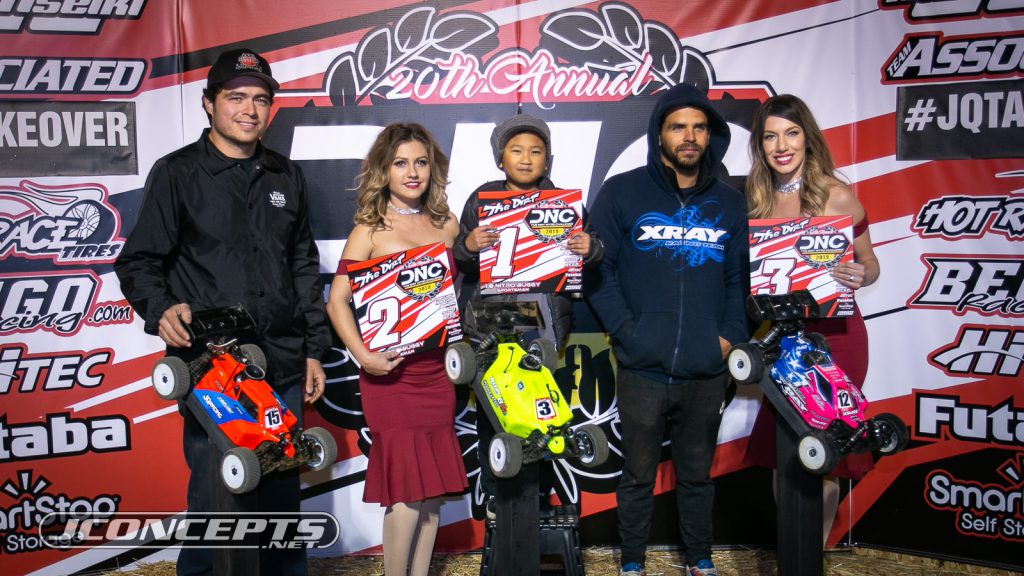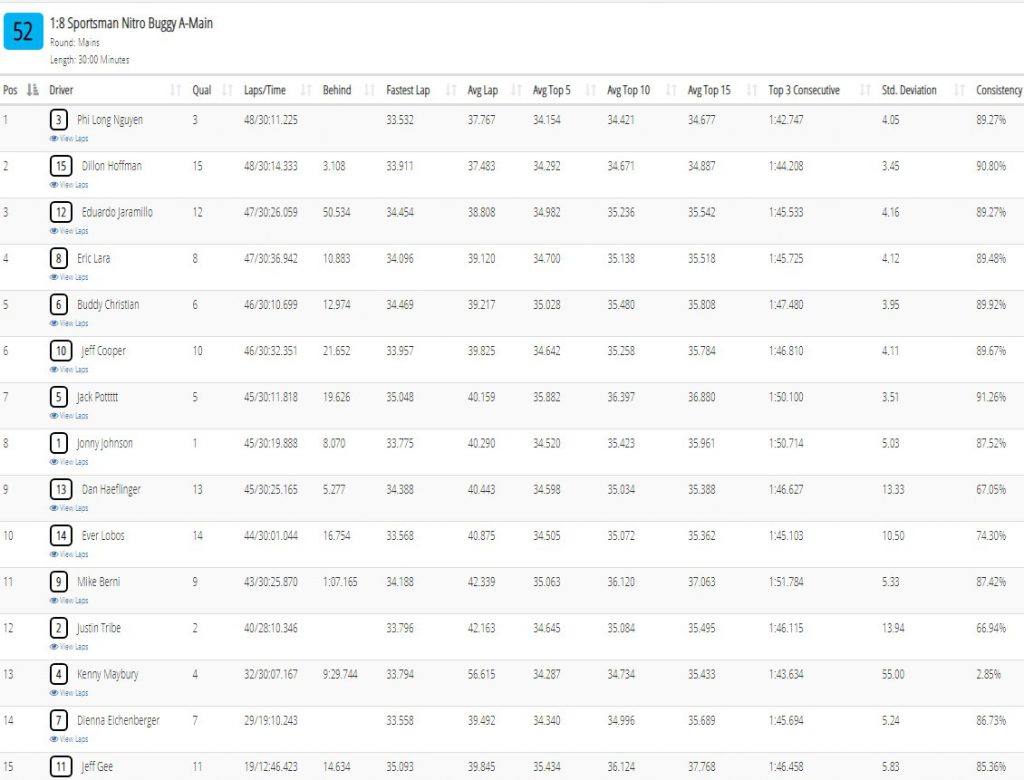 Open Etruggy
Open Etruggy was dominated by AE's AJ Schumacher. After the intense 10 minutes was up, AJ built up a huge lead and was able to cruise home in 1st place. Agama's Billy Tylaska showed great pace and consistency and finished 2nd while HB Racing's Cody Thompson finished where he qualified in 3rd place.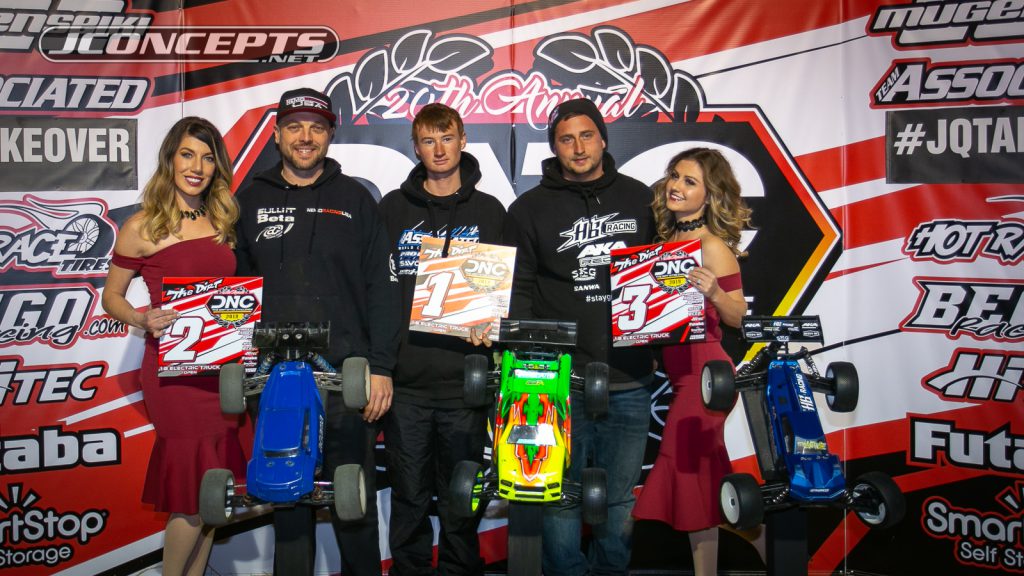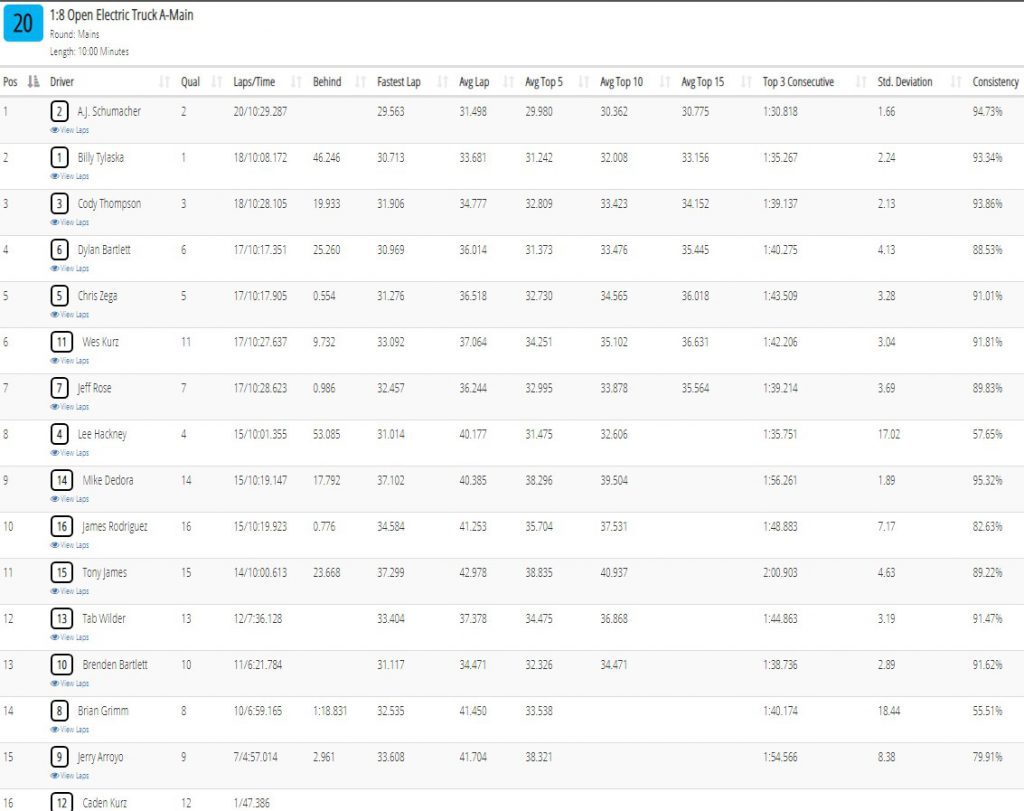 Intermediate Ebuggy
JQ's Chris Marrale stepped up big in the Intermediate Ebuggy A-Main as he found another gear during the 10 minute main moving up from 6th and took an impressive win rocking JConcepts tires. Kyosho team manager and all around great guy, Zach Rogers, put in a great drive and finished 2nd with HB Racing's Kurt Kellum grabbing the final spot on the podium.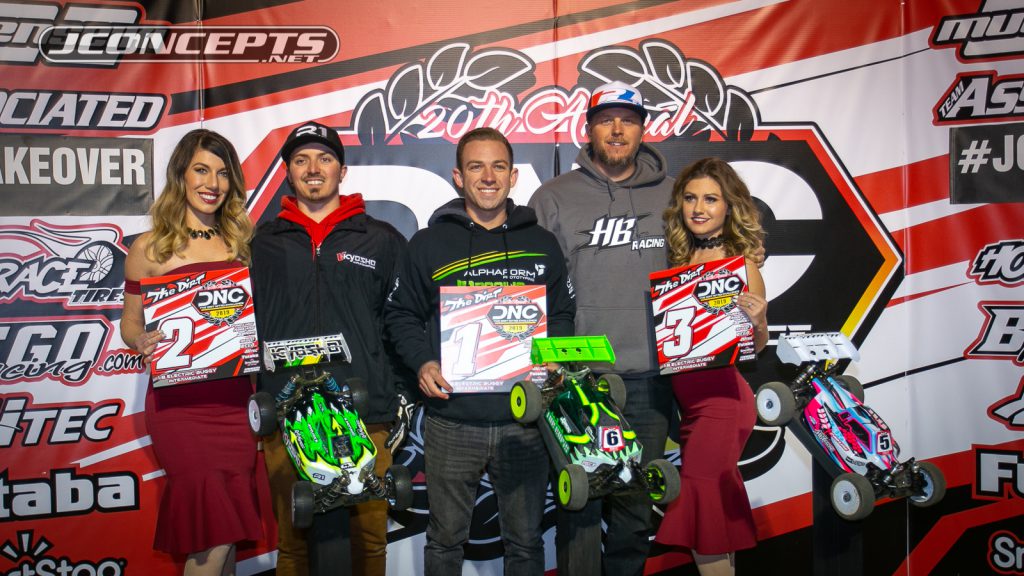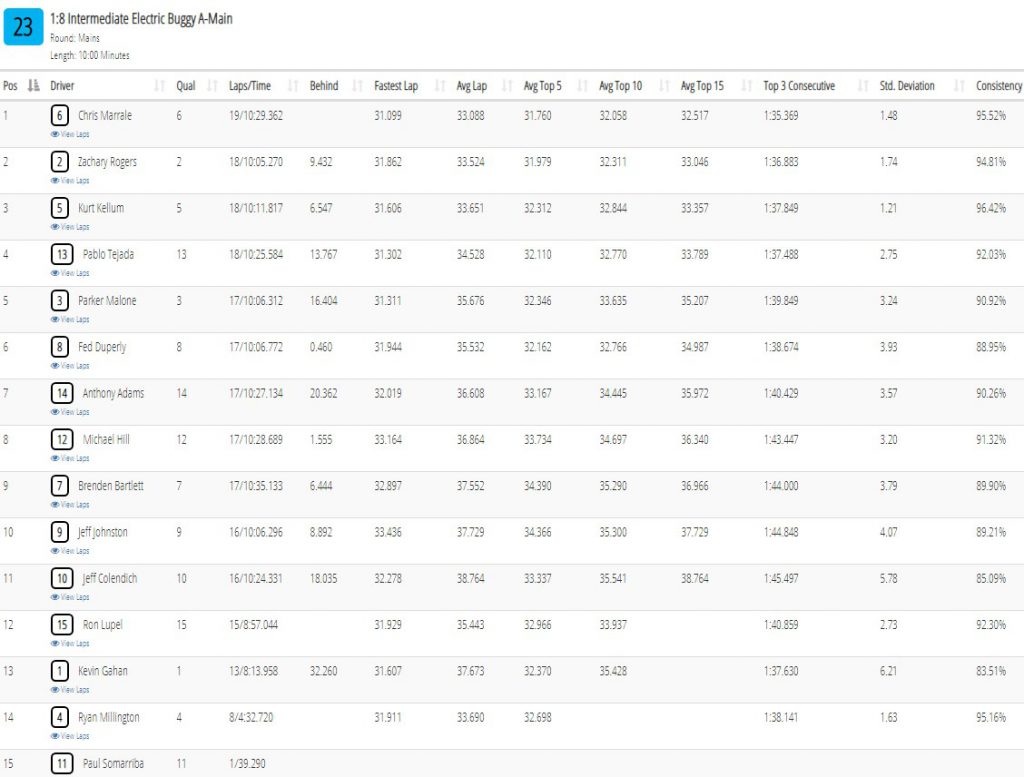 Intermediate Nitro Truggy
It was a big task, but Kyosho's Monty Houston was up for to the challenge as the speedy veteran put it all together and took a memorable win in the Intermediate Nitro Truggy class. AE's AJ Schumacher gave it a good shot and held the lead for a good duration and brought home 2nd place. PT Oil/JConcepts own Pablo Tejada was able to rise to the occasion moving up 3 spots and finished 3rd.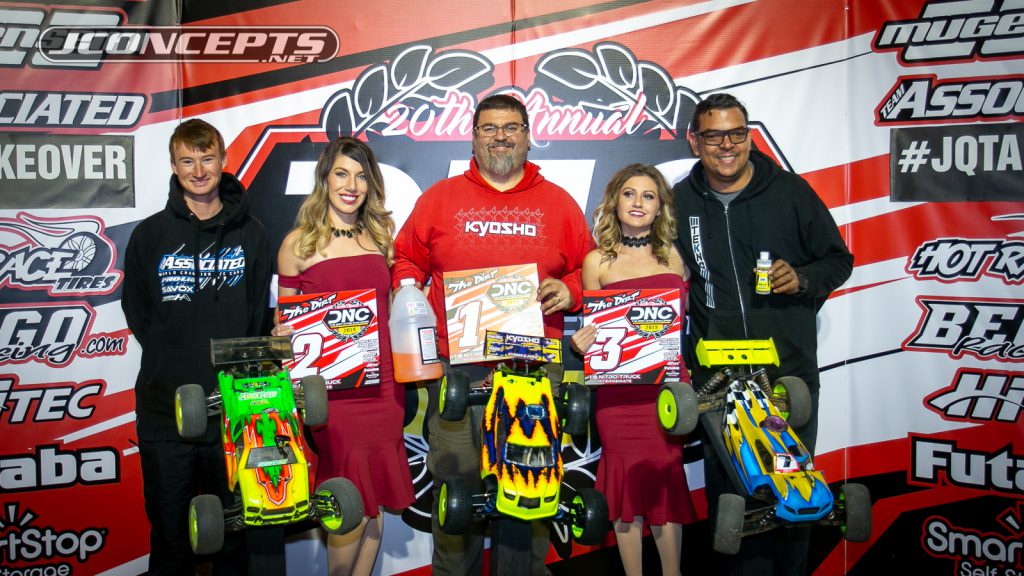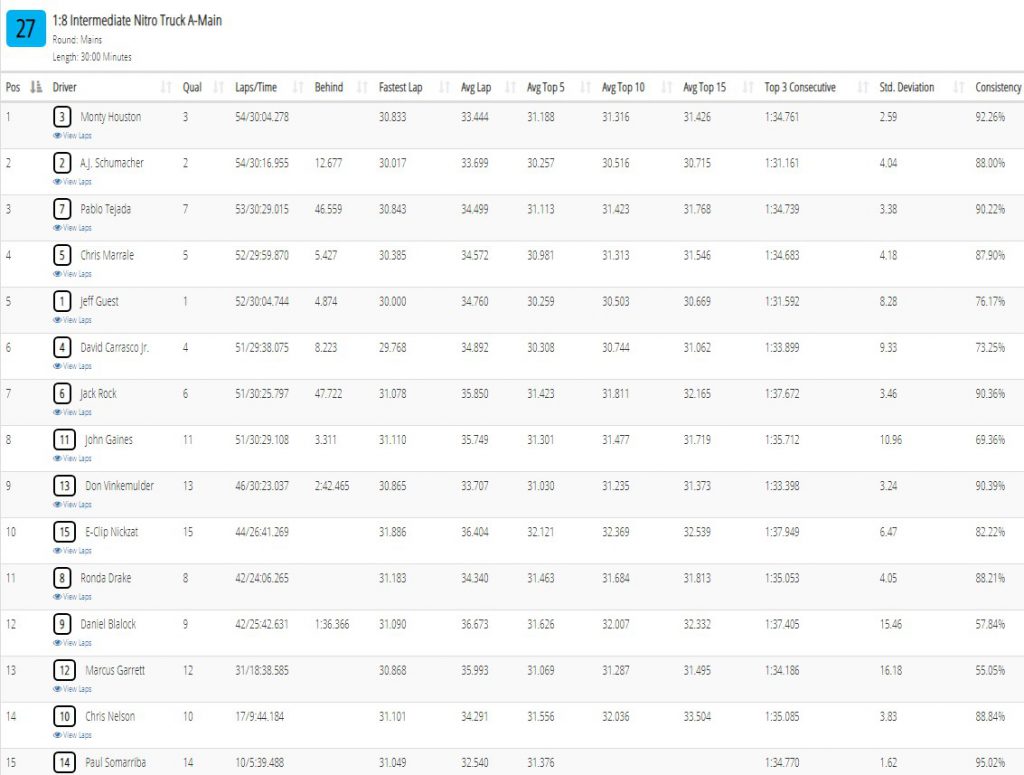 Intermediate Nitro Buggy
The 30-minute main event was extremely exciting in the Intermediate Nitro Buggy class as the top 3 drivers swapped many times for the lead. When the dust settled, it was HB Racing's Kurt Kellum who took the win with Kyosho's Zach Rogers 2nd and TLR/JConcepts' Jeff Guest bumping into the A-Main and finished 3rd on the podium!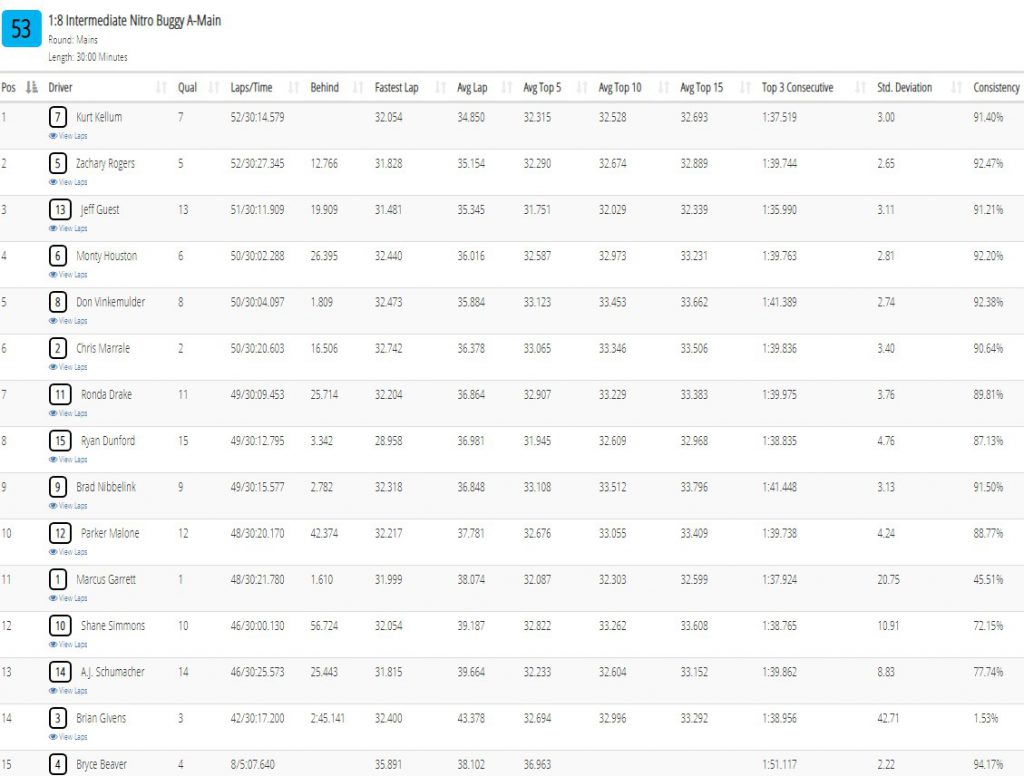 40+ Ebuggy
It was lights out for Serpent's Billy Easton in the 40+ Ebuggy class as the former WC drove near flawless to claim the win. Roman Gastelum was the closest competitor to Billy, as he moved up 3 spots to finish 2nd. Miguel Perez found himself in 3rd after Paul Ciccarello's unfortunate late race DNF moved Miguel into 3rd.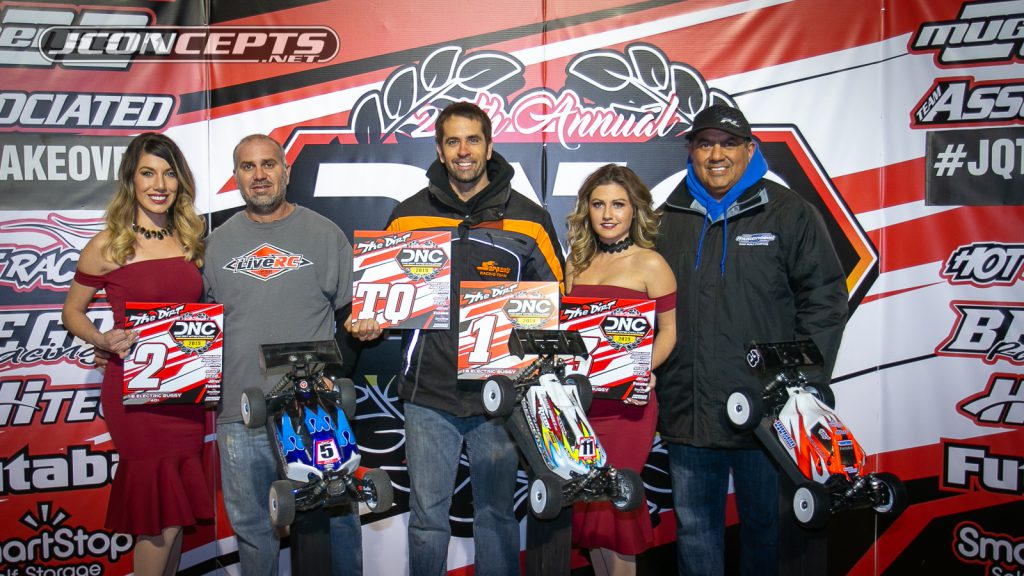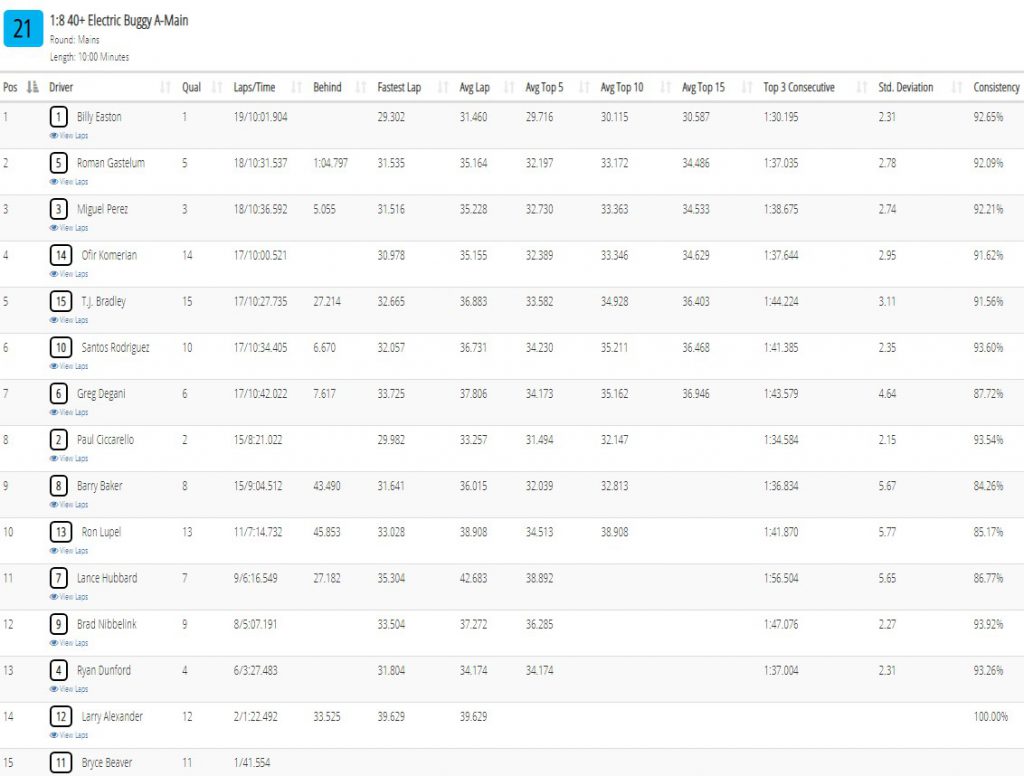 40+ Nitro Truggy
TLR's Don Vinkemulder was the driver to beat during the 30 minute main in the 40+ Nitro Truggy class. However, chasing hard after losing the lead to Vinkemulder, Mugen's Ronda Drake nearly pulled off the win and finished 2nd only 4 seconds back. 3rd place went to Chris Nelson, who was impressively fast all weekend.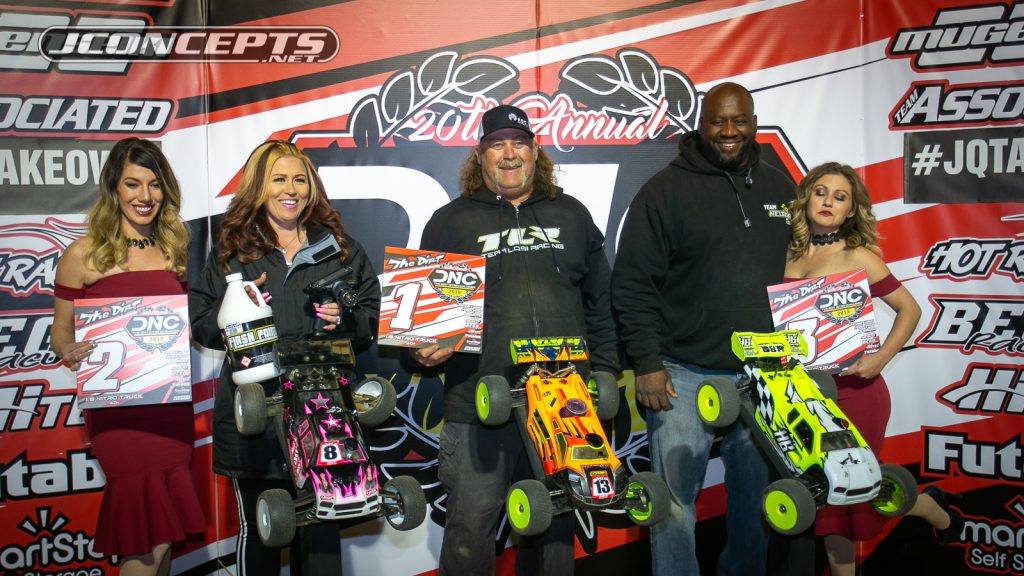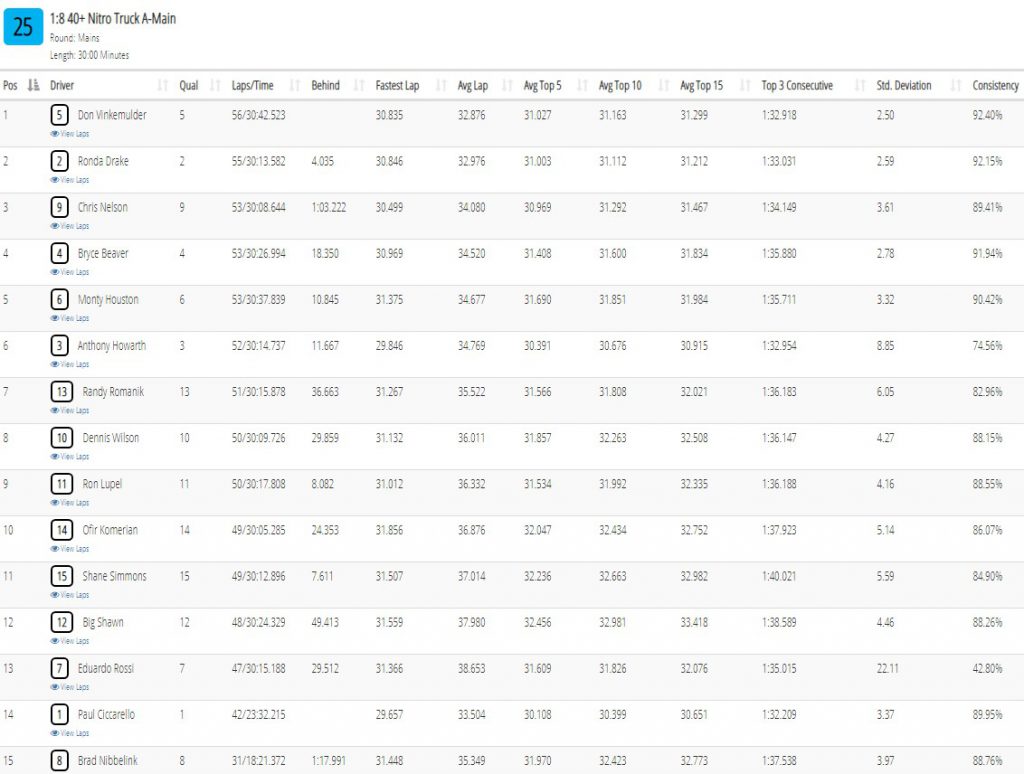 40+ Nitro Buggy
JQ's Greg Degani was on point when it mattered most during the 40+ Nitro Buggy main. The race was extremely close between the top 3 with only 8 seconds separating them after 30 minutes on a rough track. 1st place went to Degani with AE's Richard Saxton 2nd and 7 seconds back. The last few laps were hectic, as Mugen's Ronda Drake gave it her all and finished 3rd and only 1 second back from Saxton.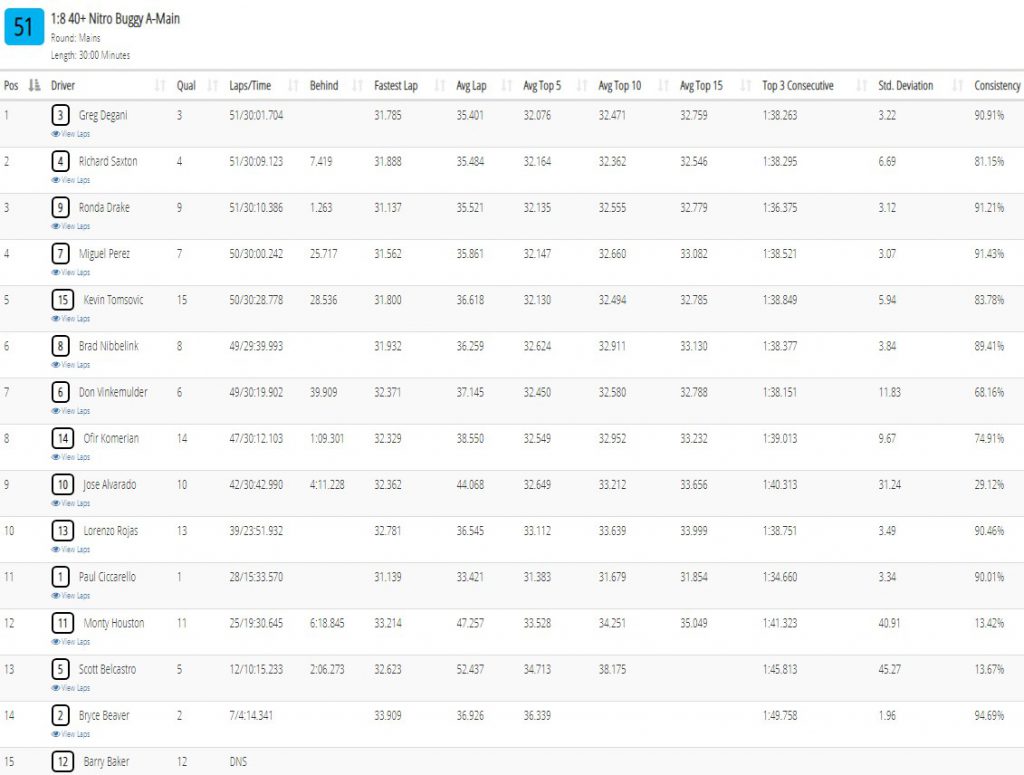 Pro Ebuggy
HB Racing/JConcepts' David Ronnefalk was lights out fast during the 10 minute A-Main in Pro Ebuggy. The Swedish star was able to gap the field and control the pace the way he wanted. However, a late crash and fumbled marshal job saw David's lead shrink to just 1.8 seconds in the end. Despite the mishap, David maintained the lead and took the win. Tekno's Joe Bornhorst has put in his time and it is definitely showing with another great result finishing 2nd. Mugen/JConcepts' Ryan Maifield is always a contender. Letting it all hang out after a few mistakes early on, Ryan found a great rhythm and charged hard and finished 3rd on the podium.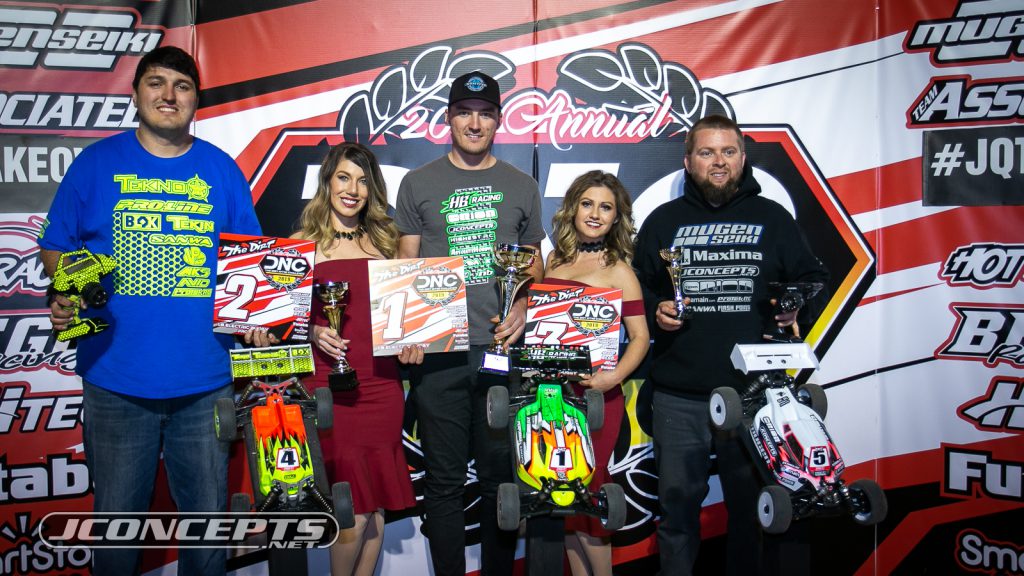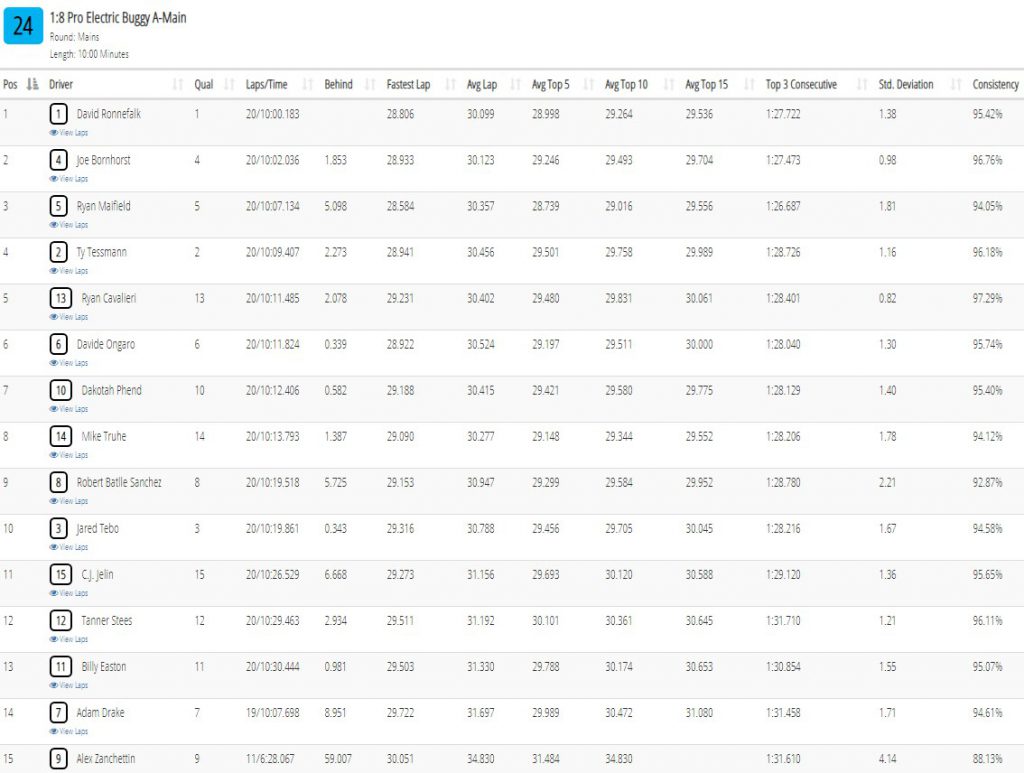 (Sorry no sound)
Pro Nitro Truggy
The stage was set for the 1st pro nitro race Saturday evening with Mugen/JConcepts' Ryan Maifield led the elite field of drivers from the tone. It was clearly obvious early on that Ryan Maifield and AE's Davide Ongaro were on a different level as the two aces separated themselves from the field as Davide moved up quickly from 5th to 2nd. From there, it was a game of nerves as the young Italian World Champion was on the charge to catch up to Maifield to contest for the lead. Having cut the lead down to just 1.5 seconds, it looked as if Ongaro was going on pace to catch the 4-time DNC Buggy champion, but Maifield stayed mentally strong and focused on his lines and his consistency. With flawless pitstops, Ryan slowly built back his lead and crossed the line in 1st place.
Not accustomed to the Truggy life and 1st time at the DNC, Ongaro showed his World Class talent and remarkably finished 2nd. Tekno's Joe Bornhorst delivered another polished run separating himself from the rest of the field and finished stoked in 3rd.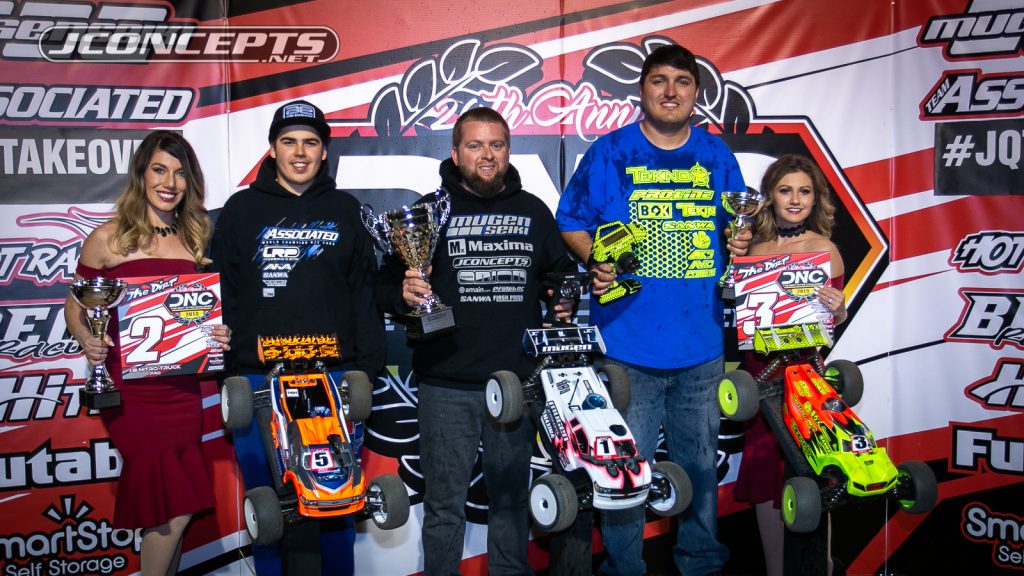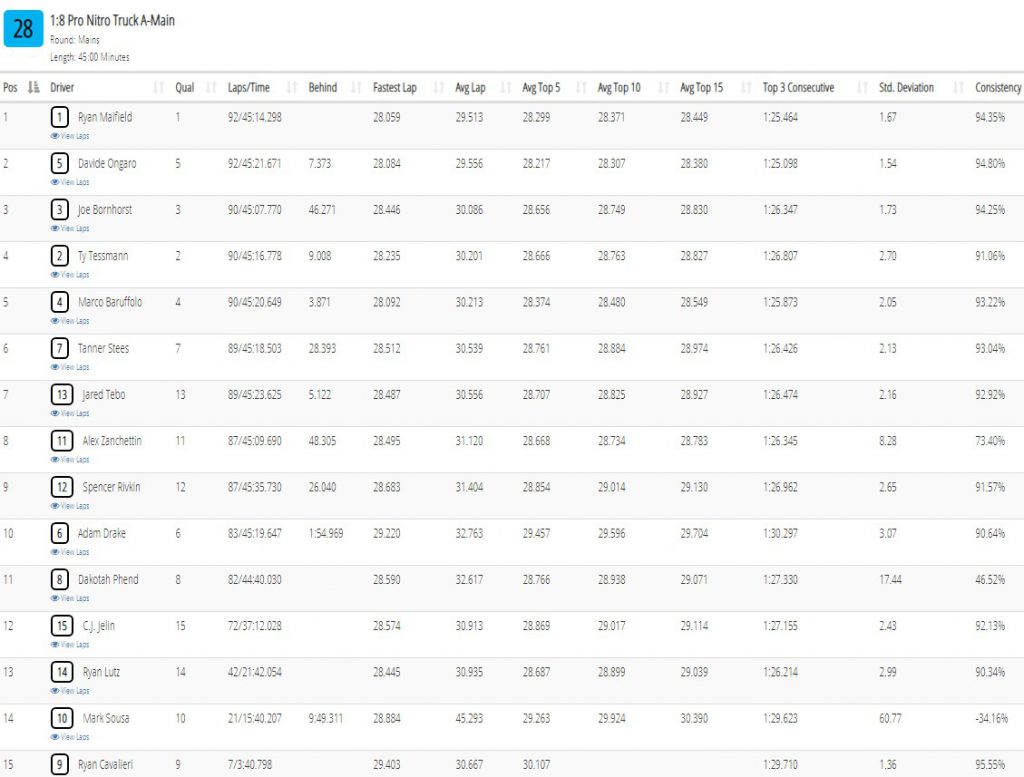 The Pro Nitro Truggy A-Main from last night. It was so intense! #gojconcepts

Posted by JConcepts Inc on Sunday, February 24, 2019
Pro Nitro Buggy
It was the show everyone was waiting for as the Pro Nitro Buggies took the stage and the best 1/8th drivers in the world in attendance. Like a machine, Mugen/JConcepts' Ryan Maifield, never skipped a beat even when he had the current IFMAR World Champion going full gas chasing after him. On a different pitstop strategy, Ongaro momentarily took the lead as he took 1 less pitstop. However, the difference wasn't enough as Ryan displayed an uncanny ability to stay focused and drove in a manner that allowed him to retake the lead and slowly pull away. By the end of the race, Ryan was 1 lap up on the entire field and crossed the line taking his 2nd DNC win of the event and a total of 5 DNC Pro Nitro Buggy titles.
Late in the race, TLR's Dakotah Phend silently marched his way towards the front and was able to get by Davide in the closing laps to land himself an impressive 2nd place finish. Being his 1st DNC and only his 2nd time racing in the US, Davide turned some heads as the young Italian and current WC finished 3rd.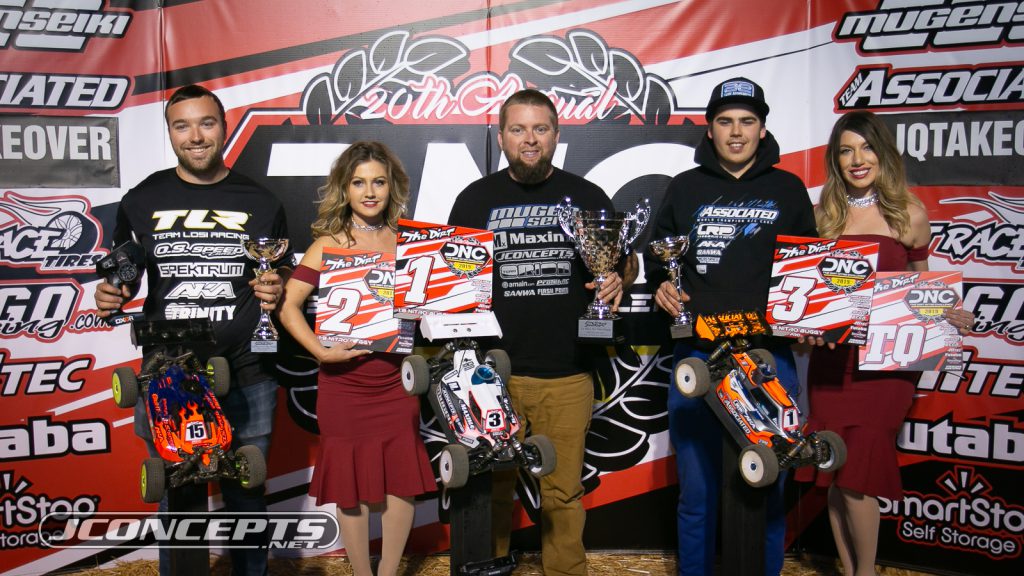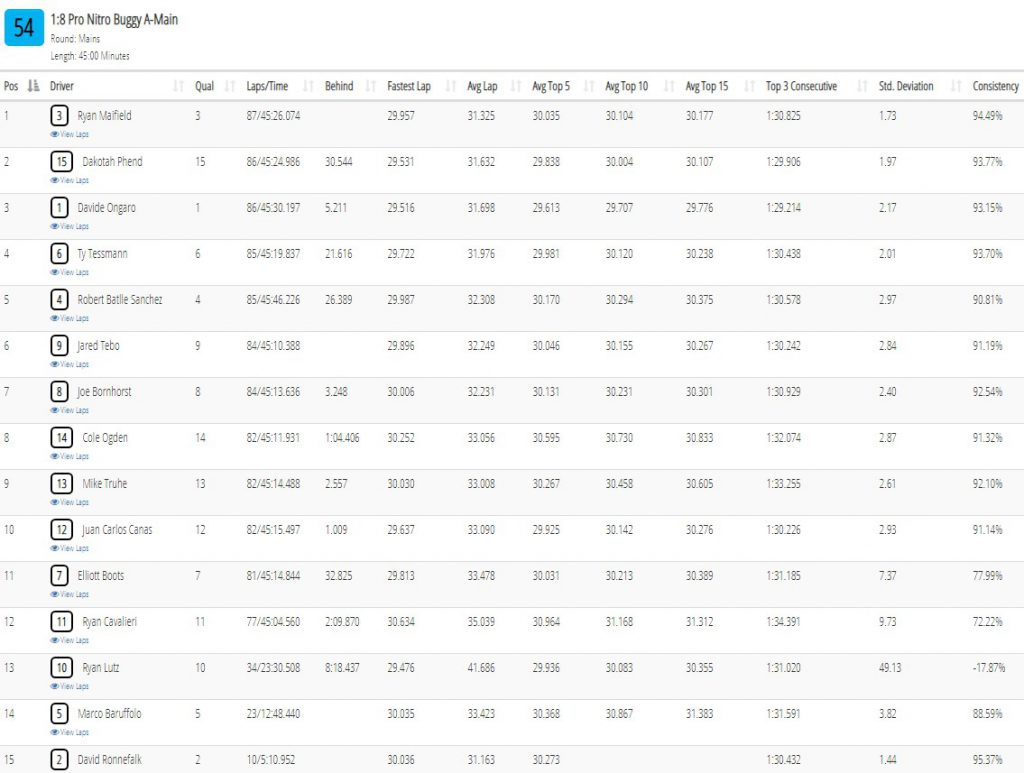 Bonus Videos
Interview with David Ronnefalk about his Ebuggy race, Performa's new ESC, and much more!
We got a chance to catch up with last night's big Pro Ebuggy Champion, David Ronnefalk of HB Racing / Performa Racing / JConcepts. Check out the interview with David as he talks about his winning race, new prototype ESC from Performa, and today's Pro Nitro Buggy race! #gojconcepts

Posted by JConcepts Inc on Sunday, February 24, 2019
Interviews with the top pro drivers about their 1st RC car and 1st big race !!
Pit walkin and talkin – 1st RC car or big race memories with David Ronnefalk, Ryan Cavalieri, Joe Pillars, Ryan Maifield, Ty Tessmann, Dakotah Phend, Jackson Brunson, Jason Ruona, Spencer Andrew Rivkin, Richard Saxton, Paul Ciccarello, Renaud Savoya

Posted by JConcepts Inc on Saturday, February 23, 2019
Chat with Ryan Cavalieri as he talks about his changes for 2019.
4 time WC, 4 time winner of the DNC, Ryan Cavalieri sits down with Jason talkin' about his changes for 2019. Get the inside scoop on his thoughts about the SWORKz RC 1/8th cars in this interview below. #gojconcepts

Posted by JConcepts Inc on Saturday, February 23, 2019