There's something to be said about taking an RC car and turning it into your very own custom ride. The process of creation completely human nature and when it mixes with radio control fun, you can come up with something pretty awesome for not much money. From the inexpensive Monster SCT build to this unique UTV setup, it didn't cost much at all.
Earlier in the week, we showed you the Inside Look to the Monster SCT build that virtually changed the 2wd Slash into a classic Short Course beast using just a body, tires, and wheels. In this edition of Inside Look, we took it a whole different direction but still focused on inexpensive upgrades that can change the game for you. If you're tired of the same old 2wd Slash you got a while back, you might want to have a quick look at this.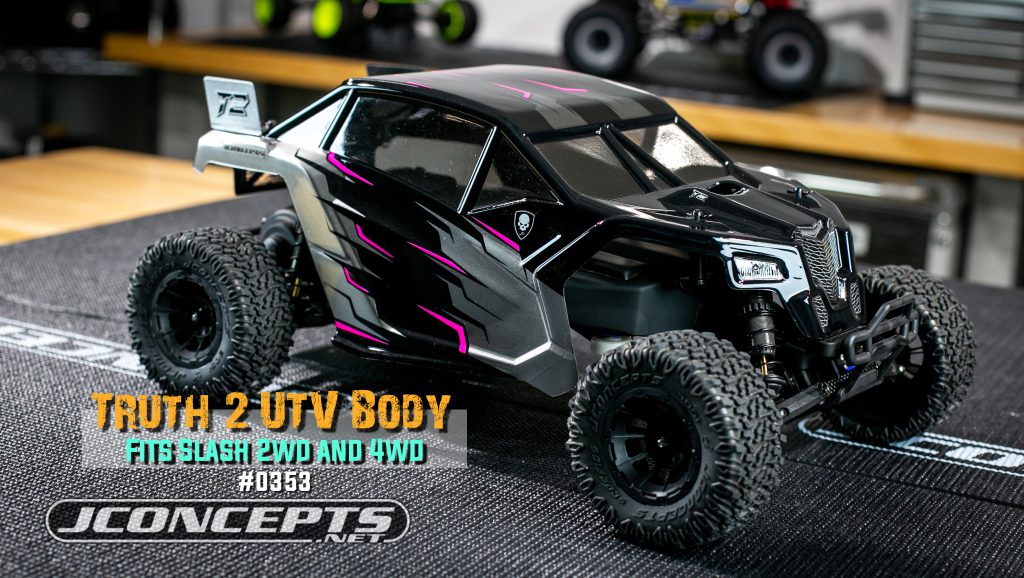 First upgrade, is the JConcepts Truth 2 or T2 UTV body as it's one of the most original out there. Not only does it change the look of Traxxas Slash 2wd truck, but it also puts it into a whole new category. Replicating the super popular side-by-side experience, the Truth 2 instantly adds more fun. Whether you paint it up like your own personal side-by-side or mimic the racer look, it's entirely up to you.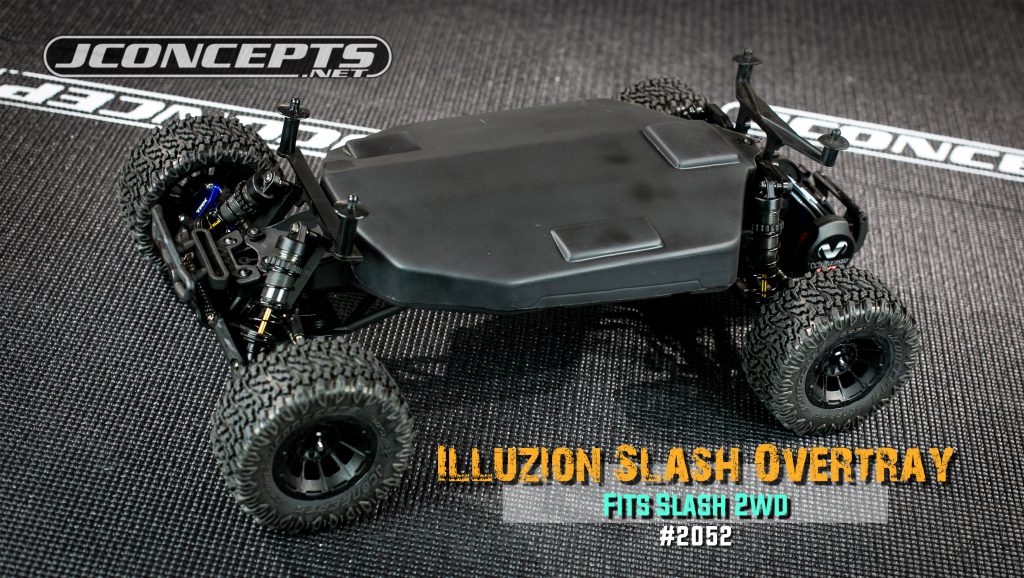 To keep things nice, clean, and protected, we built up our UTV ride with the Slash specific Overtray. This specific model directly fits the 2wd Slash, as there's also an option for a Traxxas 2wd Rustler, 4×4 Stampede, Slash 4×4 overtray, and SC10 2wd SCT overtray variants as well. The overtray comes clear so you're going to have to paint it whatever color you want. After its painted, it does a fine job in protecting your electronics from mud, dirt, and debris.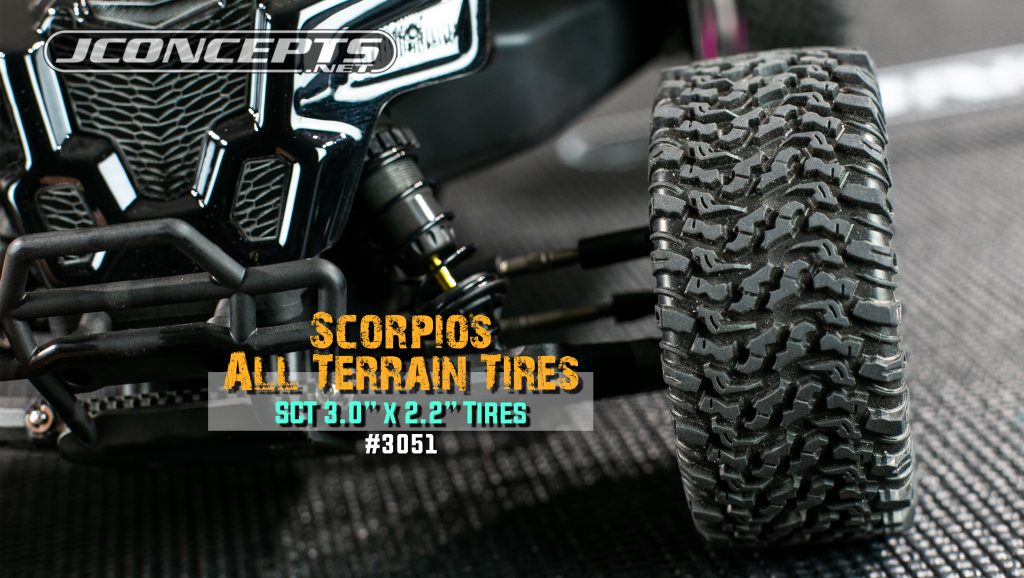 Next, we upgraded the tires to something that can handle everything. Made specifically to be an all-terrain tire, the JConcepts Scorpios opens a new dimension to fun as these rugged treaded tires can go just about everywhere. From the profile, tread spacing, and tread pattern, and rubber composition the Scorpios are engineered to not only look the part but perform no matter the conditions. These popular tires are also available in not only the 3.0″ x 22." SCT size, but also available in 2.2″ and 1.9″ scale sizes as well.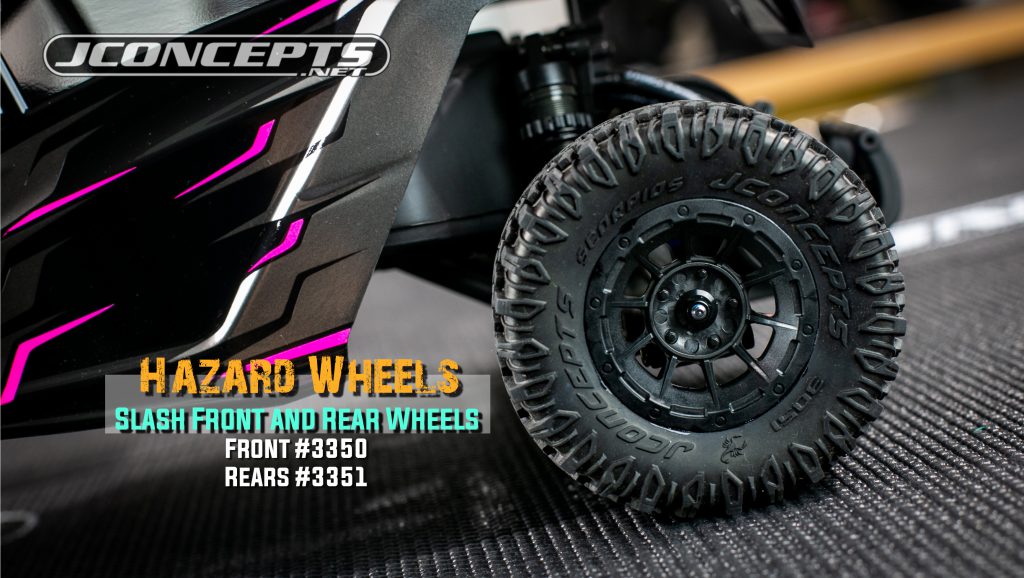 To properly mount the Do It All Scorpios tires, we came up with our very own solution called the Hazard Wheels. These wickedly designed 10 spoked wheels are not only National Champions in the short course world, but are a basher's favorite for their sharp, good looks. Available in all black, white, and yellow, the Hazard wheels are ready to roll no matter what the situation calls for. The Hazard wheels are available for multiple platforms such as for the Slash 2wd front, Slash 2wd rears and Slash 4×4 F&R wheels, Losi SCT-E, 1.7″ RC10 Rear Wheel, 1.9″ RC10 Front Wheels, and SC10B too.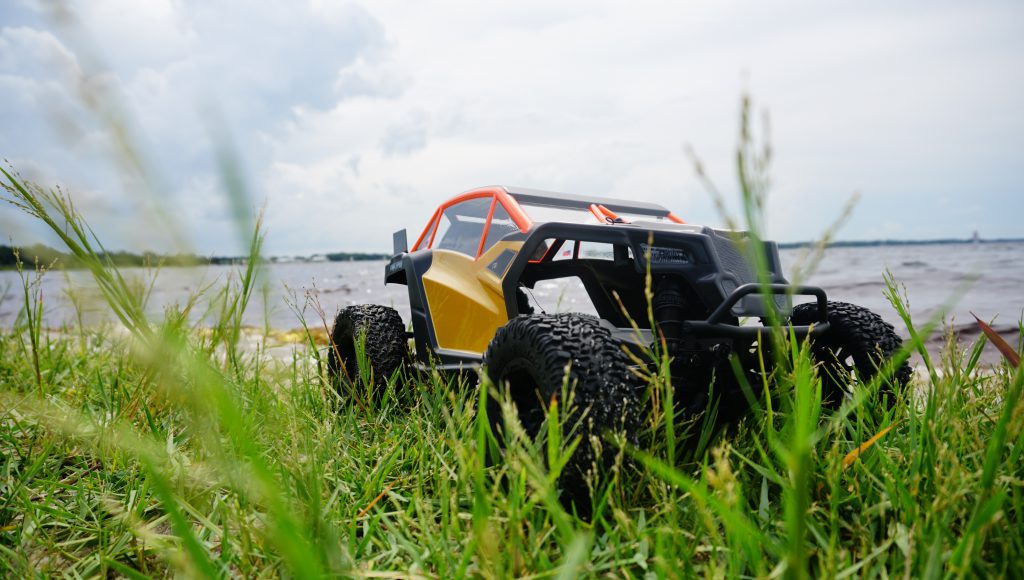 As you can see, just by changing the body you can give a whole new look to your 2wd Slash. By adding tires and wheels, you can add a whole lot of performance through better rubber and tire tread designs. Lastly, the overtray was added to keep the mud, dirt, and debris from entering the chassis area to keep things nice and clean. Let us know what you think and post a picture of your upgraded 2wd Slash ride! Thanks for reading!