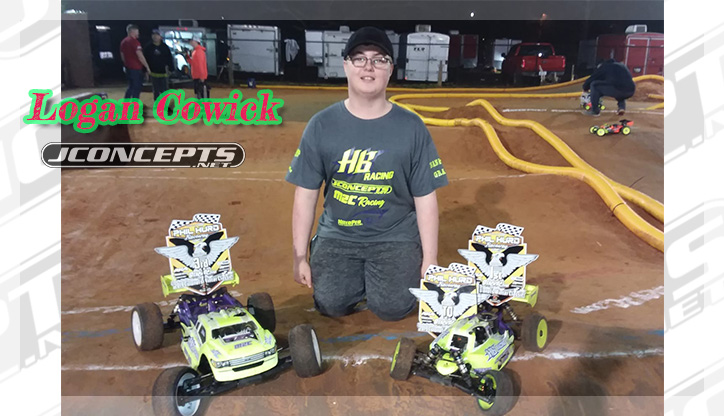 It's always great to see young talent on the team b/c their passion and speed is so raw and pure. Thanks to Wes Cowick for sending in the report on behalf of his son, Logan. Logan raced the 2019 Colonel's Winter Classic (CWC) last weekend where he TQ'd and won Open Nitro Buggy and finished 3rd place in Nitro Truggy. What a weekend and congrats on the win Logan!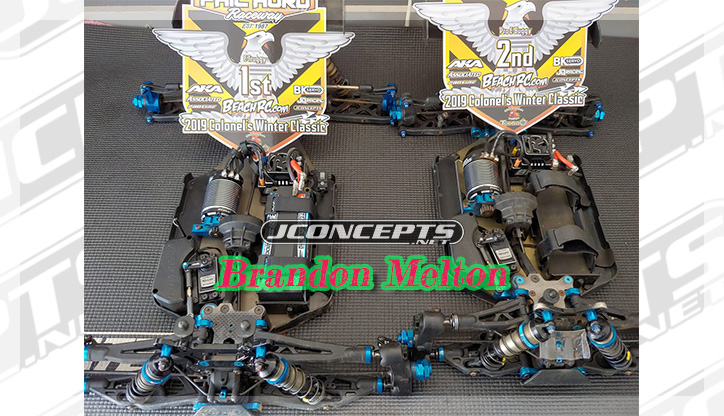 Brandon Melton is a man of few words. Why need words when you can post a picture that says it all? Attending the Colonel's Winter Classic,  Brandon took home some serious hardware finishing 1st in Etruggy and 2nd in Ebuggy with his AE rides equipped with JConcepts. Nice job!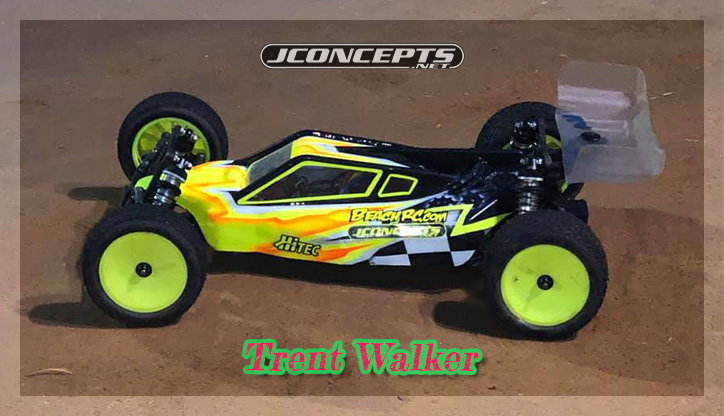 Trent Walker loves racing and has definitely put in some serious wheel time in the quest to get faster and faster. Last weekend Trent scored a killer 2nd place finish in 2wd Modified at the Colonel's Winter Classic hosted by Phil Hurd Raceway. Trent also made the main in Pro Nitro Buggy and Pro Ebuggy finishing 9th and 10th respectiely. Nice job Trent and keep at it!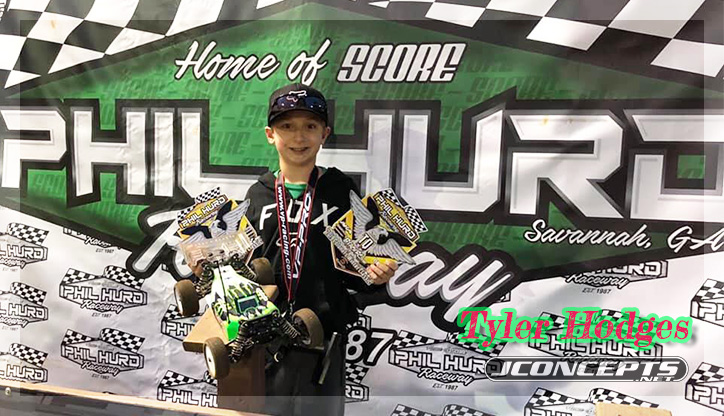 It's so nice to see awesome father and son teams out racing their hearts out. Johnny Hodges and his son Tyler, killed it last weekend at the Colonel Classic. Here's what he had to say about the awesome weekend, "Great weekend at the Colonel's Winter Classic. Tyler, my son, is back racing with me and I couldn't be happier for his big weekend taking the TQ and win. As for me, my HB D817 on JConcepts tires was dialed as always. Driver not quite as good. Just didn't quite have the speed I wanted but never the less qualified and finished 9th in the 40+ A main. Thanks to JConcepts for the great tires. I ran green Detox in the main and Tyler used green Reflexes. Now gotta get the little man some JC swag … need kid sized shirts and hats!" Awesome job and congrats to Tyler on his big win!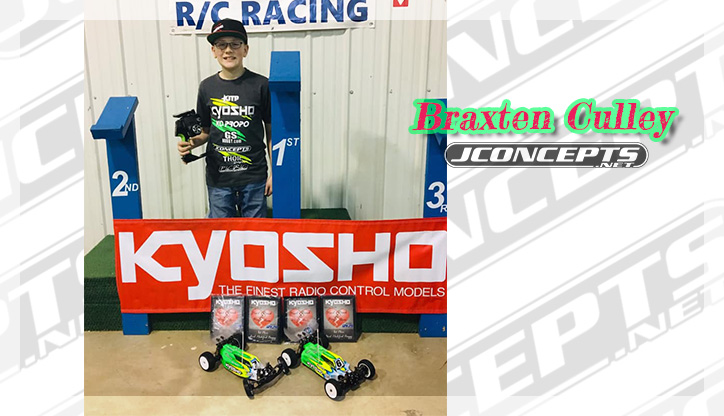 Braxten has talent and after seeing him run at the 2019 Reedy Race of Champions, he's got bright future ahead of him. Last weekend Braxten went and raced at Polk County R/C Raceway where the turnout eclipsed 120 for their trophy race. This was what the young speedster had to say about his weekend, "This would be his first race day on his new JConcepts Inc carpet tires. He ran swaggers in the front of both cars and the new Twin Pin on the rear of both cars, which provided really consistent traction. Qualifying went great and he was able to TQ all 3 rounds in both classes and would go on to win both 8 min mains. We both want to thank everyone at PCRC for once again providing all of us a great place to race at and a huge thank you to all of the racers that came out to support the track!" What a weekend and we're glad the Twin Pins and Swagger were hooked up for you!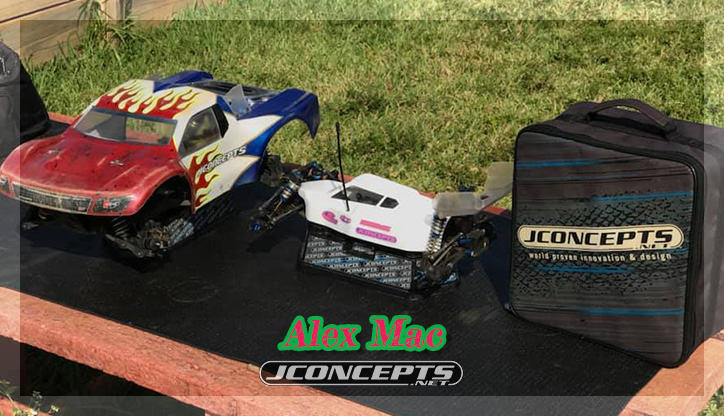 It's great to see Alex Mac working hard because this kid has potential. Learning from the best in Florida, Alex is putting in the time and hitting the track as regularly as he can. Last week, Alex held it down at his local track's club race in Coral Springs RC Track located in Coral Springs Florida, where he TQ'd and won the Ebuggy class. As a bonus, he took the win in 17.5 2wd stock buggy as well. Hard work pays off indeed.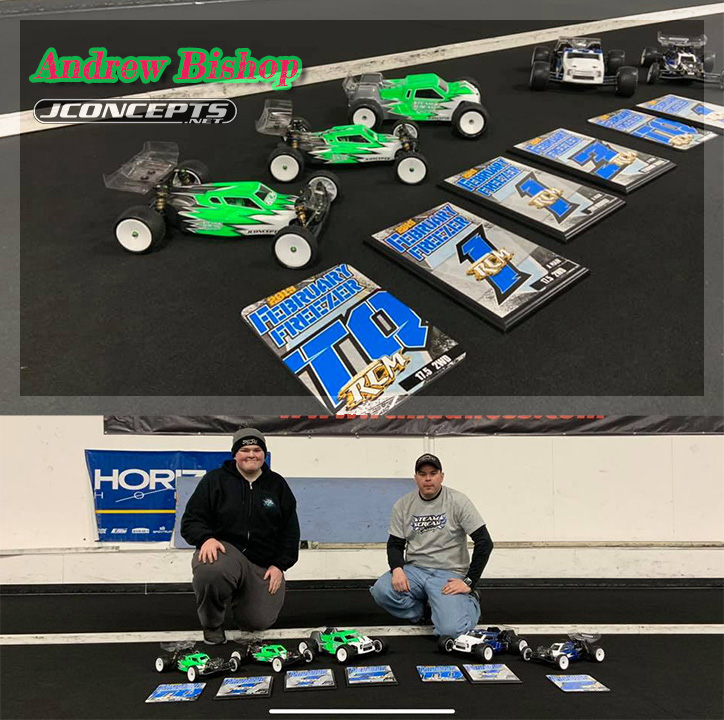 One of the quickest, nicest guys you'll ever meet, Andrew Bishop dropped the hammer last week at the February Freezer. Taking 1st in both the Stock 2wd and modified 2wd classes only gave us a glimpse of Andrew's true speed. In addition, Andrew was on the podium in Stadium Truck finishing 3rd. I'd say that's a pretty awesome weekend on the rug. Oh and Tom Bishop, finished with a TQ and win stock Stadium Truck!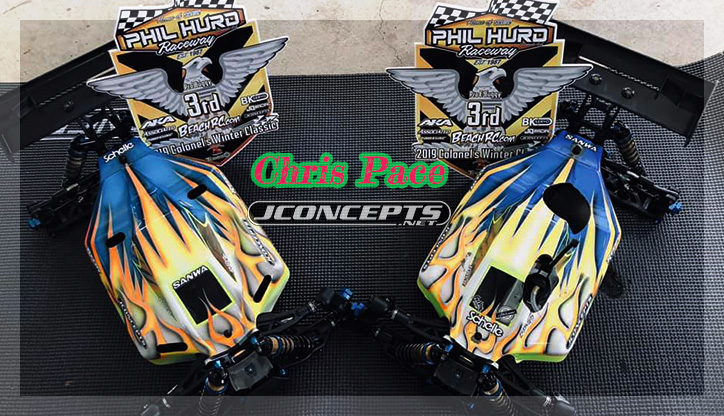 Chris Pace was another driver that attended the CWC (Colonel Winter Classic) hosted by Phil Hurd Raceway where he finished 3rd in both Nitro and Ebuggy classes. Chris found great success with clay Ellipse tires on Ebuggy and green Dirt Web tires on his nitro ride. It's not easy to make any podium let alone get on 2 podiums in the stacked classes of Nitro and Ebuggy!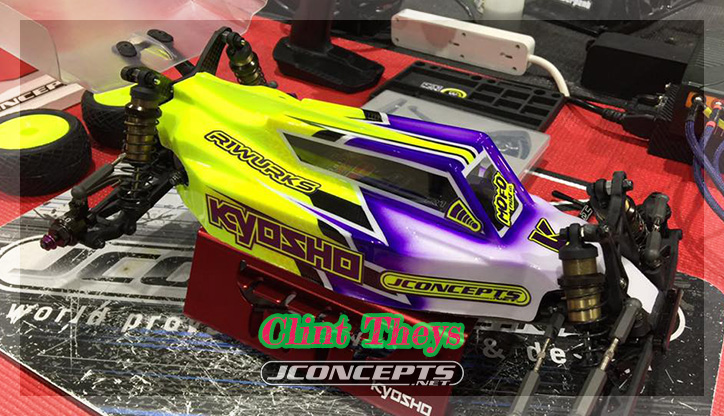 There's no secret that preparation is essential to doing well at big races. The car has to be on point and so do you. This is what our JConcepts' Kyosho team driver, Clint Theys, had to say about his weekend, "Qualified 8th in the A-Main in the 17.5 stock buggy class at the famous RC Clubhouse, site of the highly anticipated JConcepts INS race in October 2019! Ran ghosted Ellipse/Dirt Web combo." Keep up the hard work Clint and see you in October!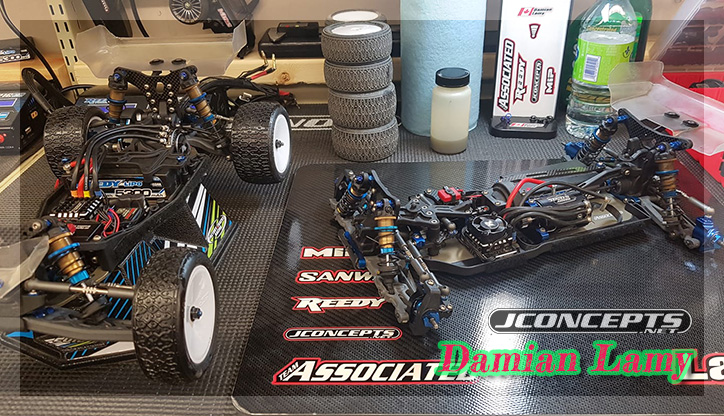 Our Canadian hot-shoe, Damian Lamy, sent in his report and by the looks of it, all things are rollin' in Canada! This was how his weekend went, "Club racing here at Centre Du Hobby in Québec. What better thing to do than racing when it snows outside. Tq and win in both my 2wd and 4wd buggy. I ran gold Dirt Webs all around four corners of both cars and they were dialed." Dialed? How about Dominant?!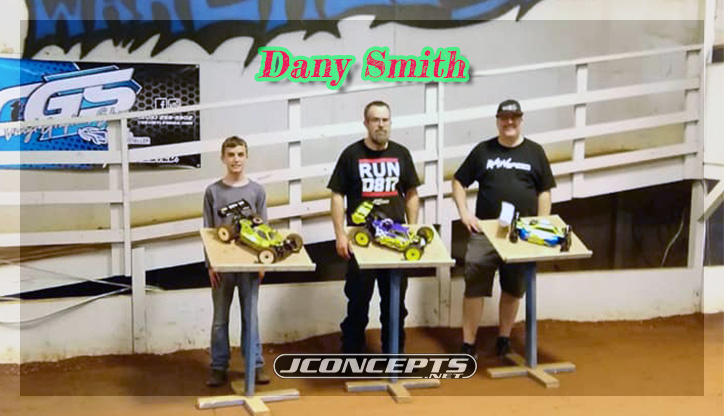 Danny Smith sent in his race report from last weekend and this is what he had to say, "I club raced at Warehouse Hobby Raceway this past weekend and ran nitro buggy and Ebuggy. The track got watered by mistake early and with the rain and humidity we've had, it was a muddy mess all day. I was able to TQ and win nitro buggy on black Black Jackets and qualified 4th and ended up 2nd in Ebuggy on green Dirt Webs." Despite the muddy mess, Danny you killed it!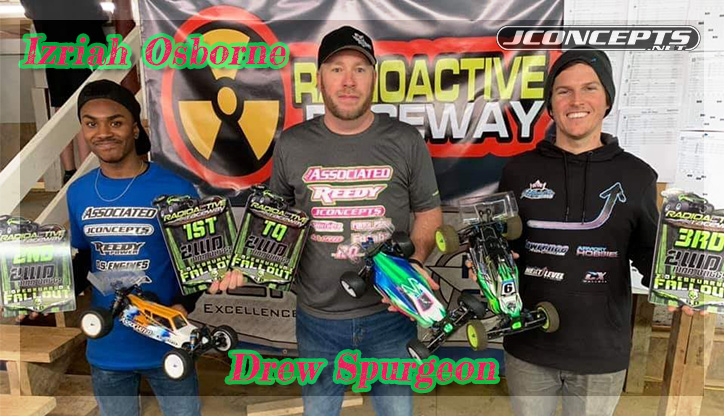 The man, the myth, the legend, Drew Spurgeon goes out on top at the February Fallout race hosted by Radioactive Raceway in Kentucky. Drew pulled out the TQ and win in 2wd and in the Stadium Truck classes showing his prowess behind the wheel. On top of that, he was able to nab 4th in 4wd despite making a bad setup change for the main.
Team driver Izriah Osborne also attended the race showing amazing pace and finished out the weekend in 2nd in both 2wd and 4wd classes at the Fallout 6.0! No one said making podiums was easy, but these guys make it look too easy!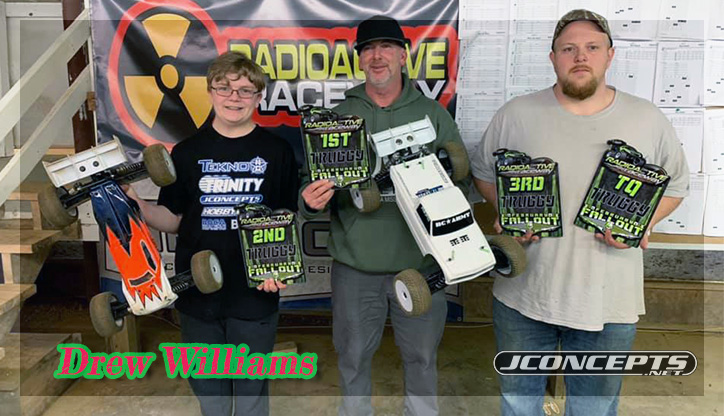 Getting in on the Fallout 6.0 fun, Drew Williams put on a good showing and got a lot of track time. Bumping up mains, Drew made the best of his situation bumping from the B to the A in Expert Ebuggy and finished 6th. Much like his Ebuggy results, Drew bumped into the A in 1/10th Etruggy and also finished 6th. However, in the Etruggy class, Drew ended up taking 2nd! Nice job Drew and keep the fire!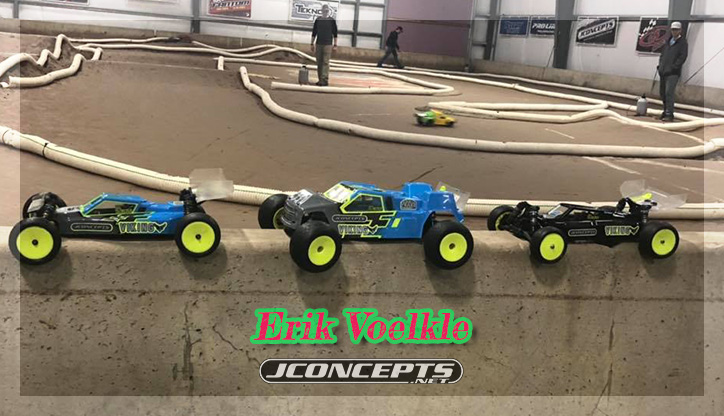 The Viking is getting ready! Adding a new car to his lineup, Erik jumped in and had some 4wd fun with his new B64 as he's trying to get himself some practice before next weekend's Reedy style regional race going down in Erie, PA. Good luck and have fun Erik!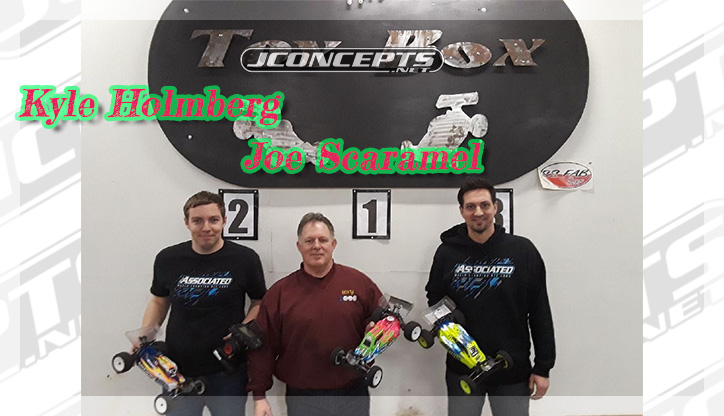 News from Toy Box Raceways where Kyle Holmberg and Joe Scaramell took the win with JConcepts. Joe won the 17.5 2wd class while finishing 3rd in 13.5 4wd. Kyle Holmberg found himself on top of the box in 13.5 4wd and 2nd in 2wd. It's great to see both drivers frequently club racing keeping their skills sharp for the next big race.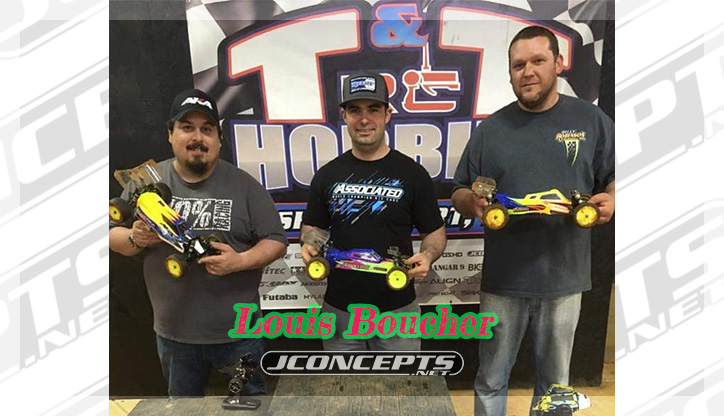 Club racing is essential to improving and Louis Boucher club raced at TNT RC Hobbies in Shreveport, LA where he found a lot of success with a TQ and win in both 2wd and 4wd classes. Keep up the hard work Louis!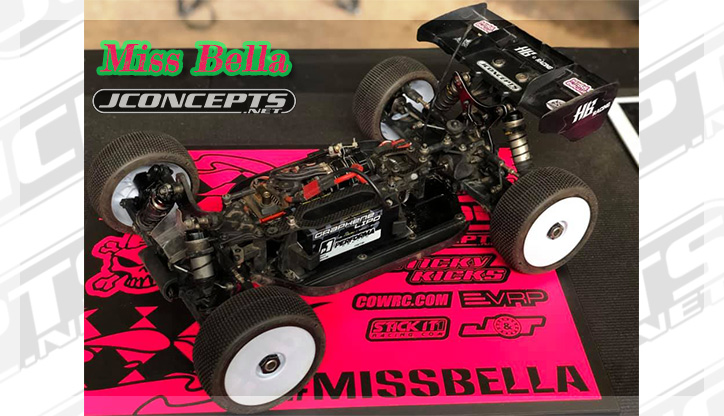 Sometimes failure or not performing at your potential can motivate you past your limits. None of us like to fail, but it's all a part of the process. It's your actions after that makes the difference. Our young superstar, Miss Bella, raced at the 2019 Motorama where she felt she could have done better and this is what she thought about her experience, "I have to admit, I wasn't thrilled with my finish. Mom says I'm my worse critic. I am always focused on doing my best and being the one in the middle holding that number 1 trophy. I don't like it when I let myself down, I feel like I let everyone else down too when I'm "in the moment". Of course, once I collect my thoughts and shake it off, I realize everyone else sees my improvement every time I get out on the track and they are proud of me regardless. It means a lot and I appreciate all of you, your kind words and support." Amazing Miss Bella…. keep at it girl and good things will come!
You don't always have to race to be a part of racing, there are also important roles like RD'ing for example. Last weekend, Patrick Rossiter Jr. called the race at the 2019 Colonel's Winter Classic where it drew in 182 entries. It's not easy to direct that many racers and definitely take a lot of dedication ensuring everyone has a great time. Thanks, PRJ!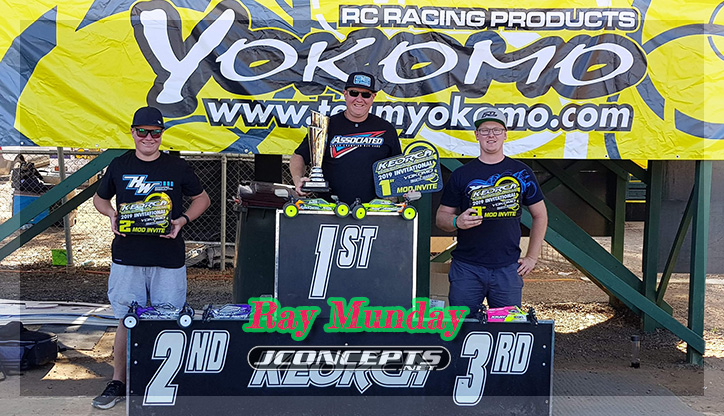 Our Australian superstar, Ray Munday took a huge victory last weekend as he raced the Keilor Invitationals in Melbourne, Australia. If you're not familiar with the Keilor Invitationals, it's basically Australia's Reedy Race as drivers attend from all over the country. Impressively, Ray took the huge win after adding up the results from both 2wd and 4wd. Congrats to Ray and to the other JConcepts drivers, Lachlan Donnelly, Lachlan Munday, and Jordan Isergin, who finished 2nd, 4th, and 5th respectively. Also, Andrew Selvaggi almost pulled off the wins in the open class and showed great speed using JConcepts tires and accessories.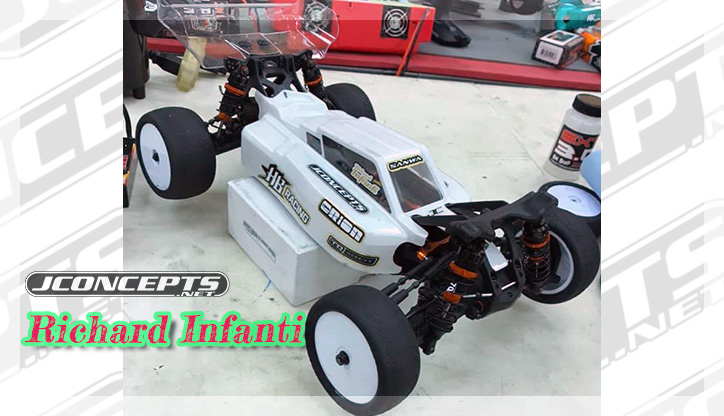 We all know what it's like to be a little burnt out of racing. It's okay, it's only natural after going so hard for so long. Sometimes taking a break helps us find even more motivation as our team driver, Richard Infanti, recently returned from a little hiatus with renewed excitement. Having joined JConcepts for 2019, Richard TQ'd 4wd and finished 2nd! Doesn't seem too rusty at all!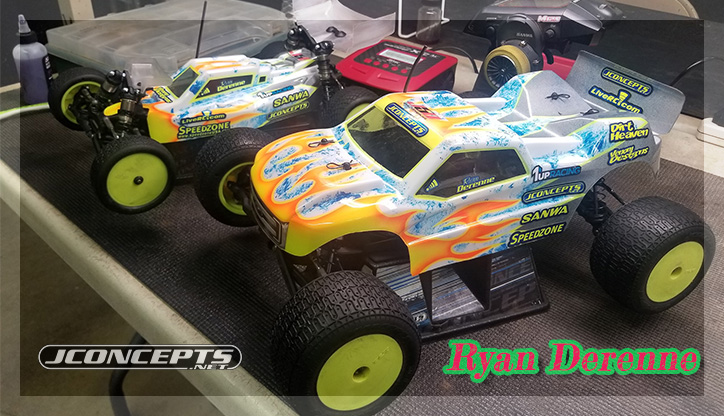 One of our most consistent racers who's always putting in the work, Ryan Derenne raced his winter point series and had this to say about his results, "Raced a winter series point race at Dirt Heaven Hobby and Raceway and my TLR 22 5.0 was on another level. I swept all the races taking TQ and winning the Amain by a lap. In the 40+ super stock class, I was railing on gold Dirt Webs and Ellipses with the F2 body. With my TLR 22T 4.0, I would take TQ and finish a close 2nd in the Amain in the Mod Stadium truck class. I was hooked up on gold Dirt Webs and a Finnisher body. Had an amazing time at my local track."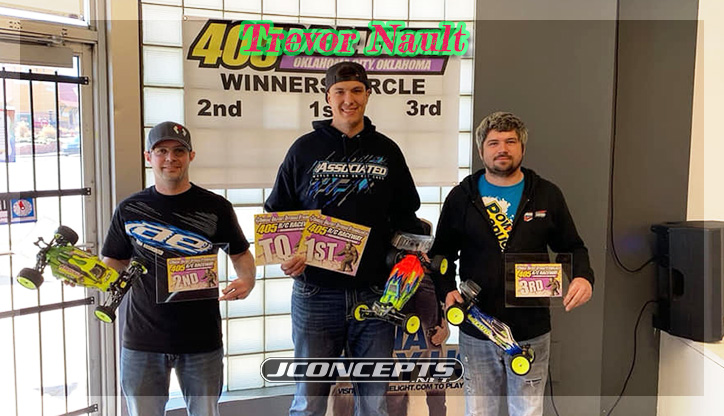 Super fast Rhett McNair, Trevor Nault, and Tyler Keel spent last weekend racing the 2019 Bigfoot Offroad Xtravaganza where they found killer success rockin' the JConcepts Nessi and Pin Down tires. Trevor was able to TQ and win the 2wd Modified class with Tyler finishing just off the podium in 4th and Rhet 5th. Front low mount wing, F2 body, Aero rear wing were all a vital part of the winning 2wd formula for Trevor and the rest of the crew.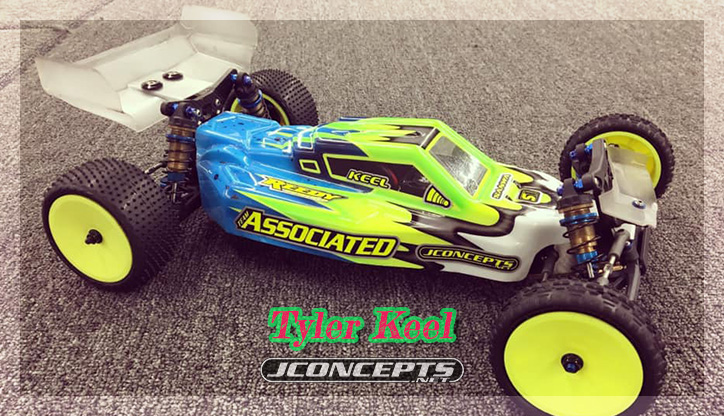 Rhett McNair also had a spectacular weekend on the 4wd side with a TQ and win in 4wd Modified and a 2nd in 13.5 4wd. In 2wd Modified, Rhett made the top 5 rockin' a combination of Nessi and Twin Pin rears with Swagger fronts.