Race 2 headed south to Coral Springs, a nice outdoor venue and host to many Super Cups and JConcepts' Events over the years. The weather heading into the weekend was not looking good, then looked ok, then back to questionable. The new layout was ready for a warm-up race the week prior but the rains put a stop to that. The track crew spent most of Wednesday and Thursday repairing the track only to have it ruined again by rains early on Friday. They did not give up on us and spent most of Friday re-building yet again.
We finally had a decent and somewhat dry track for practice around 5pm on Friday. The few that stuck it out on Friday had very little track time but all enjoyed the new layout.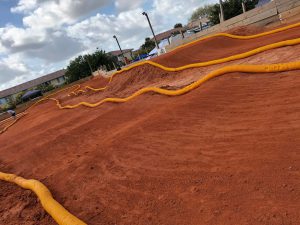 Saturday morning we awoke to great weather and a still drying track. With an hour or so of practice for everyone, we kicked things off right at 9:30am. A light turnout, mostly due to the forecast for the day, but we still stayed on a semi rushed schedule since the rain percentage was heading up towards the mid afternoon hours.
We made it through two qualifiers and all the lower mains and just as our first A-main finished, the rain began. Since the track was already saturated, it didn't take long for the puddles to form and end our race program for the day. Final results were tabulated by how everyone was going to start in the A Mains, a bonus for some, a disappointment for others but that's racing. Especially in the soggy South Florida area.
We can't thank the crew at Coral Springs for their hard work and determination to get us a race ready track for Saturday. Be sure to follow their Facebook page and support their club races and series throughout the year.
Next up we head back North to a first time stop for the series, Dean's Discount Hobbies just outside of Tampa. Race 3 will be held Saturday March 9th. We will see you then, Let's Race!
Learn more about the Super Cup Championship Series by visiting our Website and following us on Facebook.