Dude, you are dialed, rest easy.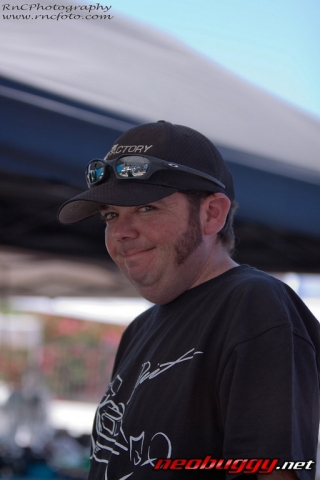 Easily the most dedicated driver and hobbyist I've known. It's been tough to put in to words the impact Brian has had in the RC community. Just seeing the outreach and stories already posted are mind boggling of how many lives he impacted, stories he's created or individuals he's influenced.
I believe what I most respected about Brian was, he never treated RC Racing or the vehicles as toys or downplayed the importance of the results or event because it was not a 1:1 scale. To Brian, it was racing and it deserved the same amount of respect as any other form, and for that, I'm truly grateful. Often times, it's "cool" to trivialize the hobby, sport or results because the size of the vehicle or that it could be compared to a toy or game. To Brian, the only game was when he declared it "game over" on the results sheet.
When you spoke to Brian about vehicle setup, tire performance or anything technical, you would quickly find out, it was very serious. Then, you would speak about the mental aspects, technique and fundamentals of driving or style, then you would realize this was someone who thought without limits and really had a grasp on what it took to be successful.
When I look back and think about it, the racers liked being around Brian because he was a winner. Everyone likes a winner but it doesn't always translate over to those that follow. But, what was unique about BK's relationships, he also elevated the drivers and people around him to be better drivers and mechanics. Through his work ethic and leading by example, he brought up so many amazing drivers in their own right.
This guy was so famous in RC, it's hard to describe. I've traveled around with a lot of great racers and had amazing opportunities with many of them. However, when Kinwald showed up in his prime, there was nothing like it. All eyes were on Brian and what he was doing from the moment he arrived to the moment he left. His impact in those days, his entourage, his vehicles, his tires, tire prep, he was his own race team in a sense. It wasn't so much you were competing against Team Losi, Team Trinity…etc, you really were competing against #teamkinwald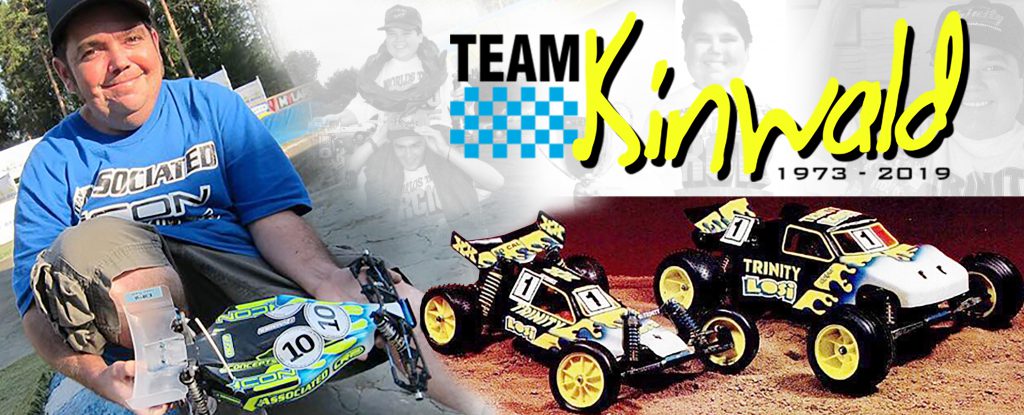 A walk down memory lane with BK –
1991 – Wow, it's Brian Kinwald on the scene in Savannah, Georgia. Damn, this dude is fast, he almost won 2wd mod at the ROAR Nationals. I remember he would stand all the way at the end of the drivers stand, in the place where a disabled driver or wheelchair access was because he could stick the antenna straight out without being hindered by the railings.
1992 ROAR Nationals, won the triple mains in the 2wd class. Ok, this guy is the real deal, he won with precision and a monster desire. We had an extremely long break because of a computer problem. He watched them work on the track during the break and made adjustments while the track was changing before our eyes. Look, the whoops section is almost gone, I'm changing something. I really developed a friendship with him here during this race.
1993 Roar Nationals at RCO. All the way from 2 blocks away, it's Brian Kinwald, as Barry Baker famously announced the home town driver. Brian won both classes very easily. I remember him asking me to set out and help him compare 2 cars. A graphite chassis RC10 vs. the aluminum tub chassis RC10….I would set one out and then the other and he would give his feedback….dude, the tub car is better….I looked at a shock and said, one of your rear shocks is blown out, e-clip fell off….he's like, one eyebrow up, dude, you think that was better??!?!
1994 –
Brian won both ROAR Nationals on my home track that year at Lake Park in Lutz, FL. Before the 1994 Winter Champs and season, Kinwald had made the switch to Team Losi and Trinity. He missed the Winter Champs that year (illness) and Team Associated dominated without Kinwald present. I believe through the RC grapevine, BK found out Mark Pavidis took a vacation, came to Tampa early to stay with Bret and Brad Reelfs for that Winter Championships event. Of course, Mark practiced a lot too while on vacation but that was a big part of the 1994 domination. Kinwald and Team Losi remembered this and for the ROAR Nationals, BK, Gil Jr and I believe Greg Hodapp came in early. Oh, you guys practice early? We will come in 2 weeks ahead of time and spank you….Kinwald pulled the double win at Lake Park on a very tricky track and conditions.
1994 ROAR Truck Nationals –
This was the showdown of showdowns. This was Brian Kinwald vs. Mark Pavidis. Mark was dominating the weekend by TQing stock and modified truck….it was his weekend, he had the equipment and driving on-point all weekend. He was the faster driver and truck on that weekend. Due to a staple being in the motor, Mark wasn't able to wrap up the modified victory in A2 and man, he was gone too….
However, this was the opportunity Kinwald needed. As they gridded the trucks I noticed Kinwald was sporting the "good luck" Yokomo yellow wheel dots. I said to myself…F#$@&%*!?
A3 was one of the best races I've ever seen with Mark not folding at all…..Mark entered the straight-away on the last or next to last lap and a footprint in the track just nudged him offline just enough (the footprints were common on the old soft SoCal surface) for Kinwald to dive inside and snatch the lead and take the overall win. At this point, I wanted Mark to win it for AE, but, there was Kinwald finding that little extra bit, the extra opportunity to steal this overall win.
1995 –
Brian wins both 2wd and truck modified again and this time at SCORE in Savannah, GA. In this day of racing, qualifying was by rocket round and Kinwald had a hiccup in the fast round and qualified 8th I believe. I felt this was my best chance to ever beat Kinwald and because of a similar qualifier, I qualified 9th. Kinwald made it to the front pretty easily each main as did I. However, like always, he was too good.
I remember the XX vehicles had the lexan wheel covers, and I want to say for some reason he quit using them at this event and it had even more of an intimating look on the track.
This year was also the height of the old Winter Championships race at Lake Park. If you were Team Associated, you sat on the left bleachers, if you were for Team Losi, you sat on the right bleachers. There were 15 heats each of 2wd and truck modified. You never knew which heat the TQ would come out of because of the random order and speed of the drivers.
If you put in a good qualifier, your section of bleachers would put in a full applause for you. AE driver gets a TQ run, bleachers went crazy, Team Losi driver gets a TQ, their bleachers would go nuts. It was the most intense qualifiers and race event I've ever been a part of.
1996 –
Kinwald debuts XX-4 at the ROAR Nationals with a TQ and win. The best always deliver with a new product and that was another thing BK was so good at. Here I remember him taking a prototype XX-4 and getting the TQ and Win, a very important part of kicking off the promotion of that vehicle. Remember the magnesium chassis?
1997 –
After winning all 3 classes at both the ROAR and NORRCA Nationals, he also won the 2wd IFMAR Worlds for good measure. Racing is difficult and when it's your day, you better be sure to take advantage of that. Kinwald was the best at making sure he didn't screw up the opportunity for a sweep, a big TQ and win or a debut of a product. I can't think of anyone besides BK, Cavalieri or Maifield who have won so many classes at an individual event. Sometimes I feel Cavalieri won multiple classes because he knew Kinwald would give him grief if he didn't.
I was fortunate to be in races with him during this era and standing next to him on the drivers stand when he won the 1997 Worlds. I remember him crossing the line and the Losi / Trinity fans going nuts…I was still finishing my last lap…I remember thinking, do I want to knock this guy off the drivers stand or do I congratulate him. Of course I gave him the congratulations.
1998 –
Mark Pavidis takes a 2wd buggy victory in Illinois, somehow taking a single ROAR National away from the 2wd buggy king. If I remember correctly, this track was a little different and favored the AE vehicles and their tires. Kinwald wasn't able to snag any victories on this weekend but I think his popularity in general, pit setup and entourage was probably never higher than at this point.
1999 –
BK debuts the Team Losi XXX buggy to another TQ and victory at MNM Hobbies. 9 of 10 drivers were Kinwald teammates?! This race was at BK's home track of MNM Hobbies in Corona, CA. I believe this is where a lot of the news was breaking that Trinity had purchased Team Losi or they were at least partners. This partnership was later annulled but Kinwald was on point and so was Team Losi, easily their most dominating weekend I remember.
1999 –
Standing on the drivers stand, 2wd buggy A3 at the Worlds in Finland….Matt Francis starts pumping a song from the pit area to pump up BK to get the overall victory. However, after an A3 battle with Mark Pavidis, it would be Masami Hirosaka who benefited and won the overall. However, the biggest victory probably came when Brian prototyped the BK Bar tire during that event.
2000 –
Kinwald wins the 2wd modified class at the ROAR Nationals again in Dalton, Georgia.
2001 –
Another ROAR Nationals and another 2wd victory for Brian Kinwald. Minreg in Clearwater, FL was the track and BK dominated again.
2002 –
Brian again took another victory in the 2wd modified class at the ROAR Nationals. This was his last victory in the 2wd modified class finishing off an impressive streak of winning 8 of the 10 titles from 1992-2002
Quick memories and firsts –
Watching BK drive his RC10 at RCHR on a track with 10 table top jumps. Amazing.
Dude, let's go bowling….he was a great bowler.
The tire shooting into the trash can competition. He was one of the best at the track at this game.
The largest and most huge Big Screen TV mounted on the wall at the MNM Raceway track in Corona, CA.
The drip paint job with blue, white and black.
The more intimating blue, yellow, white and black.
Allowing other drivers to use, borrow or sample his paint scheme.
Me calling Team Associated office in 1993 for Alana to tell me, "are you sitting down, Brian Kinwald just won the World Championship."
"Make it trick" – he would say to me at the end. "Dude, just make it trick."
Warm-up laps – BK was the first driver I remember doing warmup laps prior to a qualifier or main.
Scuffed wings, he had to be the first to do this. He at least made it the most popular.
Cocos restaurant – how many saltine crackers can you get into your mouth before you need water.
I told BK, "I don't believe PL wants to produce the 2-stage foam inserts." BK, "why?" "Well, it's just such a pain to glue them together." BK, eyebrow raised, "so, there is something that is dialed but it's too much work?" Me, "Yeah, basically." "So, just send them to me and I'll glue them"…….haha
Schumacher wins, song
I'm blue da ba dee da ba daa, song
Who could forget the BK Bars tire. Maybe one of the most sampled tires of all time?
BK would buy items from the dollar store and turn them into race bits like foams, cleaners, hand wipes. To BK, a beer coozy can be a foam insert but after 5 hours of work.
"Game over" hand written on the wing
"Good luck" Yokomo wheel dots
Working together with BK on the Dirt Webs tire. I was presented with a cut up and put back together JConcepts Pressure Points tire.
"Dude, you know when I look down from the drivers stand and see through the holes in my tires and see blue foam, I'm going to be dialed."
Speaking to Brian on a trip to Finland, he was known for winning 2 IFMAR titles but he was also proud of how many 2nd place finishes he had in IFMAR events as well, maybe more than anyone else at that time.
Brian Kinwald – RC Icon, innovator, trend setter, mad scientist, teacher and champion. Rest In Peace my friend. #teamkinwald
-Jason Ruona