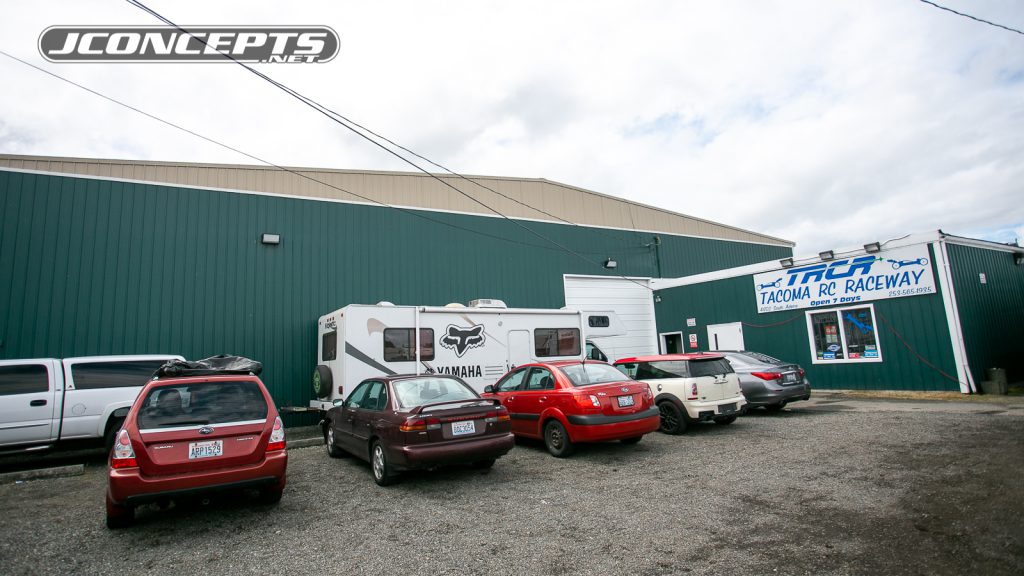 By now, the Northwest's best-kept secret is out. Tacoma R/C Raceway is as legit as it comes to being a proper clay indoor track. The track evolution is quick with many volunteers helping out all weekend making it a group effort getting the track swept and prepped for racing. After every heat was run, the corner marshals would sweep their area making the grip favorably high for an enjoyable driving experience that ranks among the best in the world.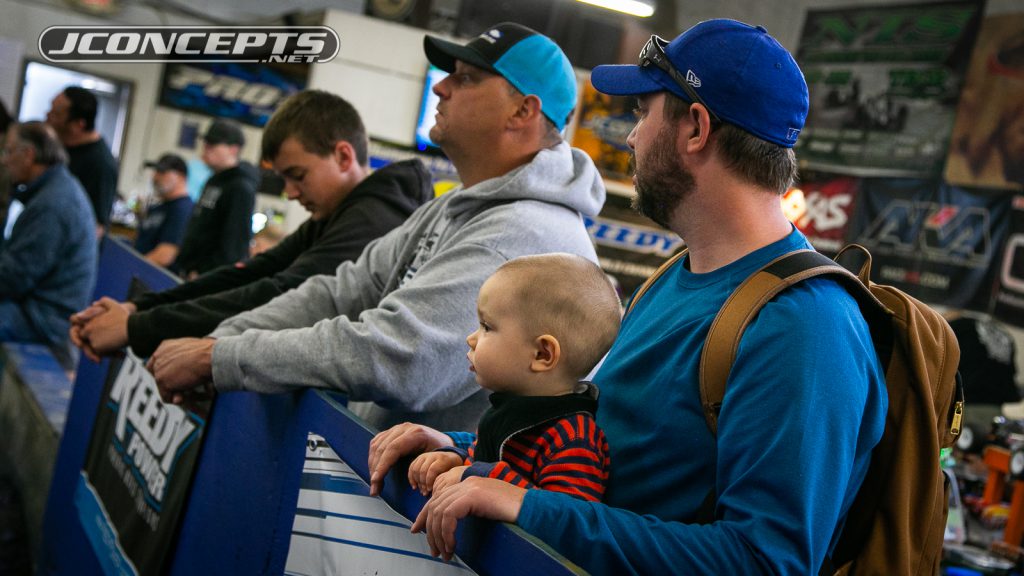 Over the years, the JConcepts Indoor National Series has showcased some of the best racing by a very special group of drivers ranging from World Champions, National Champions, Reedy Champions, and many more. These high caliber pro drivers definitely know how to put on a killer show for not just the drivers, but for the spectators of all ages. Making the trip this year to the Pacific NW was world-class talent including Ryan Maifield, Ryan Cavalieri, Dustin Evans, Cole Tollard, Max Flurer, Aydin Horne, as well as featuring local speedsters like Tanner Day and Harley Yoshii. This year's level of talent was deep and made for a spectacular race weekend that did not disappoint.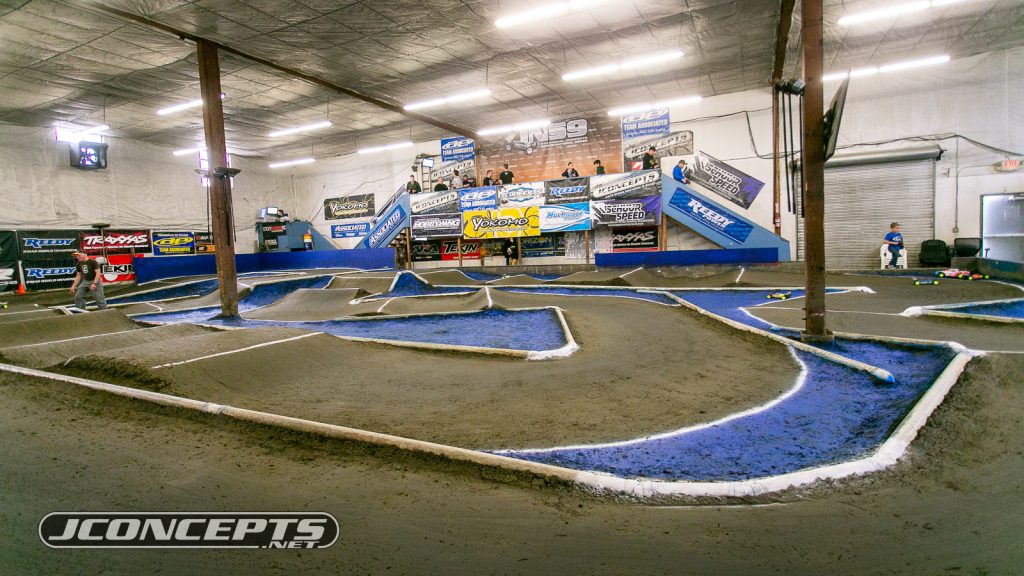 Racers are constantly raving about the surface at TRCR and Scott Brown does a fantastic job using the space that he has to make fun layouts that really challenge the drivers. With that kind of winning combination, there's not much left to ask for from a racing facility. This year's layout had more elevation and character than previous layouts. The right side of the track featured an uphill sweeper that had a technical drop down that swooped into a fun triple set testing jump timing and precision landing skills. A perfect backside propelled you into a sharp cutback turn with another set of technical small jumps that led into the rhythm jump section. Finally, make the difficult hard right-handed turn that opens up into a tricky chicane section before going on the straight to complete the lap.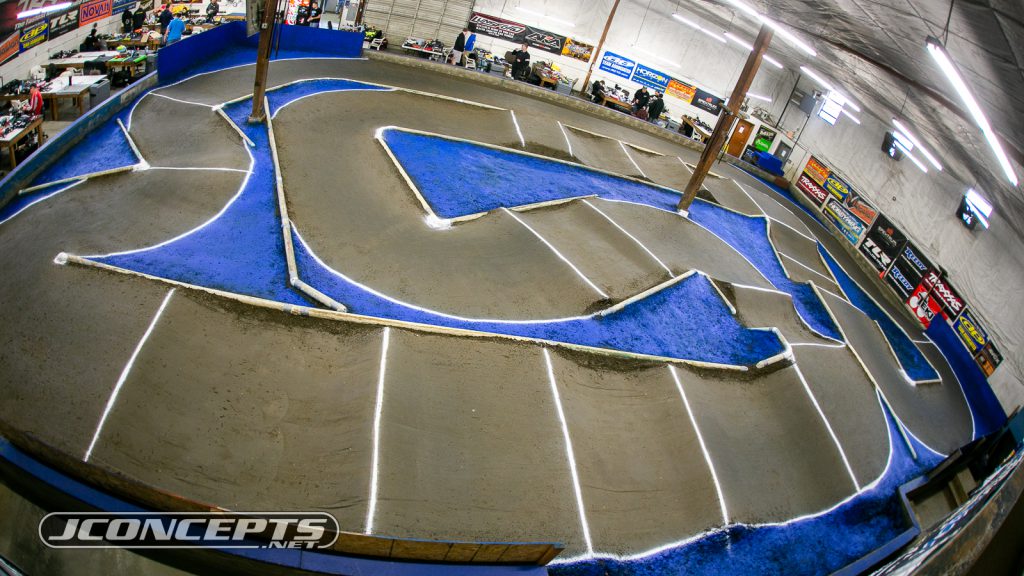 Overall, the layout complexity was on the high side as car control was tested to the maximum. However, nailing a perfect lap never felt so good as all the technical sections were very challenging to master…. if that was even possible. The flow was tremendous and the battles on the track left the crowd wanting more. The racing at TRCR is always close and has an interesting habit of having races come down to the final lap and within a second or less for a dramatic finish.
None of this is possible without the hard working crew behind Tacoma R/C Raceway and we can't thank them enough for hosting another fun Spring Indoor Nationals Series event that created moments and memories for a lifetime.
21.5 Independent 2wd Stock Class
The 21.5 Independent 2wd Stock Class was a fun and exciting race that saw great action throughout the entire field. With the fixed timing and gearing, the field was set for a close race that saw Austin Cracknell take an exciting win by just 3.5 seconds over Spencer Kidd. Austin showed great speed and consistency in the main and pulled out an incredible win. Keith Himmelman recovered well to finish 3rd.
17.5 Expert 2wd Stock
It was the battle for 17.5 Expert 2wd Stock supremacy at the Spring INS9 as some of the best talents go head to head. Emerging victorious was Fanthom's Dreighton Stoub. Yokomo/JConcepts' Dalton Pierce put in a great drive and finished 2nd with an impressive A-Main showing and moving up from 7th to finish 3rd, AE/JConcepts' Derek Mesa rounded out the top 3.
13.5 Short Course Truck
What an exciting race in the 13.5 Short Course Truck class as the victor was decided on the final lap. A late mistake by Andrew Tuck allowed AE's Tim Stella to sneak by to grab the win with Tuck taking home 2nd. Brannon Beauchamp was lurking in the shadows and pushed hard on the final lap and finished just .1 seconds behind Tuck for 3rd.
13.5 Stadium Truck
It was a close battle between two talented young drivers in the 13.5 Stadium Truck class as AE/JConcepts' Ryan Reavis emerged victorious after a hard fought battle with Yokomo/JConcepts' Dalton Pierce. Unfortunately for Dalton, a backmarker incident resulted in early retirement. Without a true rival to stop him, Ryan took the win with David Lindsay finishing 2nd and AE's Joseph Johnson wrapping up the 3rd spot.
13.5 4wd
Mistake free and issue free, Dreighton Stoub was going to be hard to beat as the young and talented Michigan driver put on a clinic in the 13.5 4wd class earning the overall TQ and win with an exclamation mark. Yokomo/JConcepts' Dalton Pierce showed great speed and composure to land himself 2nd on the podium. TLR's Luke Unis showed some great speed and race craft to battle his way back for a terrific 3rd place finish.
4×4 Truck
FTR's Aydin Horne proved to be too much in the 4×4 Truck class as he dominated the weekend with the FTR 64T. Austin set the TQ and took a convincing win after 8 minutes. Finishing solo in 2nd was Maclan's Ron Westhoff followed by Dale Wenstad in 3rd.
40+ 2wd Modified
It was the battle for 40+ supremacy as the two goliaths went head to head and they did not disappoint. FTR's Al Horne was tracking down Brent Thielke all race long and momentarily had control of the race, but an identical mistake that Brent made earlier over the triple, Al gave back the lead. Racing it down to the wire, the two dragged raced for the win with Brent crossing 1st by .09 seconds. Taking the 3rd spot and making his return after a long hiatus, Marty Barnes lands himself on the podium.
2wd Modified
It was undoubtedly a great battle in the 2wd modified class as the best in the US showcased some world class racing this weekend. Yokomo/JConcepts' Ryan Cavalieri dramatically won A1 while AE/Reedy's Dustin Evans A2. This setup up a fantastic showdown in A3. From the tone, Ryan Maifield controlled the pace as Dustin pressed hard to keep Maifield in striking distance. With a mistake by Maifield midway through the race, Dustin had nowhere to go and ended up crashing on top of Maifield requiring a corner marshal to get them going. Maifield retained the lead and finished out the race in 1st making it a 2-way tie with him and Cavalieri. By way of tie-breaker, Maifield won the overall with Ryan Cavalieri 2nd and Dustin Evans 3rd overall.
4wd Modified
Once again the racing in 4wd Modified was excellent and didn't disappoint. The overall was decided in A3 as AE/Reedy's Dustin Evans won A1 and Yokomo/JConcepts' Ryan Maifield A2, it was another awesome showdown in A3 for the overall. It was a nose to tail race for almost the entire 5 minutes as the two broke away an engaged in a close battle of their own. With a wide landing off the triple, Dustin was able to land on the inside taking away the line into the next corner forcing Maifield to give up the lead. As Maifield was charging hard late in the race, a small rollover getting on the straight gave Dustin enough space to win A3 and the overall. Maifield finished 2nd with Yokomo/JConcepts' Ryan Cavalieri 3rd on the podium.
++ Winning Product Used by Ryan Maifield in 2wd Modified ++
Tires – JConcepts gold compound Dirt Web front tires (#3077) and Ellipse rear tires (#3196).
Wheels – JConcepts Mono wheels (#3348) in white
Body – JConcepts Yokomo F2 body (#0321) on 2wd and Yokomo S1 body on 4wd (#0351).
Wing – Lower front wing (#2547-5) and Aero S-Type rear wing (#0178).
Accessories – Fin titanium turnbuckles for the Yokomo 2wd (#2557) and 4wd (#2663T).