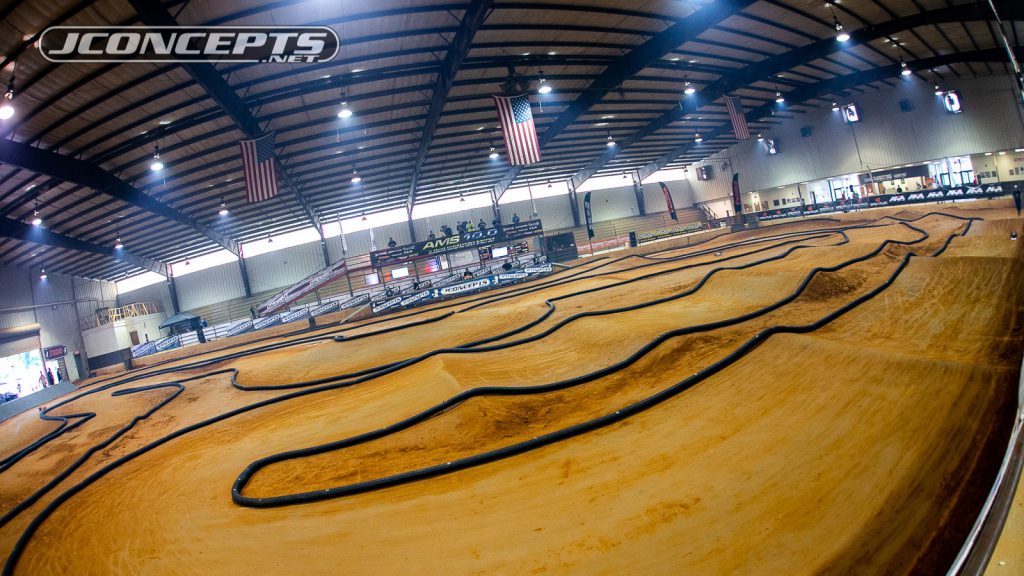 Once a year, we get to race one of the best 1/8th indoor tracks around, the Alabama Manufacturers Shootout in Cullman, Alabama. Widely known by the acronym, AMS, is an indoor race that's like no other due to the smooth surface and 1/10th clay like grip. Under the Racetime Entertainment umbrella, event production is always top notch and the race venue guarantees a race regardless of the weather. You can't beat this setup and with nationals just around the corner, the AMS10 was a perfect warm-up race for many traveling pros and great racers alike.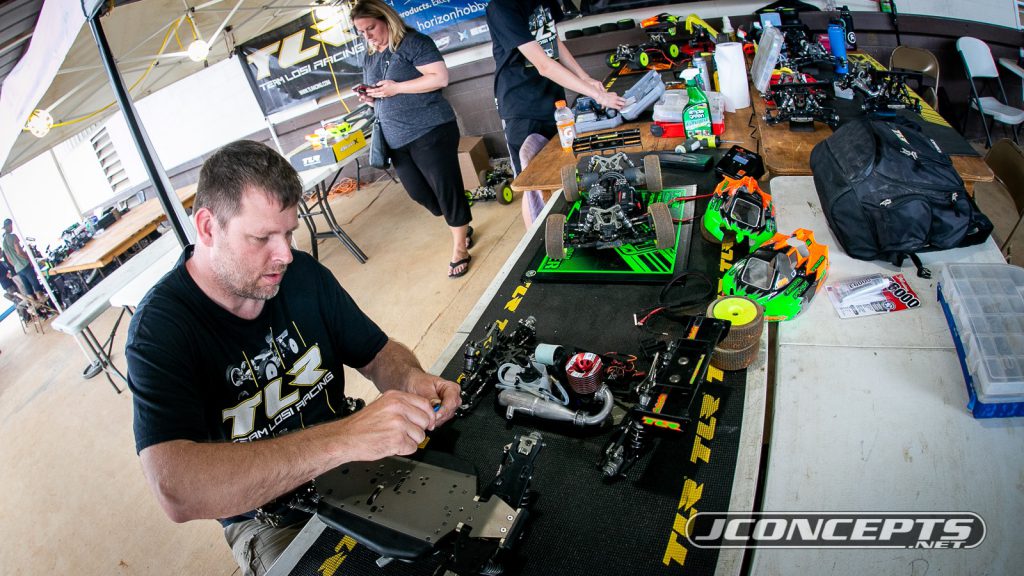 The split practice schedule was probably the most talked about topic of the week as the split practices allowed some drivers to practice on Thursday while the remaining group was able to get on the track late Thursday and half of Friday. There are definitely positives to doing either, but most of the pros opted to run the 2nd practice that allowed them to tune for more race-like conditions. 1 qualifier ran on Friday evening with the final two qualifiers on Saturday followed by lower mains to decide bump ups. 10 cars went directly in the main while 5 cars bumped from the lower mains which made racing purposeful and exciting up and down the field.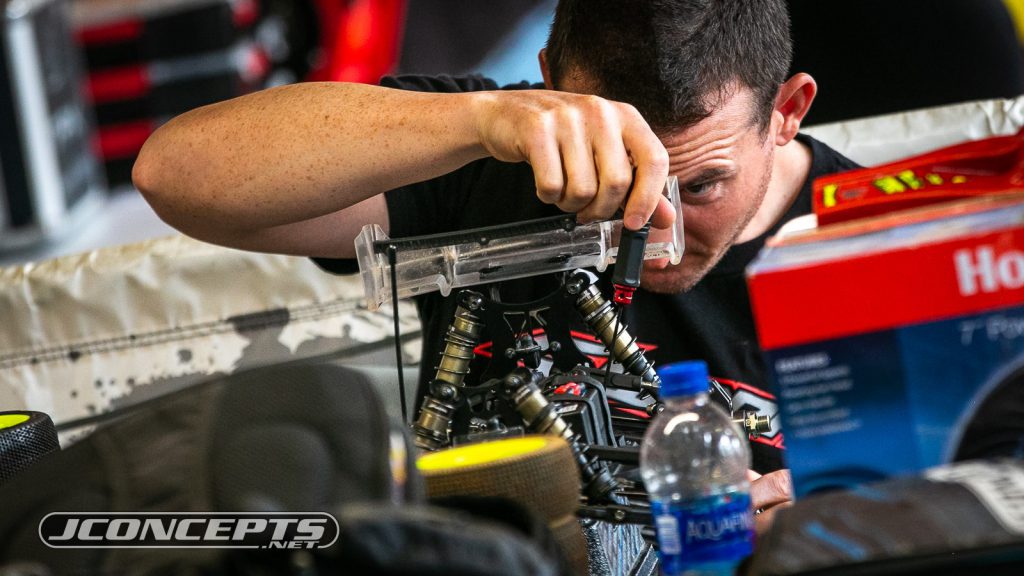 This year, the track grooved up nicely and the weather was fairly hot allowing grip to rise throughout the weekend making tire choice very critical. Some were in favor of clay compound tires while others ran soft tires, but the most surprising thing was that this race incorporated a lot of 1/10th indoor tire tricks including, sanding, burning, saucing, and conditioning of the tire and getting the tread height perfect to maximize performance.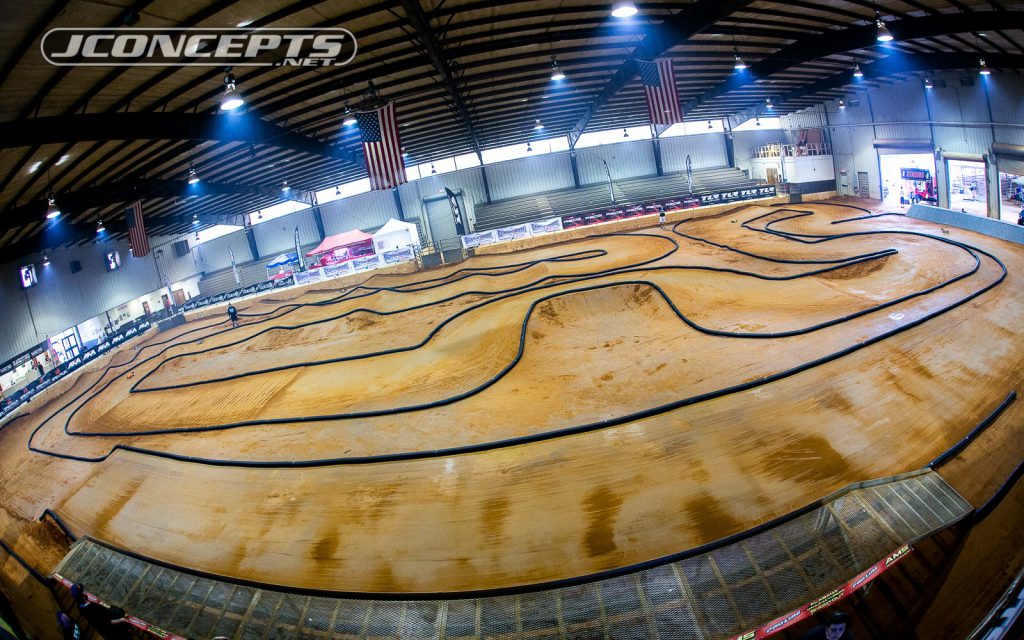 The AMS10 layout was fast and because of the speed and grip, it didn't make circulating around the track easy. The faster you went the easier it was to make a mistake and on a track that's about 25 or 26 seconds long, each mistake was hard to recover from. Just a few bobbles and you were almost down a lap. Since the layout was on the easier side, it wasn't hard to master, but keeping up with the track and staying on the right tires and setup was crucial to lap times and round results. Miss a beat and you were likely to drop pretty far down for the round. Thanks to Bobby Moore of Trackmasters for doing a fine job and building a layout that was fun despite the traveling frustrations making time a serious crunch.
15 and Under Nitro Buggy
4×4 SCT
Sportsman Ebuggy
Sportsman Nitro Buggy
Sportsman Nitro Truggy
Congrats to JConcepts' Mike Walker on his amazing run in Sportsman Nitro Truggy as he took a popular win for one of the nicest guys in the pits. Indy RC's Alex Merelli finished 2nd, Tony Roney 3rd, Jesse Davis 4th, and Tony Longtin 5th.
Etruggy
Adding another win to his long list of accomplishments, JConcetps' William Ables proved to be quickest in the Etruggy class completing a perfect weekend by setting TQ and grabbed the coveted win. Shon Harding finished 2nd, with James Heaton 3rd, Tyler Schrimsher 4th, and Jonathan Adams 5th overall.
Open Ebuggy
The Open class is quickly becoming the stage where the up and coming drivers can shine and gain a bit of fame and leading the field is one of the most talented of them all, TLR/JConcepts' Kaden Fuller. For those who don't know, Kaden is the younger brother to another fast and amazingly talented driver, Mason Fuller. With a TQ and flawless performance in the Open Ebuggy class, Kaden put together a picture-perfect weekend claiming the overall win in Open Ebuggy. JConcepts' Brad Nicosia put in his highlight race of the year and wrapped up 2nd while JConcepts teammate Robert Chapman and Izriah Osborne closed out 3rd and 4th respectively. Finding that last spot on the podium was HB Racing's, Gary Studt.
Open Nitro Buggy
Carrying the momentum and feeling the flow in the Open Nitro Buggy class, TLR/JConcepts' Kaden Fuller was on fire and took a relatively easy win with a lap on the field. Kaden showed remarkable speed and consistency to pull out the win with Gary Studt 2nd, Mugen's Cole Cabre 3rd, and Tekno's Jeremy Mauro 4th. Moving up from the Sportsman classes, Phenomenal Phi-Long Nguyen took the last spot on the podium and still stunning the crowd where ever he goes.
Open Nitro Truggy
Congrats to Kody Watson on his excellent drive in Open Nitro Truggy taking a well-deserved win. Rockin' JConcepts for the weekend, Mugen driver Cole Cabre, finished 2nd with TLR/JConcepts' Robert Chapman finishing 3rd and making another podium finish. Definitely the youngest driver at the event in the Open class, Phi-Long Nguyen finds another podium spot with his smooth, consistent driving style slotting him nicely into 4th. HB's Gary Studt finished out the top 5.
40+ Ebuggy
You could certainly make an argument that Xray/JConcepts' Paul Ciccarello is the 1/8th scale 40+ King as he had another wicked weekend at the AMS10 winning the 40+ Ebuggy class as well as earning the overall TQ. Gary Studt wrapped up 2nd with TLR's Mike Sontag 3rd, James Flagg 4th, and AE/JConcepts' Drew Spurgeon 5th.
40+ Nitro Buggy
Xray/JConcepts' Paul Ciccarello followed up his 40+ Ebuggy success with a great performance in the 40+ Nitro Buggy class with another TQ and win effort after 30 intense minutes in the A-Final. HB's Gary Studt had great speed and confidently closed out 2nd place. TLR's Mike Sontag took home another 3rd place with AE/JConcepts' Drew Spurgeon 4th and Keith Lewis 5th and the final spot on the five-man podium.
Pro Ebuggy
Turning it on for the A2, TLR's Dakotah Phend bounced back from a 3rd place finish in A1 and set the fastest time and result in A2 and won the overall in the Pro Ebuggy division. With his win in A1, Tekno's Jared Tebo was slotted to finish 2nd overall. With a near win in A1 and A2 finishing 2nd, Sworkz/JConcepts' Ryan Cavalieri ended the weekend in 3rd with Agama's Ryan Lutz 4th and Tekno's Joe Bornhorst 5th overall.
Pro Nitro Buggy
It was a courageous effort by Agama's Ryan Lutz as he maintained a pace unable to catch once in the lead. Lutz had the winning pace and converted it into a win without any issues. Sworkz/JConcepts' Ryan Cavalieri showed great speed and put in a fine performance to finish 2nd. Tekno's Jared Tebo made a remarkable bounce back on Sunday having found great pace and finished 3rd. HB's Spencer Heckert is not one to disappoint as the young driver finished 4th while Tekno's Joe Bornhorst took home 5th.
Pro Nitro Buggy A Main!!

Posted by JConcepts Inc on Sunday, June 9, 2019
Pro Nitro Truggy
It came down to the last minute and after 45 minutes, Xray's Ty Tessmann took the win putting on a wild and crazy late pass on Lutz for the win. Lutz looked strong in truggy and ultimately finished 2nd. AE/JConcepts' Spencer Rivkin found the right setup and was able to wrap up 3rd with the Tekno boys finishing in 4th and 5th as Joe Bornhorst and Jared Tebo took the last spots on the podium.
Pro Nitro Truggy A Main!

Posted by JConcepts Inc on Sunday, June 9, 2019
++ JConcepts Product Used by Ryan Cavalieri, Paul Ciccarello, Kaden Fuller, and the rest of the team ++
The ultra smooth AMS surface is always a pleasure to drive on. The traction level really varied from morning to evening and by qualifying, the fastest tire was our gold compound Ellipse tires. Although it was fast, the line was pretty slim and that required a lot of precision driving, which not every driver can handle. For a fast, forgiving tire, most of the team drivers elected to go with the blue compound Detox tires and the end results and feedback was positive.