2020 – INS10 and NCTS2 Series intro
2020 marks a truly remarkable milestone as the JConcepts Indoor National Series will now be in its 10th year as the most highly participated 1/10th dirt off-road series in the world. However, our vision doesn't stop there. We also wanted to elevate the carpet and turf off-road racing scene and cater to all types of racers and that's why we went all in to established the JConcepts National Carpet and Turf Series last year.
Being the only unified and TRUE nationwide off-road series for both carpet and dirt, our aim is to create lasting memories and amazing experiences for all racers no matter the skill level or surface. Using a very similar formula to the INS that focuses on fun and adrenaline-pumping action, the participants of the inaugural year of the NCTS instantly felt right at home with the racer friendly familiar format, racing at world-class facilities, and face challenges of competing against the finest drivers that will bring the best in everyone.
To keep things relevant and the series fresh, we made a few tweaks to the INS10 and NCTS2 for better racing and even more fun. Here are the two major class updates for 2020.
2wd Open – No 100% sponsored drivers with budgets and/or receiving pay. This includes chassis, tires/accessories, or electronics. Partially sponsored or independent drivers only.
Tuff Truck – Traxxas Stampede with only radio, servo, body and tire / wheel changes allowed. 2.2" treaded / cleated tires only.
Whether you're a dirt fan, carpet fan or both, we've set out to make racing in 2020 a great experience by providing the best platform for all racers to enjoy on both carpet and dirt. Join us for some of the best RC racing action of the year at the INS or NCTS near you!
2020 INS10 | NCTS2 Classes –
2wd modified
4wd modified
17.5 Expert 2wd buggy
13.5 4wd buggy
13.5 Stadium truck
13.5 SCT
40+ 2wd modified buggy
21.5 Independent buggy
2wd Open
Tuff Truck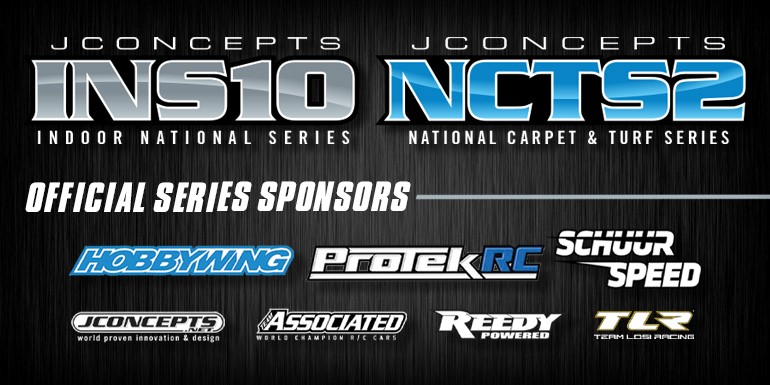 INS10 dates –
Winter Indoor Nationals
Team Velocity Raceway – St. Charles, MO
February 7-9, 2020
Spring Indoor Nationals
TRCR – Tacoma, WA
May 1-3, 2020
Summer Indoor Nationals
Hobby Action – Chandler, AZ
July 10-12, 2020
Fall Indoor Nationals
RC Clubhouse – Warren, MI
October 2-4, 2020
Indoor National Finals
Indy RC World – Garland, TX
December 11-13, 2020
NCTS2 dates –
JConcepts Western Carpet Nationals
702 Raceway – Las Vegas, NV
March 20-22, 2020
JConcepts Northwest Carpet Nationals
Northwest Hobbies – Albany, OR
April 17-19, 2020
JConcepts Turf Nationals
RC Madness – Enfield, CT
September 11-13, 2020
JConcepts Midwest Carpet Nationals
Thunder Road RC Raceway – Waite Park, MN
October 23-25, 2020