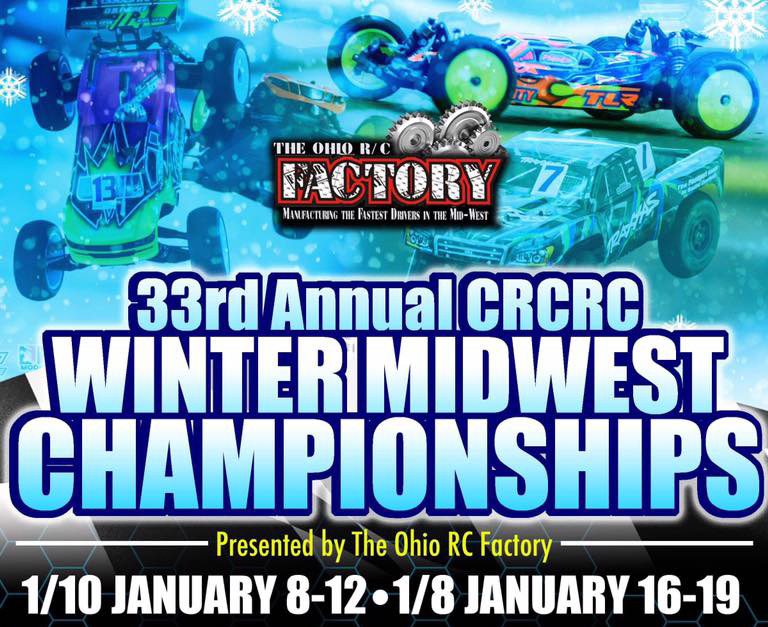 Every year, the racing seasons start off here…. Jeffersonville, Ohio, at one of the biggest races of the year better known as the world-famous CRCRC Winter Midwest Championships. This is where it all happens as racers are pumped up and excited to kick-off their racing campaign sporting new cars, new parts, and new sponsors for 2020. This always makes for high energy, fast-paced environment that's unreal and with over 300 entries every year makes it one of the most challenging races to win.
Not only is it 300+ big in entries, but the industry's top pros are also in full force looking to score their first win of 2020. Start off the year with a bang and let everyone else know you mean business is the motto at this race, but most importantly, this classic race is absolutely fun in every sense of the word, racing. Only special tracks and venues can pull out the best and the CRCRC Winter Midwest Champs does it like no other.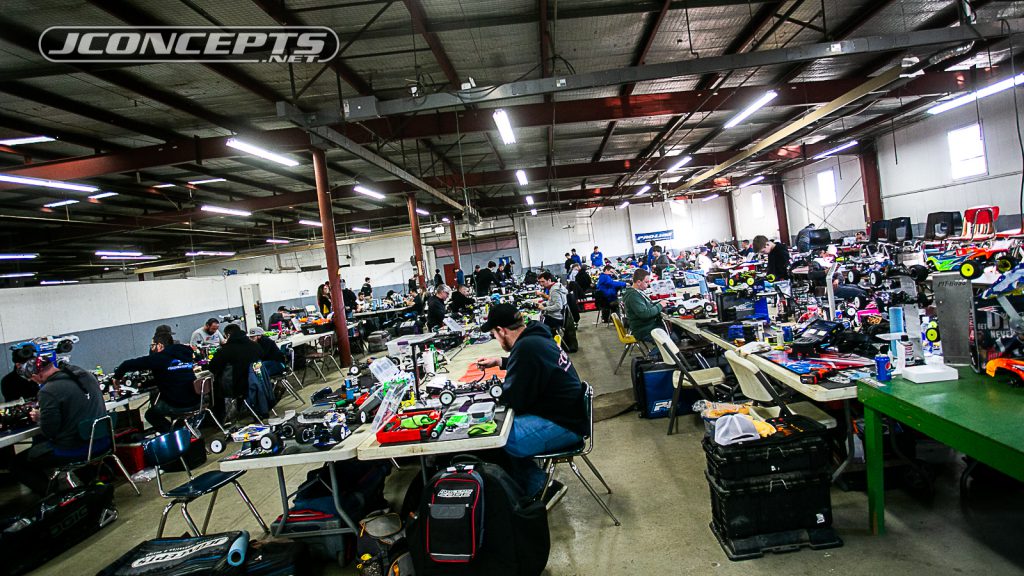 A master at his craft and with so much valuable experience, Curt Schlichter, delivers some of the best tracks around and this year's track was a banger. It was challenging and it had flow and with these two factors made for some extremely fun battles and magical laps. Each of the 3 sections was fantastic and carried a different feel. On the right, you had a swooping turn that stressed the tires and a driver's pinpoint precision to jump into the tricky angled bump-jump. Backside the bump jump and boost into a technical triple that set up the next turn. The middle section was a big swooping S with flowy rollers adding character and difficulty. The left section of the track started with a double going away from the driver that came back into a deep slightly off-camber chicane and finally into the straightaway. Overall, the racers had a blast making laps on a track layout that will probably inspire other track builders to follow.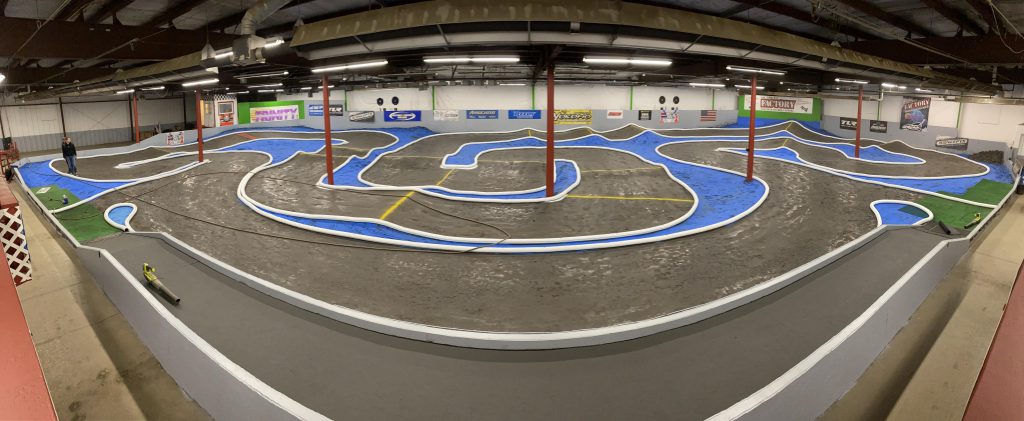 Many thanks go out to The Ohio R/C Factory for the awesome amount of effort they collectively put in to give everyone a good show that ran without any issues. The track was as consistent as could be and with food on-site, made it a one-stop-shop for an unforgettable fun time. Simply, just awesome.
Flip through the gallery below to relive some of the moments of this incredible race!
17.5 2wd Stock Buggy
The 17.5 2wd Stock Buggy class is always a fun battle and this year had some really fast names including class TQ and eventual race winner, TLR's Tater Sontag. Tater's speed kept increasing with each pack and by A2 and A3, was practically untouchable giving him the overall win. Taking 2nd was AE/JConcepts' Brandon Marsh, who excelled in every race and finished all three mains in 2nd to give him, of course, 2nd place. AE/Pilot RC's Matt Cline finished each main in 3rd with some crafty driving that landed him 3rd on the podium.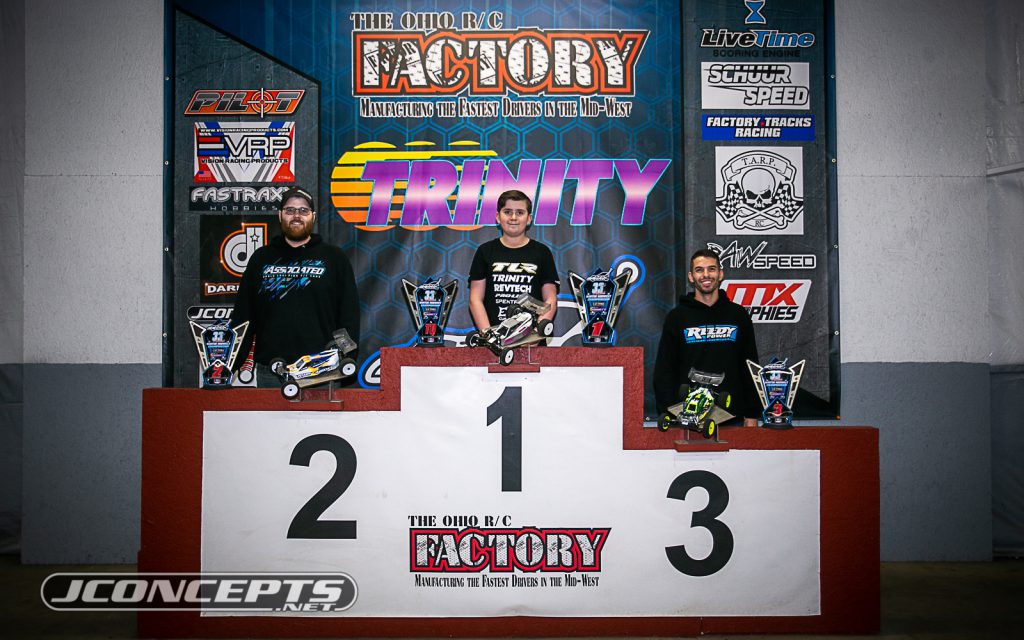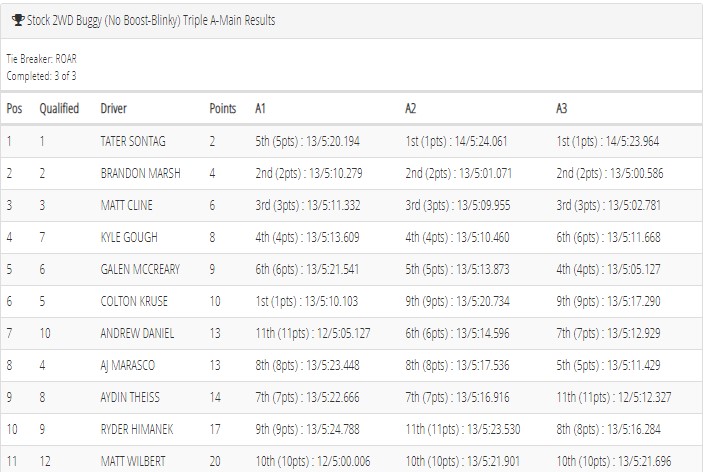 13.5 Short Course Truck
After a masterclass showing in qualifying, Xray/JConcepts' Matt Wilbert was on fire in the triple A-Mains of 13.5 Short Course Truck. With many seconds on the field, Matt quickly gapped his competitors and checked out in A1 and A2 and took the overall win. FTR's Aydin Theiss jumped up to 2nd overall after a smart drive in A3 saw him take an impressive win and give him a boost in his final results. FTR's Ryder Himanek drove his way to the 3rd step on the podium with some savvy driving placing 2nd and 3rd in A1 and A3.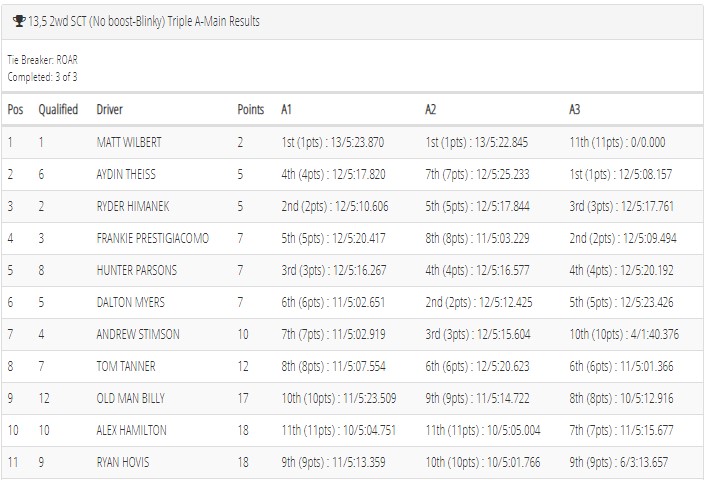 13.5 Stadium Truck
TLR's Dalton Myers impressed many with his comeback drives in A2 and A3 after getting a DNF in A1. With the pressure on, Dalton didn't hesitate knowing his back was against the wall and pulled out the back to back wins he needed to take the overall in 13.5 SCT. Placing 2nd behind Dalton was FTR's Jim Bronson and Mike Wells, who had incredible battles on the track to finish on the podium.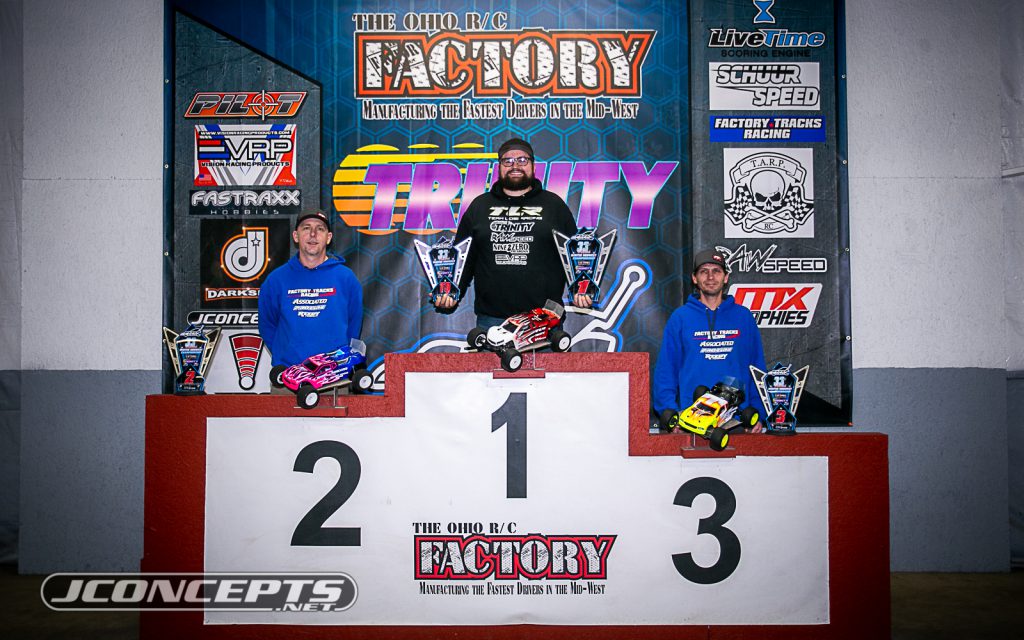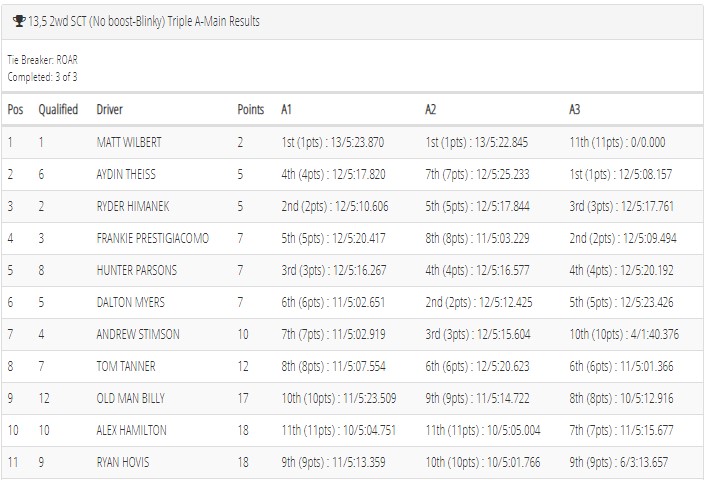 13.5 4wd
13.5 4wd class belonged to AE's Colton Kruse this weekend as he took the TQ and convincingly win A1 and A2 to wrap up the overall assassin style. Colton's speed matched with his consistency was hard to overcome, but coming close was AE/JConcepts' Brandon Marsh, who finished 2nd after a clutch win in A3. Xray's Paul Ciccarello used his experience and racecraft to net 3rd overall adding to his countless podium finishes.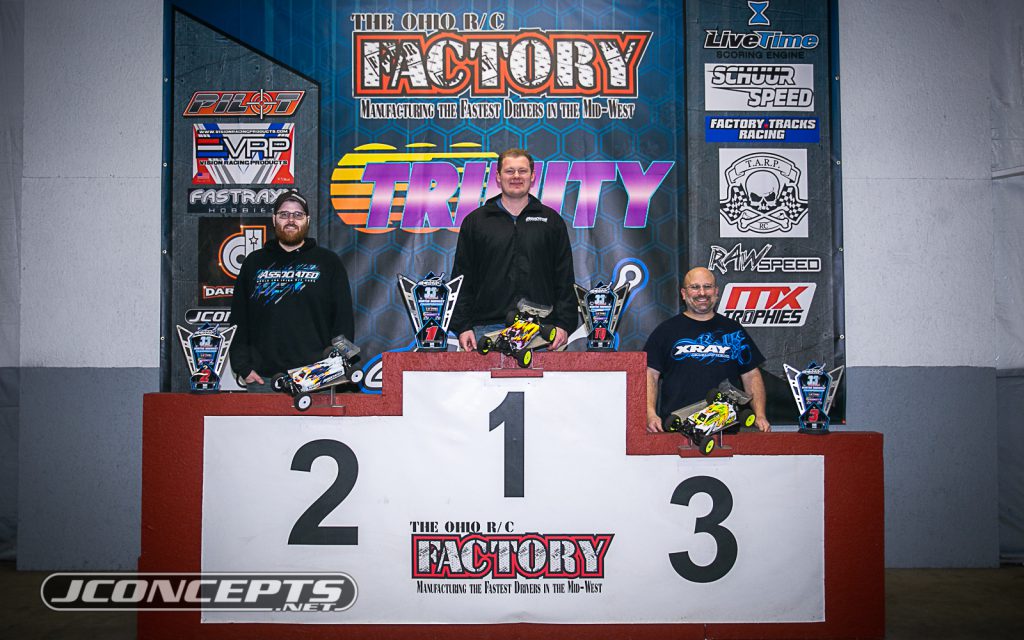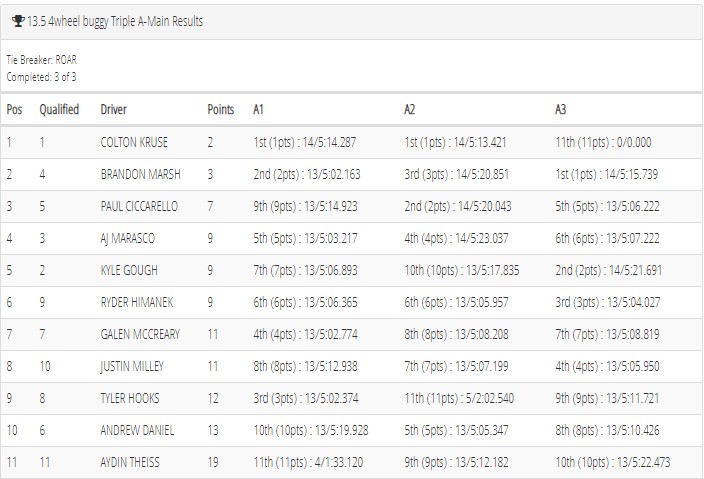 4×4 Short Course Truck
There were some great battles in the 4wd Short Course Truck class as the top 3 went head to head each and every main. Taking the top spot on the podium was CowRC's, Luke Bryant. Mixing it up with the fastest this weekend was Mike Hussey, who finished 2nd on the podium after a 3-way tiebreaker. Finishing A1 in 1st, Mark Water takes home 3rd overall.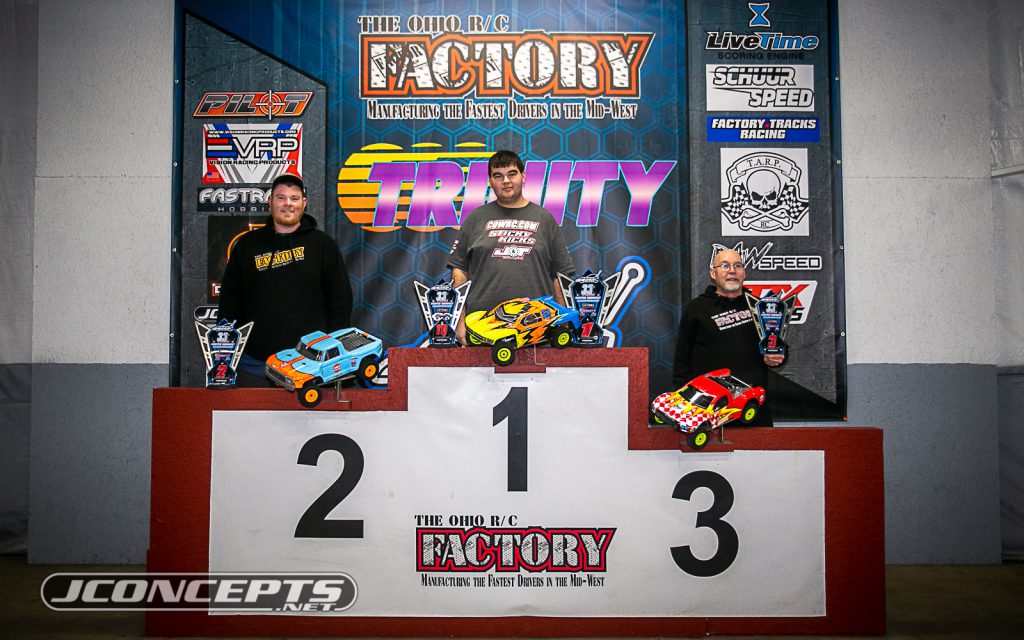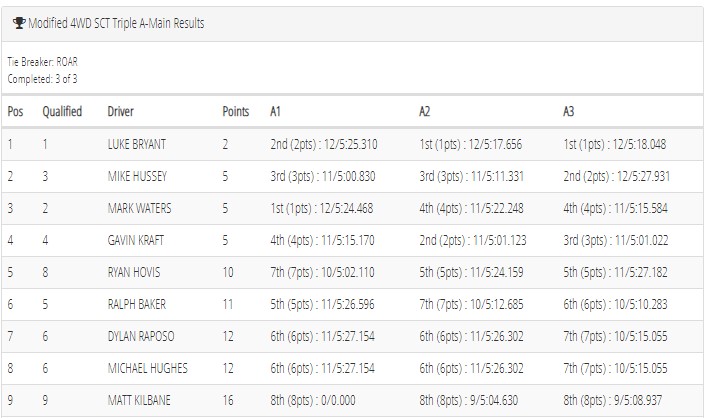 40+ 2wd Modified
It was a back and forth battle among the 3 fastest 40+ racers in the nation, Brent Thielke, Al Horne, and Paul Ciccarello and it didn't disappoint one bit. All three drivers had one win each, but it was their 2nd score that mattered most and Xray's Paul Ciccarello came out on top with a faster combined time than FTR's Al Horne. Al finished 2nd overall with impressive scores of 2nd in A1, 2nd in A2, and 1st in A3. AE/JConcepts' Brent Thielke posted a win in A1 and followed it up with a 3rd in A3 to finish 3rd overall.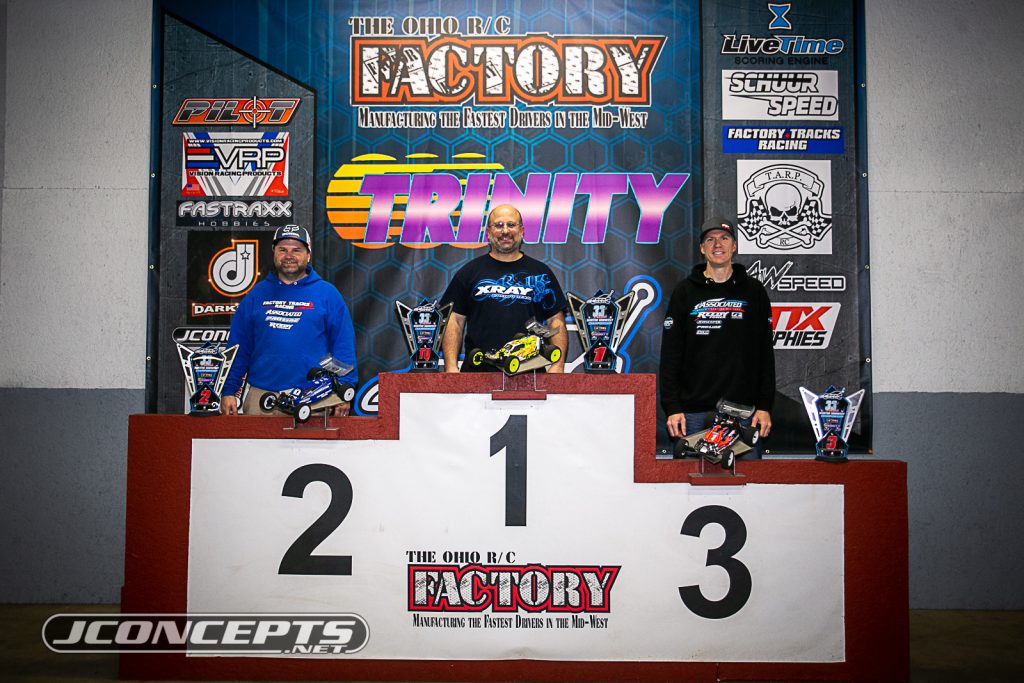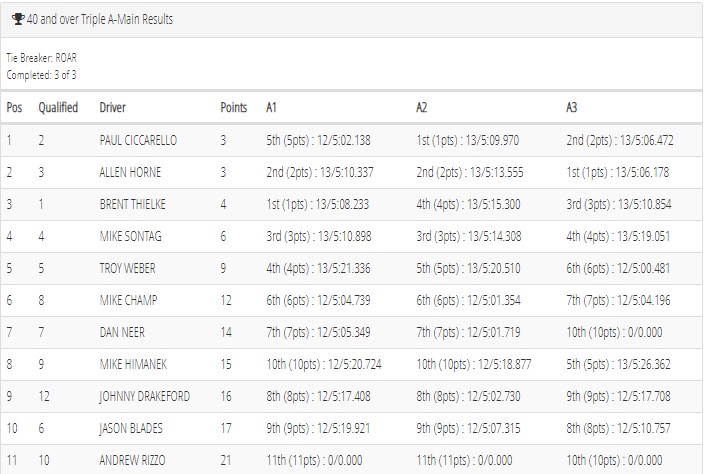 Modified Stadium Truck
Still new to the tires, bodies, and accessories, TLR/JConcepts' Dakotah Phend quickly adapted to his new gear and was able to go full speed into the weekend. By setting TQ in Modified Truck, Dakotah was rolling and shifted into high gear when the mains came winning A1 and A2 allowing him to watch A3 from the grandstands. Sworkz's Ryan Cavalieri dished out some speed to set himself up for 2nd. 3rd place went to the ever-improving FTR driver, Aydin Horne, who's come a long way in the last few years to really put some pressure on the top pros.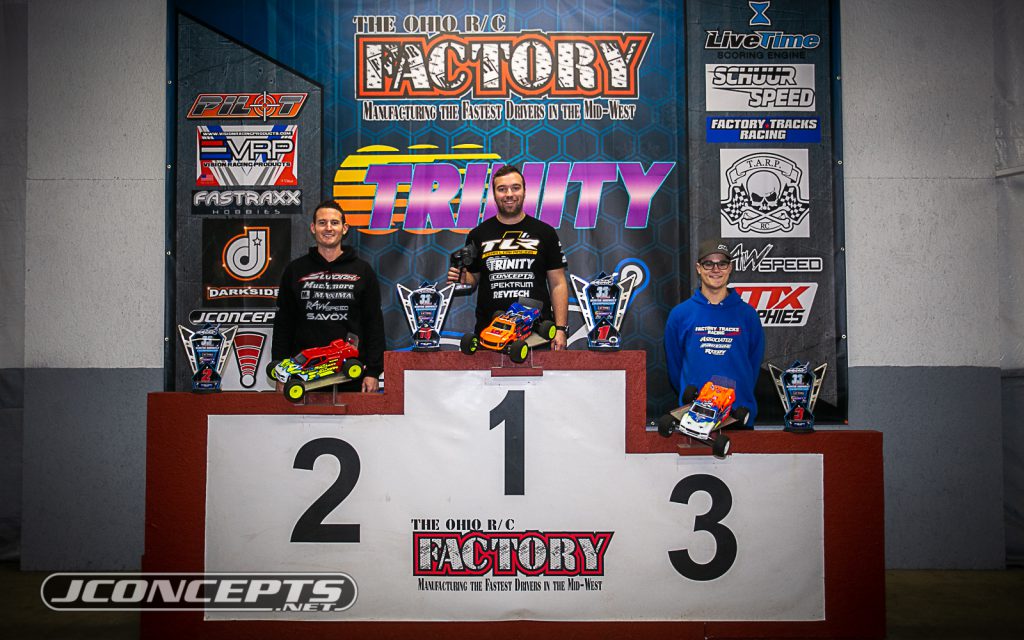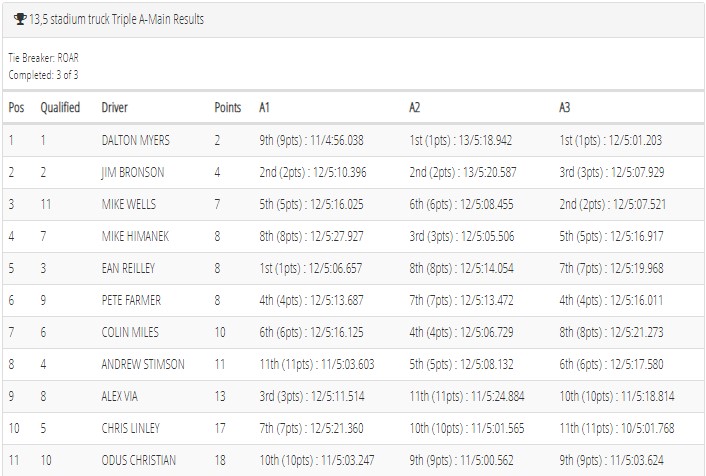 2wd Modified
After some impressive rounds of qualifying by TLR/JConcepts Dakotah Phend, the Phenom was able to earn himself the pole position and used it to his advantage in the triple A-Mains. Lightning-fast from the get-go, Dakotah impressed many on his debut race with JConcepts that saw him wrap up the overall in just 2 mains. After an amazing drive in A3, AE/JConcepts' Cole Tollard put his talents on display and took an impressive win to lock up 2nd overall over teammate, AE/JConcepts' Spencer Rivkin. Competitive throughout the weekend, AE/JConcepts' Spencer Rivkin finished 3rd on the box with his best two scores of two 2nds.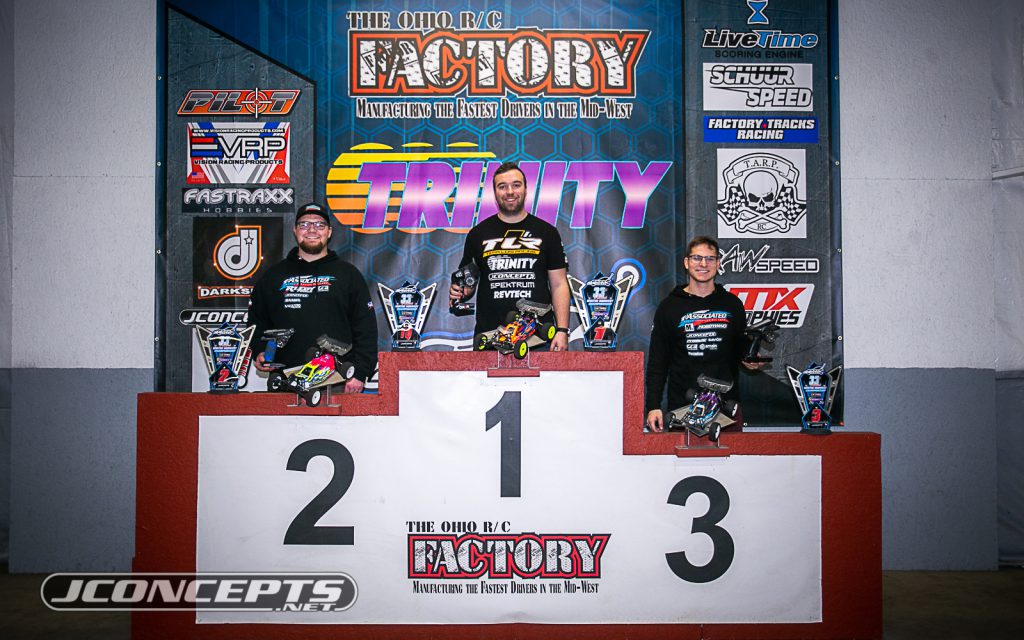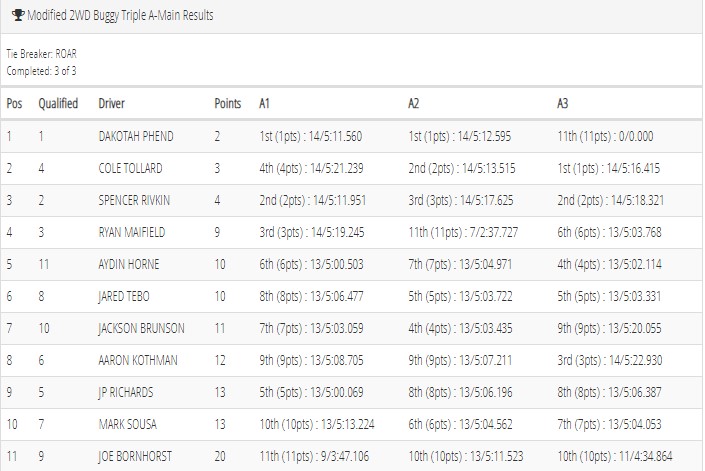 4wd Modified
As the fastest cars hit the track, the tension was high to see who would emerge as 4wd champion. Acting on instincts and natural talent, TLR/JConcepts' Dakotah Phend remarkably recovered after his first two qualifying rounds resulted in DNF's to still earn the overall TQ spot by setting the fastest times in Q3 and Q4. Carrying the momentum through to the triple A-Mains, Dakotah once again impressed all with his speed and car control to win A1 and A2 and put his mark on the start of this year. AE/JConcepts' Spencer Rivkin launched numerous attacks and battled hard with Dakotah all weekend long, but was a mistake away from the top step. With a clutch win in A3, Spencer finished 2nd overall. Xray's Mark Sousa had an outstanding weekend and looked comfortable and fast with his 4wd to place himself 3rd overall.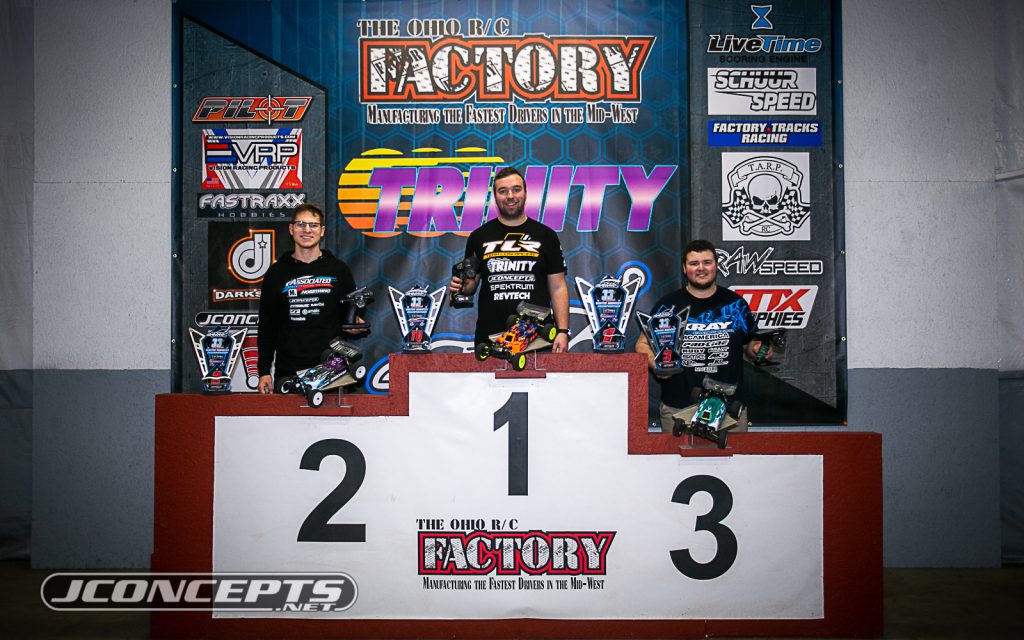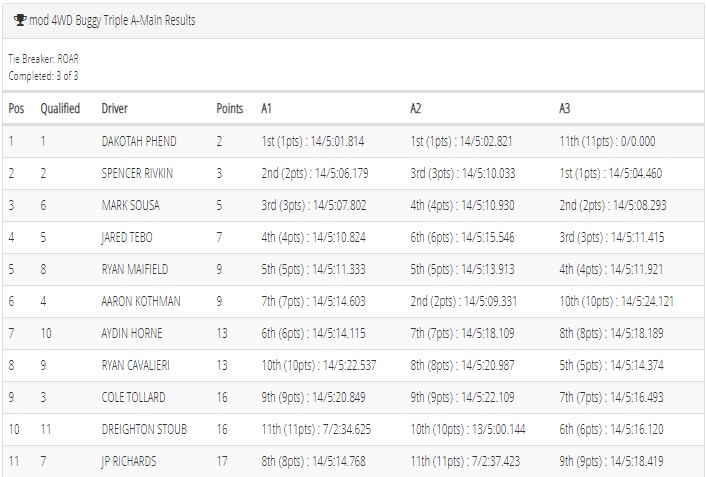 ++ Winning Product Used by Dakotah Phend ++
Body – Dakotah has tested all the bodies on his 2wd (I mean all the bodies) and prefers the feeling of the F2 body the most as of now. On his 22X-4, he's been testing the JConcepts F2 prototype and has been loving it.
Wings – From his testing, Dakotah likes the High Clearance wing on his 2wd and the Aero S-Type on his 4wd and actually adjusts his gurney according to how his car feels and needs. Dakotah also used the narrow tower wing for stability and smoothness.
Tires – Most of the team preferred ground down slicks. They felt that it was easier to drive and more comfortable around the track. The silver compound proved to be easy to drive while being extremely fast on the track at CRCRC.
Foams – Many of the team drivers prefer harder foams when driving on high grip and the Dirt Tech foams were perfect for the slick tire conditions.
Check out the race videos from the weekend below if you missed out on the coverage from FB.
2wd Modified
A1 of 2wd Modified
A1 of 2wd Modified!! So close!

Posted by JConcepts Inc on Sunday, January 12, 2020
A2 of 2wd Modified
A2 of 2wd Modified!! Is this it?? #gojconcepts

Posted by JConcepts Inc on Sunday, January 12, 2020
A3 of 2wd Modified
A3 of 2wd Modified! Podiums are up for grabs!

Posted by JConcepts Inc on Sunday, January 12, 2020
4wd Modified
A1 of 4wd Modified
A1 of 4wd Modified in the books! #gojconcepts

Posted by JConcepts Inc on Sunday, January 12, 2020
A2 of 4wd Modified
A2 of 4wd!! What a race. #gojconcepts

Posted by JConcepts Inc on Sunday, January 12, 2020
Modified Truck
A1 of Mod Truck
A1 of Modified truck! Oh snaps what a race!! #gojconcepts

Posted by JConcepts Inc on Sunday, January 12, 2020
A2 of Mod Truck
A2 mod truck!!

Posted by JConcepts Inc on Sunday, January 12, 2020
17.5 2wd Stock Buggy
A2 of 17.5 2wd Buggy
A2 of 17.5 2wd

Posted by JConcepts Inc on Sunday, January 12, 2020