The resurgence of RC Monster Trucks is coming back full circle and looking very reminiscent of the glory days of the past. With a wide array of JConcepts MT bodies to choose from, high performance and realistic MT tires, bold wheels, and other awesome accessories, Monster Trucks have never been given so much love since the late 80's. As a result, we're seeing hobbyists, racers, and die-hard MT fans recreate their favorite trucks and even go so far as create their own fully custom trucks from their imagination.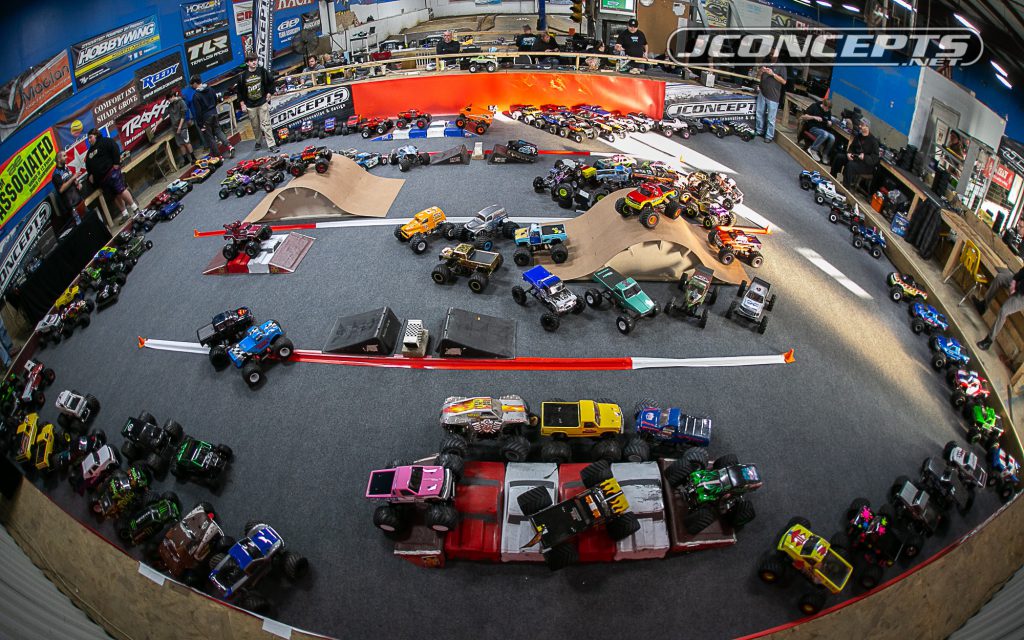 Currently, in the world of RC monster trucks, there isn't a real legitimate governing body to unify rules and regulations so the classes are a little confusing and different from place to place. This makes it hard to join in on the fun at one of the MT events and if you're new, it can be very intimidating to join in on the fun. So for part 1, we take a look at the popular classes for the MT trucks in this RC Monster Trucks – Explained Series. So let's kick off the series with Stage 1 monster trucks.
The Anatomy of Stage 1 MT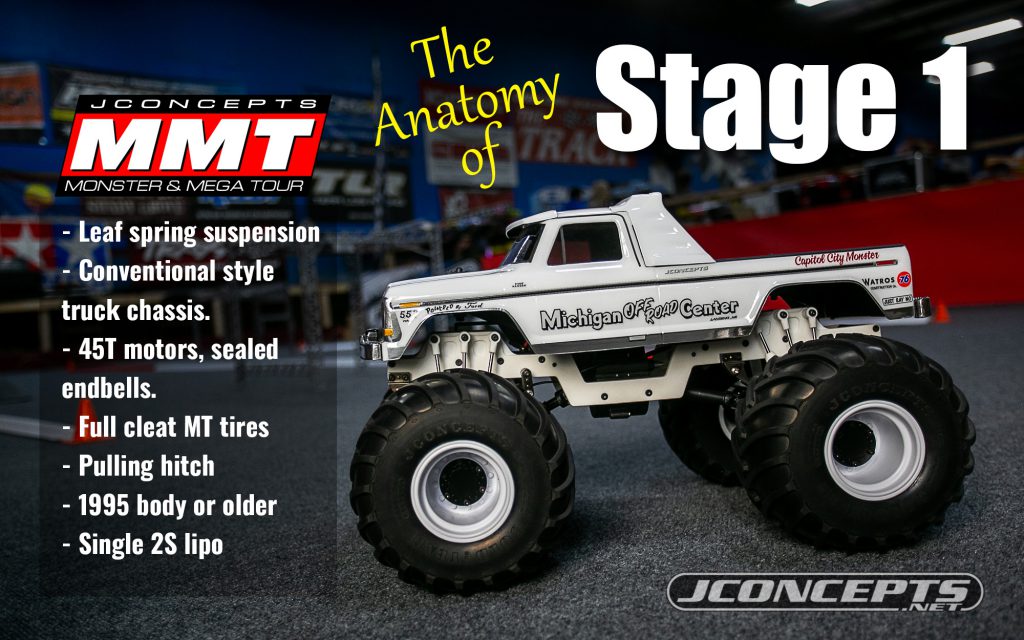 Stage 1 is basically a throwback and tribute to the early days of monster trucks. Think back to Bigfoot 1 with the leaf springs, conventional truck frame, and much slower motor than what's powering trucks today. To align with this era of monster trucks, Stage 1 MT's are also slower and much more simple in the suspension setup. Either way, Stage 1 is a great way to explore the beauties of what was….. old school monster trucks!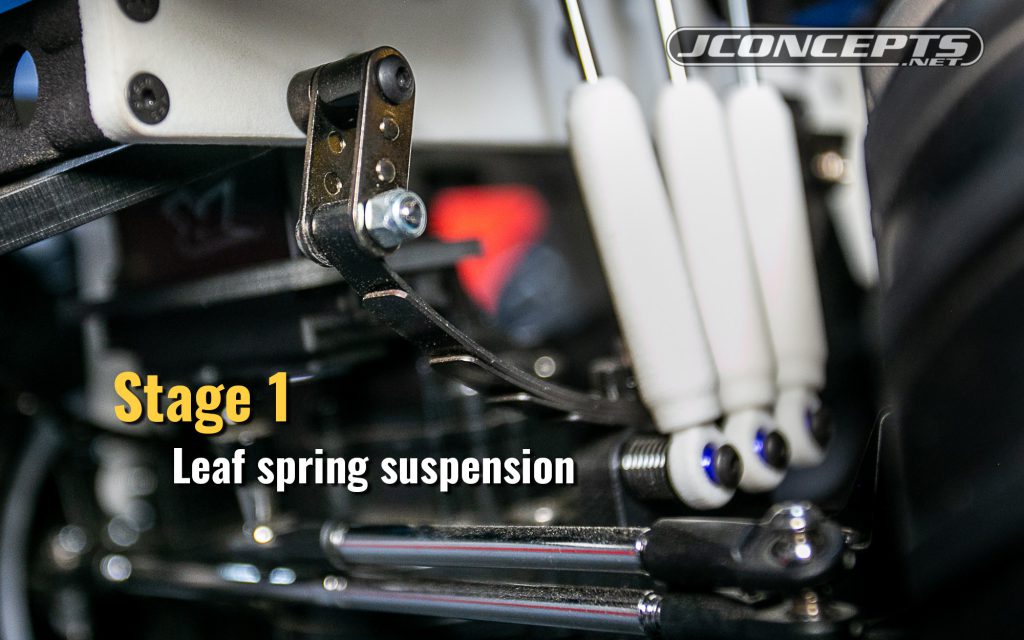 What makes Stage 1 RC monster trucks so cool is that they really do mimic the early days of the real monster trucks. Perhaps the best fun rules in Stage 1 are requiring all trucks to have leaf spring suspension. Operating like the real deal, the leaf springs are classic and are still widely used in almost all trucks today.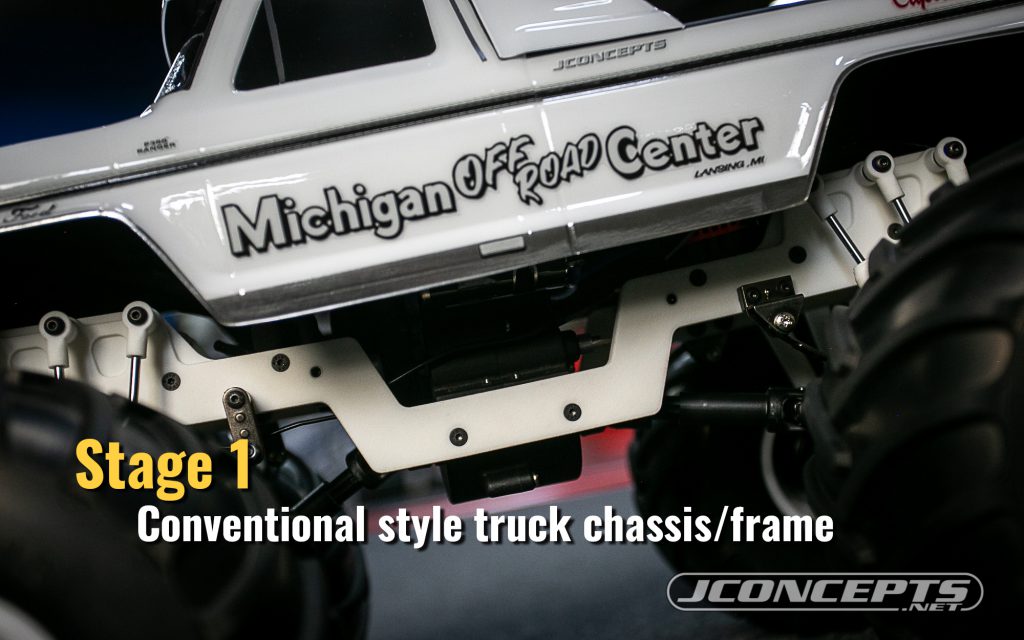 Another rule that adds a ton of realism is requiring Stage 1 trucks to have a conventional style truck chassis or frame. This keeps the Stage 1 trucks looking very realistic and true to life, at least to the early trucks of the monster truck glory days. No custom tubes frames here!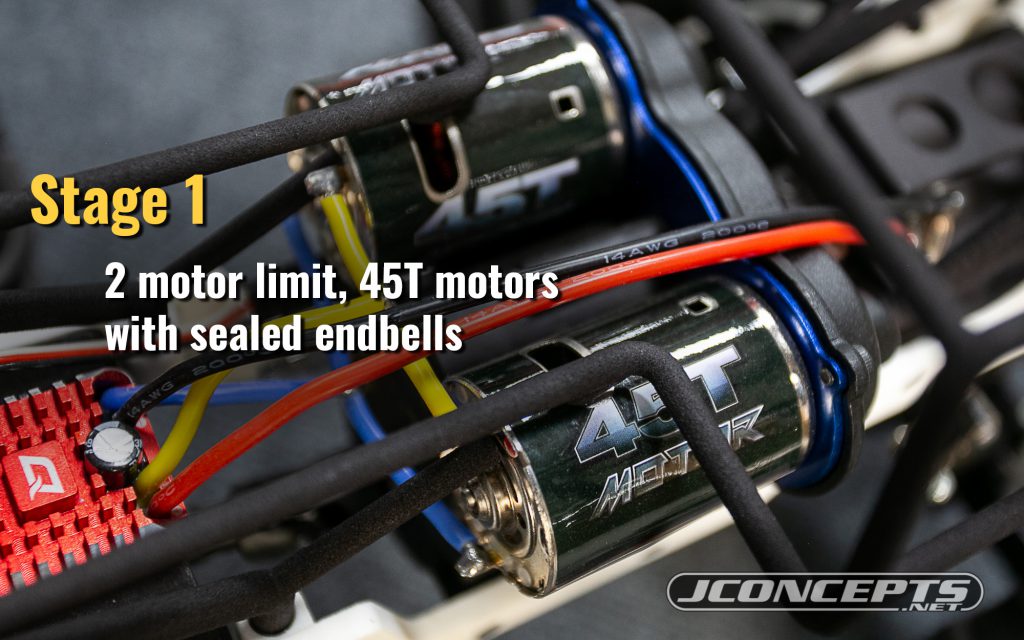 As mentioned before, the early days of monster trucks were a lot slower and a lot less powerful than what they are now, so to mimic the speed, the rule is to use dual 45T sealed endbell motors to keep the speed down for realism while still providing ample torque for the big, meaty tires.
The Anatomy of Stage 2 MT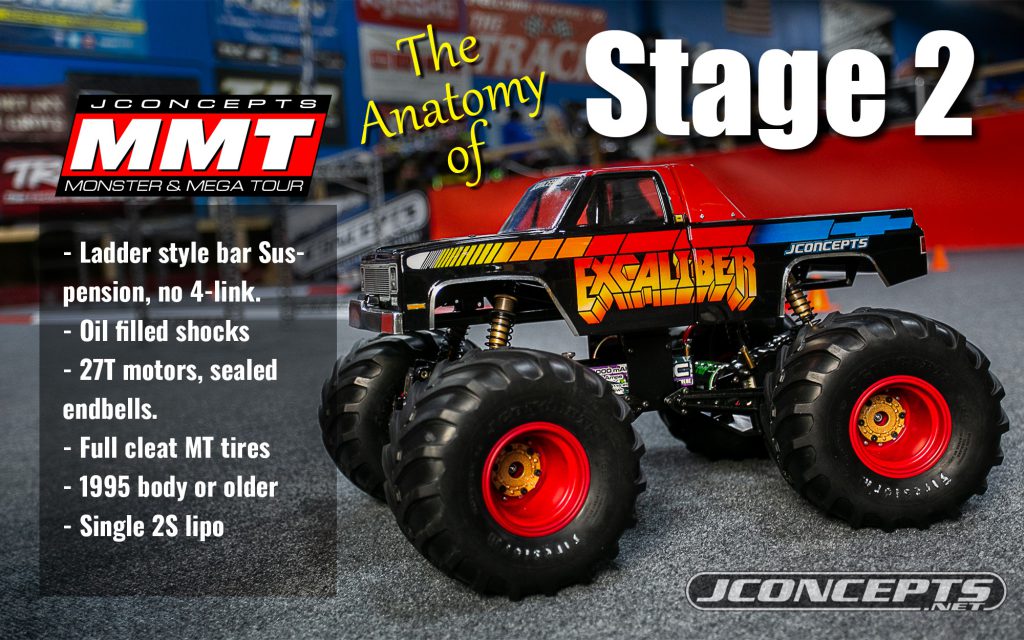 Stepping up to Stage 2 is basically taking the next leap up in monster trucks in terms of power and performance. The rules change just a little bit, but not a huge jump. The major update to Stage 2 is a faster motor and updated shocks and suspension.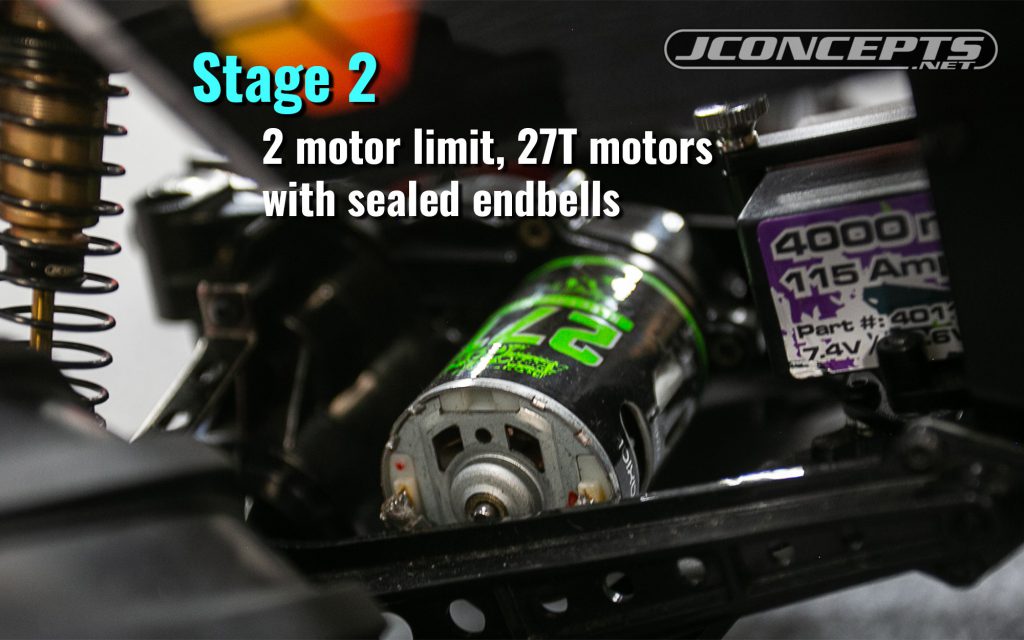 As the real monster truck performance progressed, there were significant improvements to the powerplant and to resemble this in RC, Stage 2 trucks use dual 27T sealed endbell motors to source their power. As a significant step up from 45T motors, the 27T is noticeably faster and a big help in getting these things moving.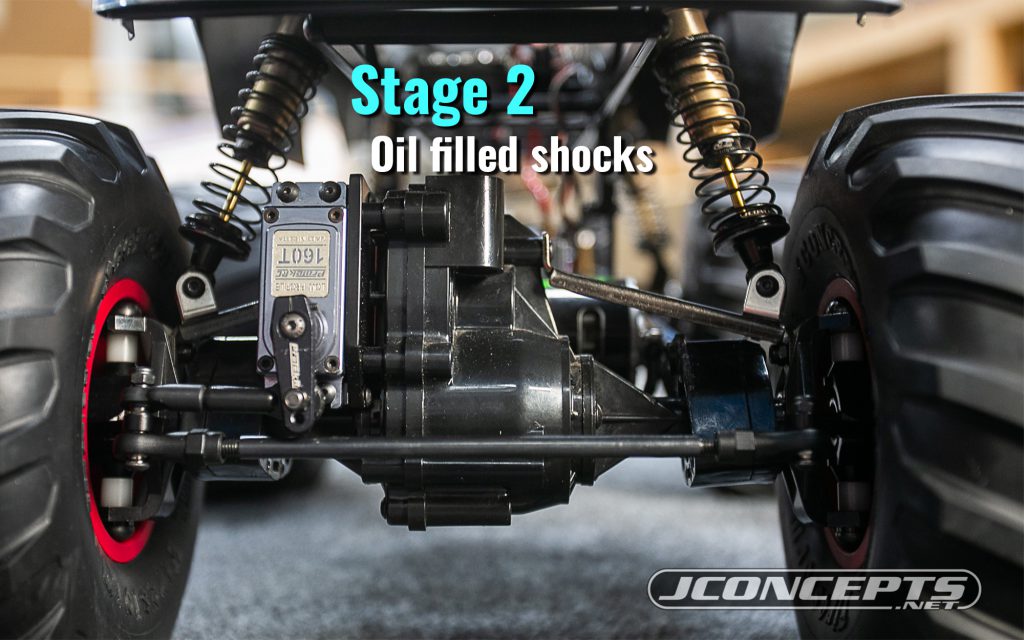 Updating the shocks to a more modern standard, Stage 2 incorporates the plushness of oi-filled shocks that can be tuned for precise dampening characteristics. With the ability to adjust springs, oils, and pistons, there are literally thousands of combinations to choose from to help dial in the rides.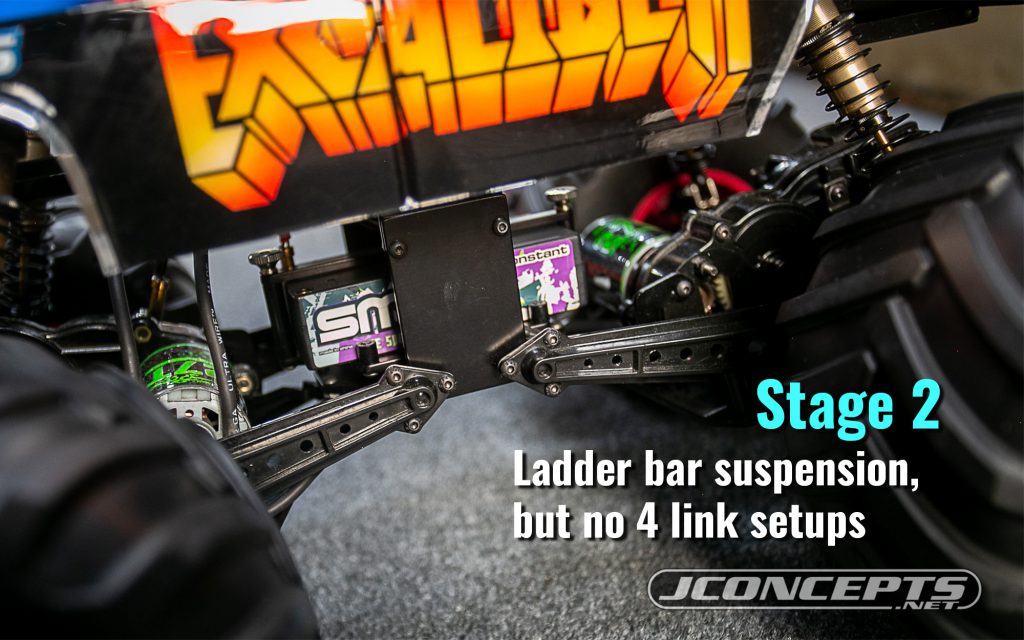 Stage 2 ditches the leaf springs suspension and moves towards a more refined suspension system using ladder style bar suspension, but 4 link setup is not permitted.
The Anatomy of Stage 3 MT – Pro Mod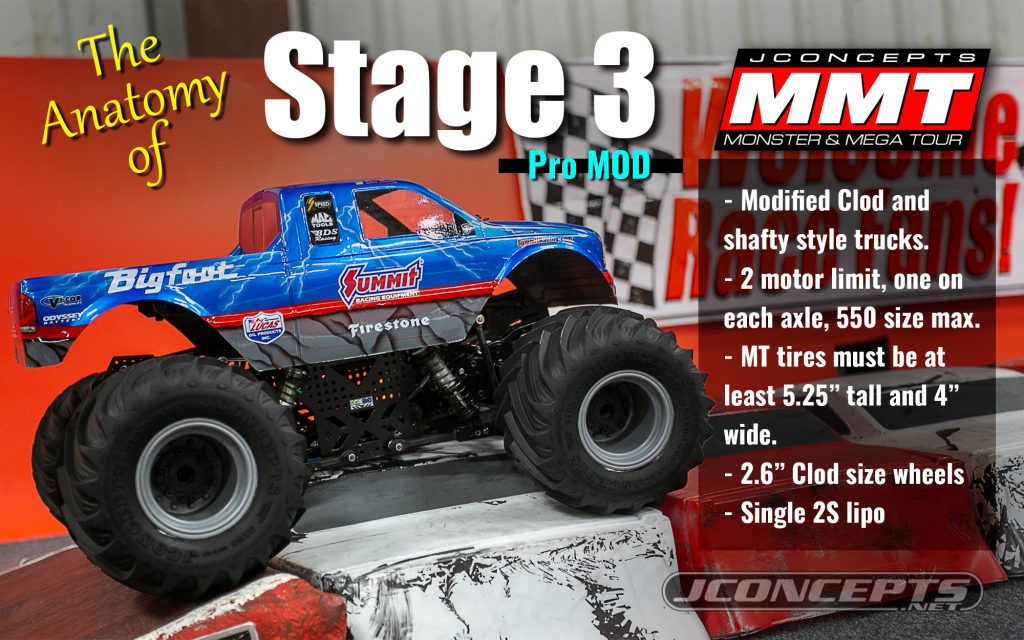 Many consider this the ultimate Monster Truck class, the 2wd Modified of the MT world. Moving to Stage 3 Pro Mod, most trucks are based off of a modified Clod Buster and shafty style truck as a base and go on from there. Basically, this is the all-out, no holds barred solid axle monster truck action with very limited restrictions that are built for speed, power, and handling.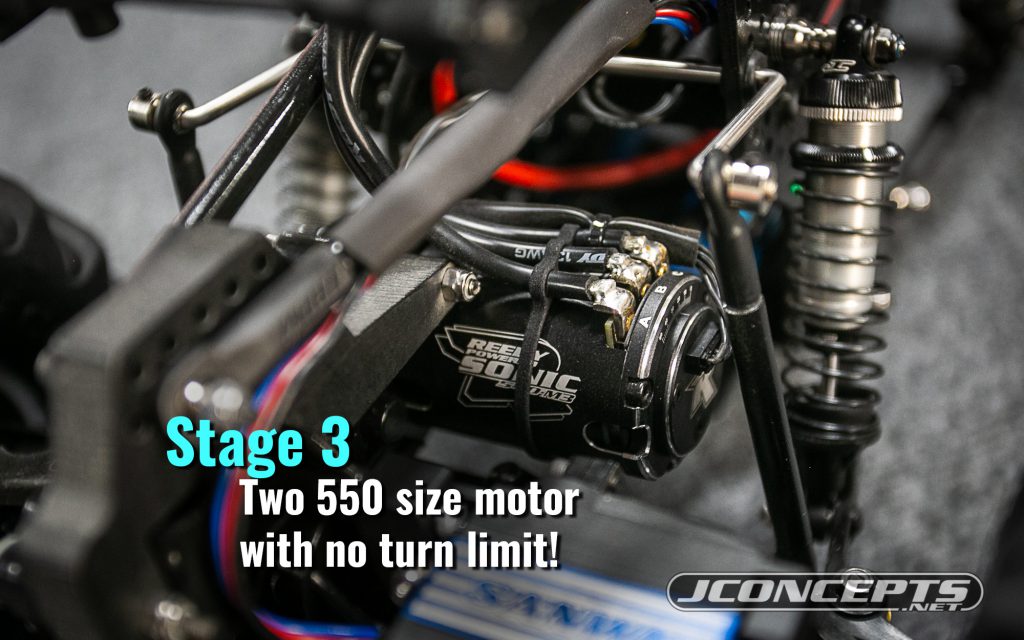 No turn limit here, just a limit on the number of motors you have! 2 motors max, one per axle for some serious wheel spin action.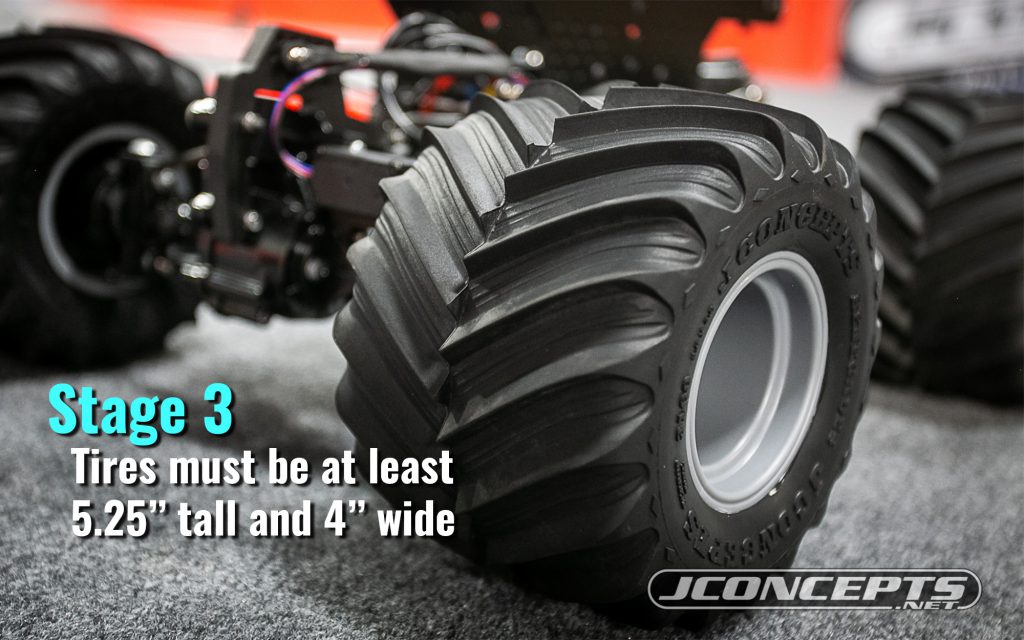 Big tires are the name of the game. As the trucks progressed through the years, the tires have also matured like JConcepts' most popular competition MT tire, the Renegades! The minimum tires size is 5.25″ tall and 4″ wide!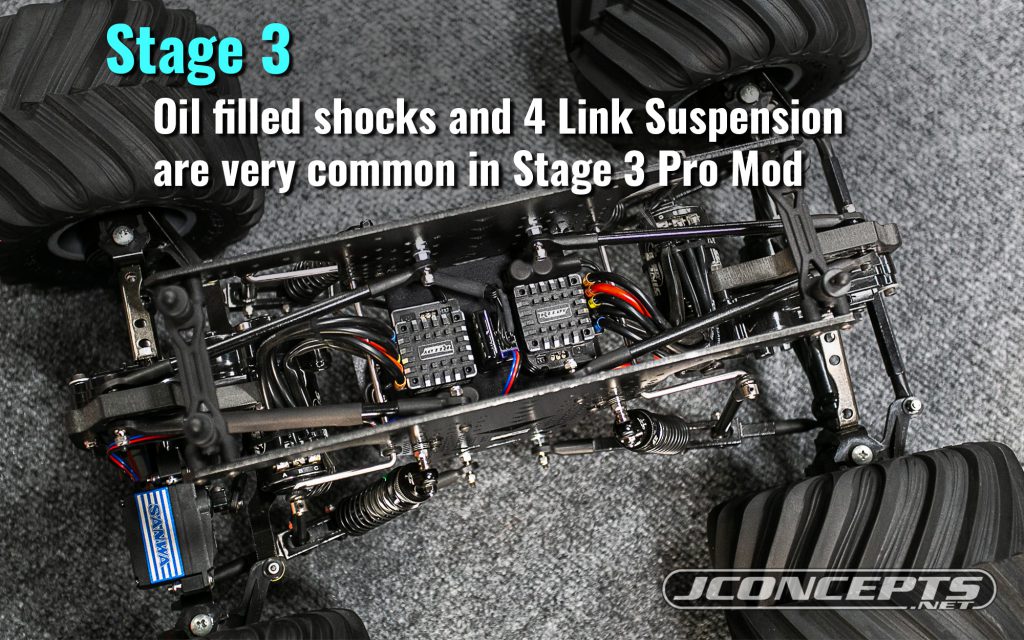 The popular 4 link Suspension has become the staple set up in the Stage 3 Pro Mod trucks and with modern oil-filled shocks, these things hit plush! Some trucks are set up with rear-steer lockout to make the steering more predictable and smooth. You know what they say, smooth is slow, and slow is fast!
The Anatomy of Stage 4 MT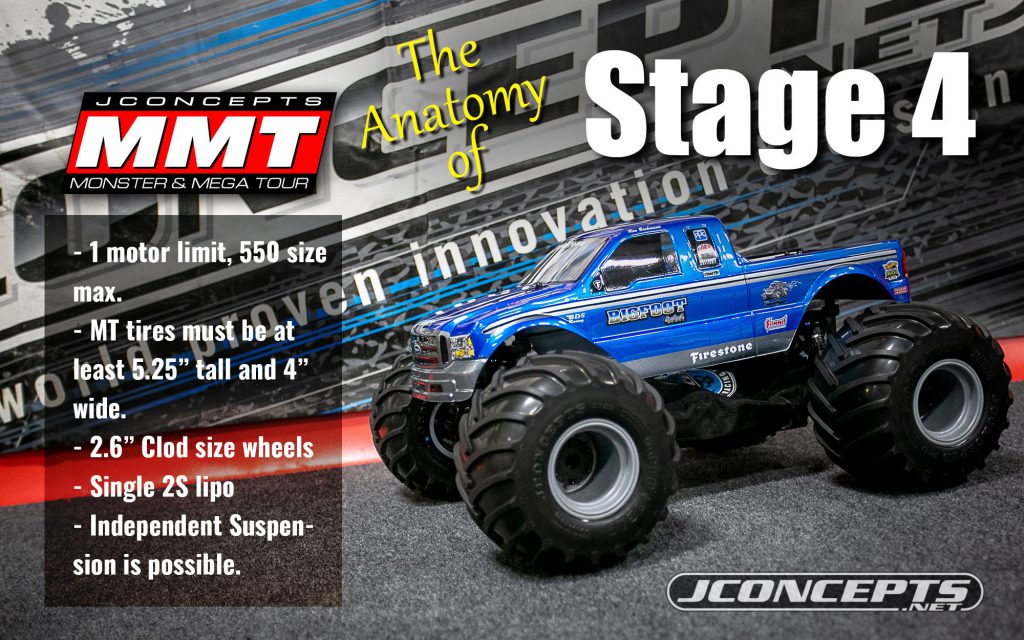 Stage 4 trucks represent the latest evolution in monster truck racing borrowing a few rules from Stage 3 but open the possibilities to play and explore the world of independent suspension. With a totally different suspension design, these trucks make for some of the fastest rides around with better corner speed and jumping abilities.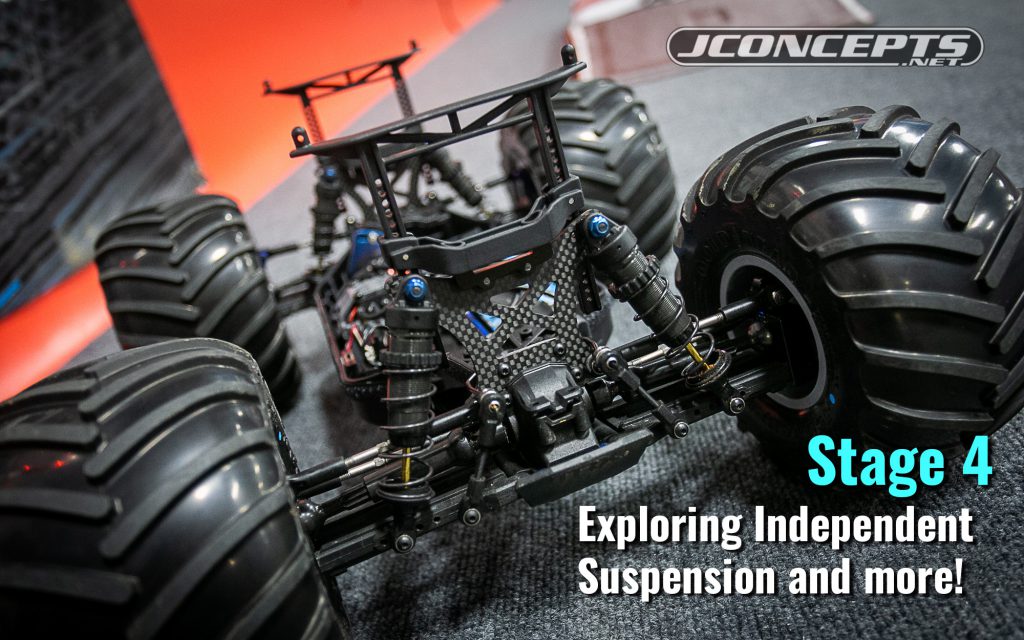 This Stage 4 beast uses a Traxxas Slash 4×4 platform and the JConcepts MT Conversion set purpose-built for the Traxxas Slash and Stampede 4×4. As you can see, there is no solid axles here, which adds to the durability and bombproof of the independent suspension design.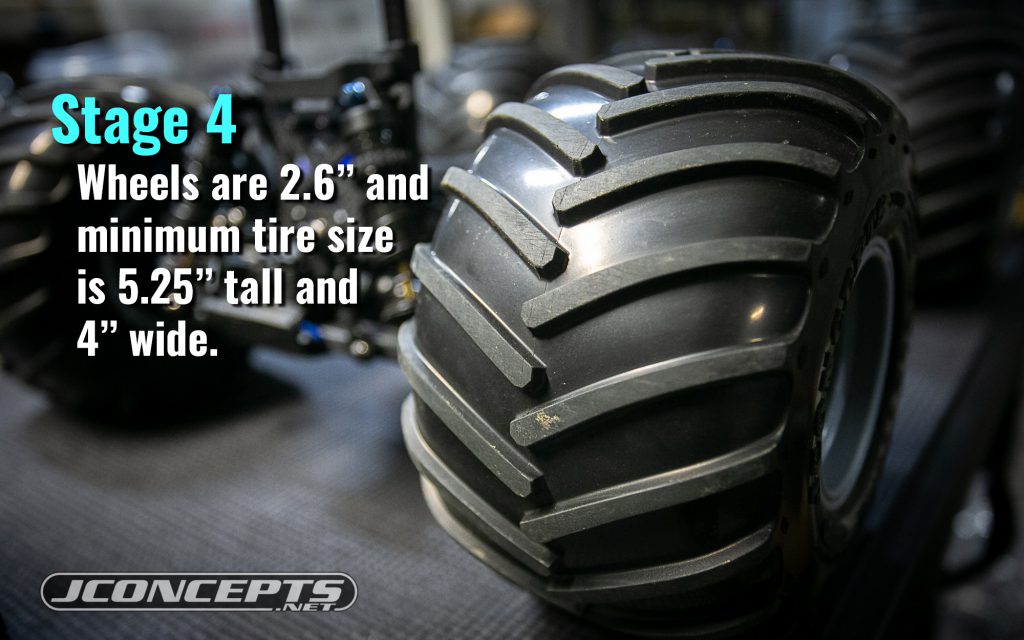 What makes monster trucks so awesome are the big wheels and tires. Here, the JConcepts Golden Years are looking primo here and add a nice touch to today's monster truck fun.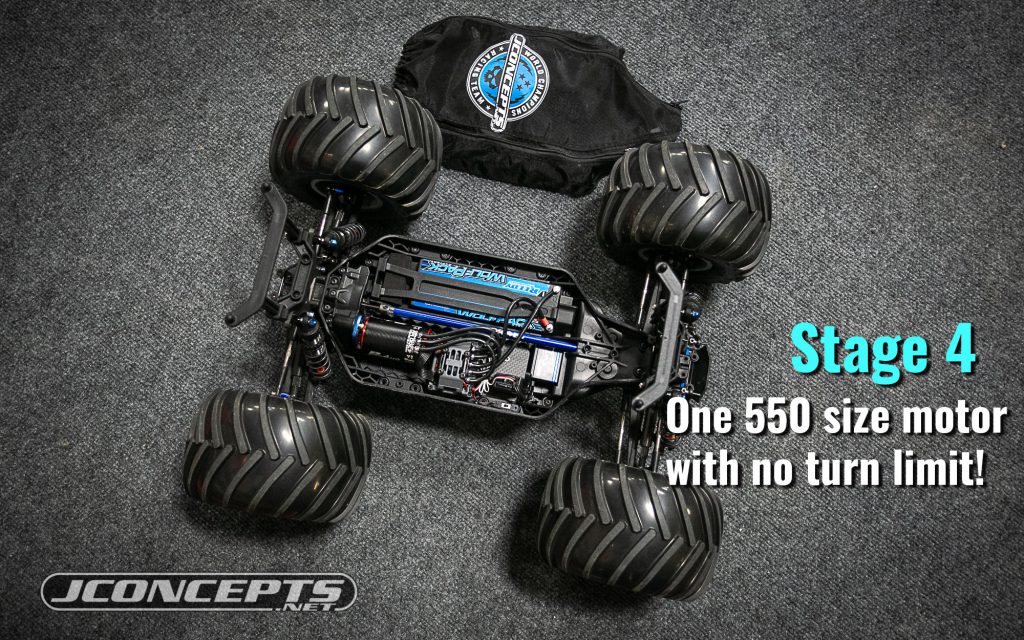 Stage 4 trucks are the experimentals. These trucks ditch all of the old-school ideas and conventions in hopes to make something that is bigger, better, badder. If you want to explore the limits of RC Monster Trucks, this is the class as Stage 1, 2 and 3 caters to the solid axle tradition.
Either way, we hope you were able to fill your heads with all this killer MT info. Part 2 will consist of the other classes that partake in the MT events like tanks, UTV's, Tuff Trucks, and 2.2″ Trucks so stay tuned!