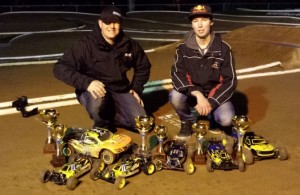 JConcepts' Munday & Bonetti Win Victorian Drivers Series in Melbourne
Ray Munday (2wd Open and 2wd SCT) and Glen Bonetti (Stadium Truck) have sealed victory in their classes for the 2014 Victorian Drivers Series for JConcepts with 1 round to go after winning the Keilor Cup on the weekend.
Date: 10 August 2014
Event: Keilor Cup (Round 3 of Victorian Drivers Series)
Track: Keilor, Melbourne (www.keilorrc.org.au)
Weather: 7~11C, Overcast / Showers
Classes: 1/10 Electric Off-Road. 170 Entries.
The 3rd round of the Victorian State Series was held at the historic Keilor club in Melbourne. With a huge field of 170 entries for a 1 day event and inclement winter weather it was a long day for all racers with several rain showers passing throughout the day, making tyre and setup choice difficult as the track conditions were different almost every round. The club worked very hard to squeeze 3 rounds of qualifying and 3 rounds of A finals in, with only the last 2 races being run under lights. The entry list was deep with many previous national title holders racing. JConcepts was well represented with Ray Munday, Ashley Peeler, Glen Bonetti in the open classes, John Watkins in Stadium Truck and Scott Giles in the stock class.
[click to continue…]
{ 0 comments }